---
Reading Time:
3
minutes
NO-ONE could really believe what they were seeing. An overweight heavyweight decking the world champion four times and seizing the title. PETER COSTER reports on the upset of upsets at Madison Square Garden:
THE POWER of One, the bestseller by Bryce Courtenay, was about a seven-year-old boy who dreamed of becoming a world boxing champion.
It could have been about Andy Ruiz Jr, who defeated Anthony Joshua for the heavyweight championship of the world.
But Ruiz looks more like the Dough Boy in Ghostbusters than a boxer. Ruiz stripped Joshua of his three world heavyweight titles after knocking the previously undefeated champion down four times before the fight was waved off by the referee in the seventh round.
In the case of Ruiz, who took the fight when the previous challenger failed drug tests, he doesn't look like a boxer. Rolls of fat hung over his trunks but he proved what so often separates heavyweights from the lighter divisions.
Embed from Getty Images
The Power of One Punch can be the difference between a superbly fit athlete, such as Joshua, and a deep-fried butterball like Ruiz.
No one expected Ruiz to win. Joshua knocked him down in the first round and that looked like the fitting end of a gross mismatch.
But not only did Ruiz rise from where he had been dumped so unceremoniously on the canvas at Madison Square Garden, he swarmed his way back into the fight, knocking Joshua down twice in the third and twice in the seventh.
Each time, he was following up on big hits, exposing Joshua to concerns that his chin might not be made of the right stuff.
He has come back from a knockdown against an ageing Wladimir Klitschko in front of 90,000 fans at Wembley stadium in 2017. This was more a case of the former world heavyweight champion being unable to close the fight out.
Not so Ruiz. Heavyweights are one punch away from defeat when someone like Ruiz gets through with a big shot. Who would have believed it?
Joshua is now tormented by the jibes of Deontay Wilder, who holds a heavyweight title belt and accuses Joshua of having won fights against a line-up of carefully chosen opponents.
Lard buckets such as Ruiz, who has lost only once in 34 fights, need only one punch to destroy an opponent, if they can land it.
Joshua, who was undefeated in 23 bouts when he stepped into the ring against Ruiz, has invoked a rematch clause from the Madison Square Garden fight and will meet the Dough Boy again in November or December.
Embed from Getty Images
The "Stay Put Marshmallow Man," also known as "Tubby Soft-Squeeze" was the enemy of the Ghostbusters.
Ruiz is the same lumbering, plodding, grinning giant and has provided the biggest upset in decades of heavyweight history.
"Two Ton" Tony Galento, who trained assiduously on cigars, beer and grappling with female companions, once fought for the world heavyweight title against the great Joe Louis.
Galento left his sparring partners to pound around the paths of New York's Central Park.
"Why should I pay dem punks all dat money and then go out and run in the rain myself," he demanded, not unreasonably.
He once gave up the grog and went on a bread and water diet. "In 14 days," he explained, "I lost two weeks."
Heavyweights are often humorists. Francesco Vitali, known as "Faintin' Frankie," was one who never failed to entertain.
His record of 35 fights, two wins, drawn one and lost 33, meant he was a regular visitor to hospital emergency departments to check for concussion
This prompted New York's Daily News to run the headline, "X-ray of Vitali's heads shows nothing".
A doctor once asked: "Have your eyes ever been checked?" to which Frankie replied, "No, as far as I know they've always been brown."
His 36th and final fight was against "Savage" Schneider, a monster standing menacingly at 6ft 7in.
Faintin' Frankie was full of confidence. "I'm going out there to back him up," he told his manager, Maury Smoller, who replied, "While you're doing that, I'll be backing up the ambulance."
There has been no such humour about the Joshua v Ruiz debacle.
Joshua has made no excuses although some of his handlers have blamed a "panic attack" and "food poisoning".
The only panic might have come from fear of Ruiz falling on him and any food poisoning would surely have come from the gargantuan amount of hot tamales and fried ice cream consumed by Ruiz.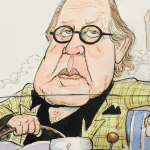 Author:
Peter Coster
PETER COSTER is a former editor and foreign correspondent who has covered a range of international sports, including world championship fights and the Olympic Games.
Comments
comments
0 comments