---
Reading Time:
4
minutes
AUSTRALIAN women are performing at the highest levels across a wide range of sports but many of them are doing so without any real recognition, says LOUISE EVANS:
WHEN you telephone Rugby Australia you're greeted with a recorded message: "Welcome to Rugby Australia, home of the Qantas Wallabies." There's no mention of the Wallaroos women's national team or the women's rugby sevens 2016 Olympic champions.
On November 26, leading sports columnist Peter FitzSimons wrote in The Sydney Morning Herald that our national cricket and rugby teams had lost everything except the will to live. The women's national cricket team is a two-time Ashes champion and four-time world T20 champion.
Last weekend the pitch at Melbourne's Epping Stadium was judged "a danger to players" during the women's W-League football/soccer game by the Football Players Australia association. The FPA also reported that female players had inadequate toilet and shower facilities and these conditions reflected poorly on elite women's sport.
The women's W-League regular season concludes on February 2, but you'll find scant reporting of the games and players in the traditional media. The same goes for the women's basketball WNBL, which is also in progress. There's much more news coverage of the men's NBL and the A-League men's football/soccer.
This lack of recognition and respect from their own sports, the media and the public has resulted in Australia's leading female athletes from 11 different sports coming together to support an initiative to increase the visibility of women in sport.
The national initiative is #WISPAA – Women In Sport Photo Action Awards, launched this week by the peak advocacy body and not-for-profit Women Sport Australia.
WISPAA offers two Nikon prize categories for professional and amateur photographers with the aim of engaging both the media and the public to capture images showcasing the skill, strength and athleticism of sportswomen in action at any level. Entry is online at www.wispaa.com.au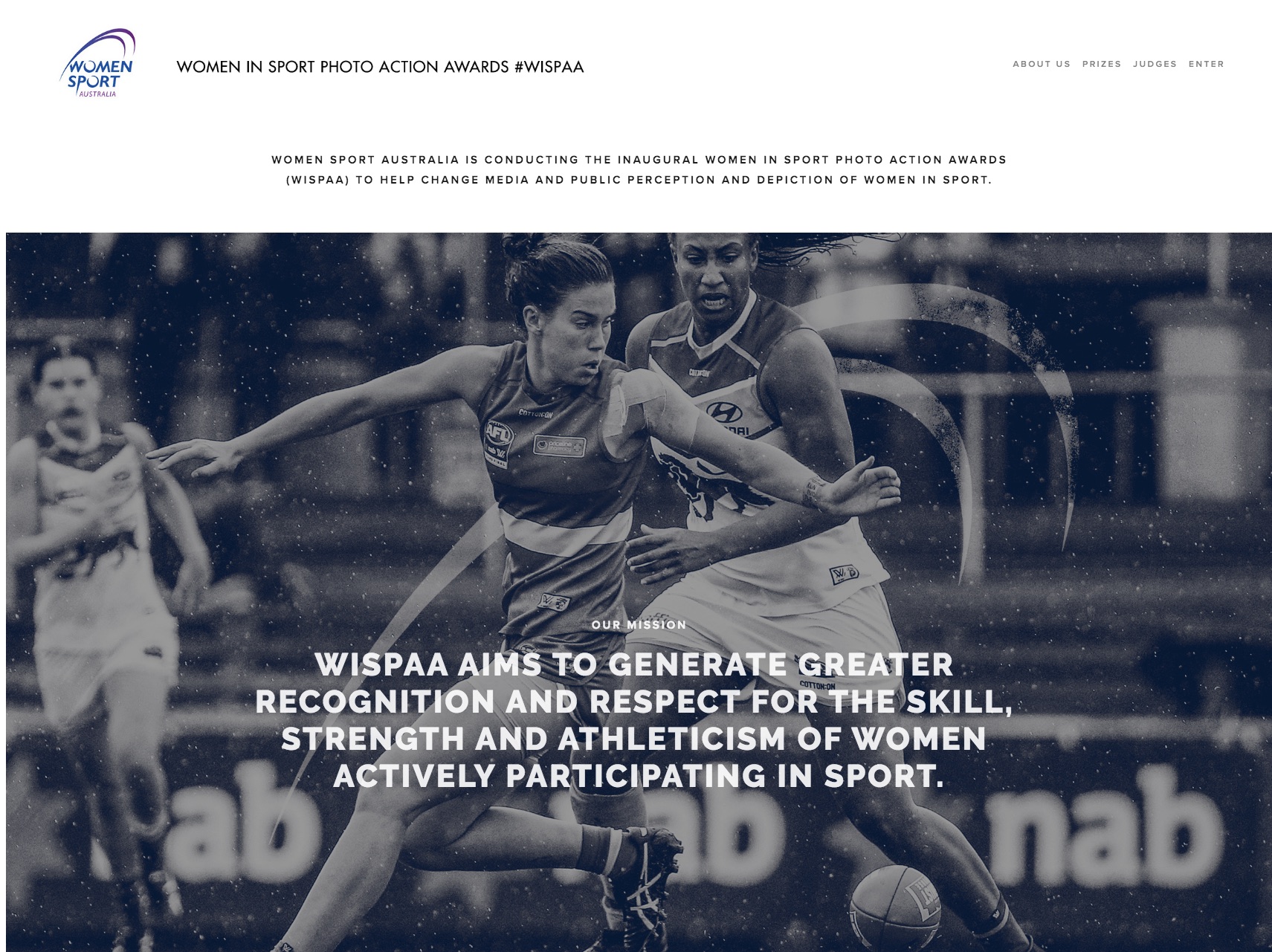 Longer term WISPAA aims to help change the portrayal of female athletes from smiling, stationary models to tough, fit competitors, role models, heroes and leaders.
For Bronte Campbell, the Olympic and three-time world swimming champion, the need for a national initiative like WISPAA is obvious. "Women in sport aren't smiling fitness models, they are gladiators," Campbell said."It's a great opportunity to look at female athletes and how incredibly fit, tough, strong, flexible and athletic they are."
Steph Gilmore, seven-time world surfing champion said, "Now more than ever, we are in a time where we need to see more images of strong, elegant, courageous women."
Ellia Green, Olympic champion and Commonwealth Games rugby sevens silver medallist, said promoting the growth of women's sport through photography was "crucial in inspiring the next generation to pick up a ball and play".  Sam Kerr, the Matildas' national football team key striker and Young Australian of the Year, believes "
Australia has come a very long way in promoting female sport's participation and getting behind female teams from various sporting codes. But there is still a lot of room for growth."
Both Caitlin Bassett, two-time world netball champion and Diamonds national netball team captain, and Alyssa Healy, four-time world T20 cricket champion and two-time Ashes champion, play higher-profile sports but both agree the visibility of women's sport and athletes needs to increase.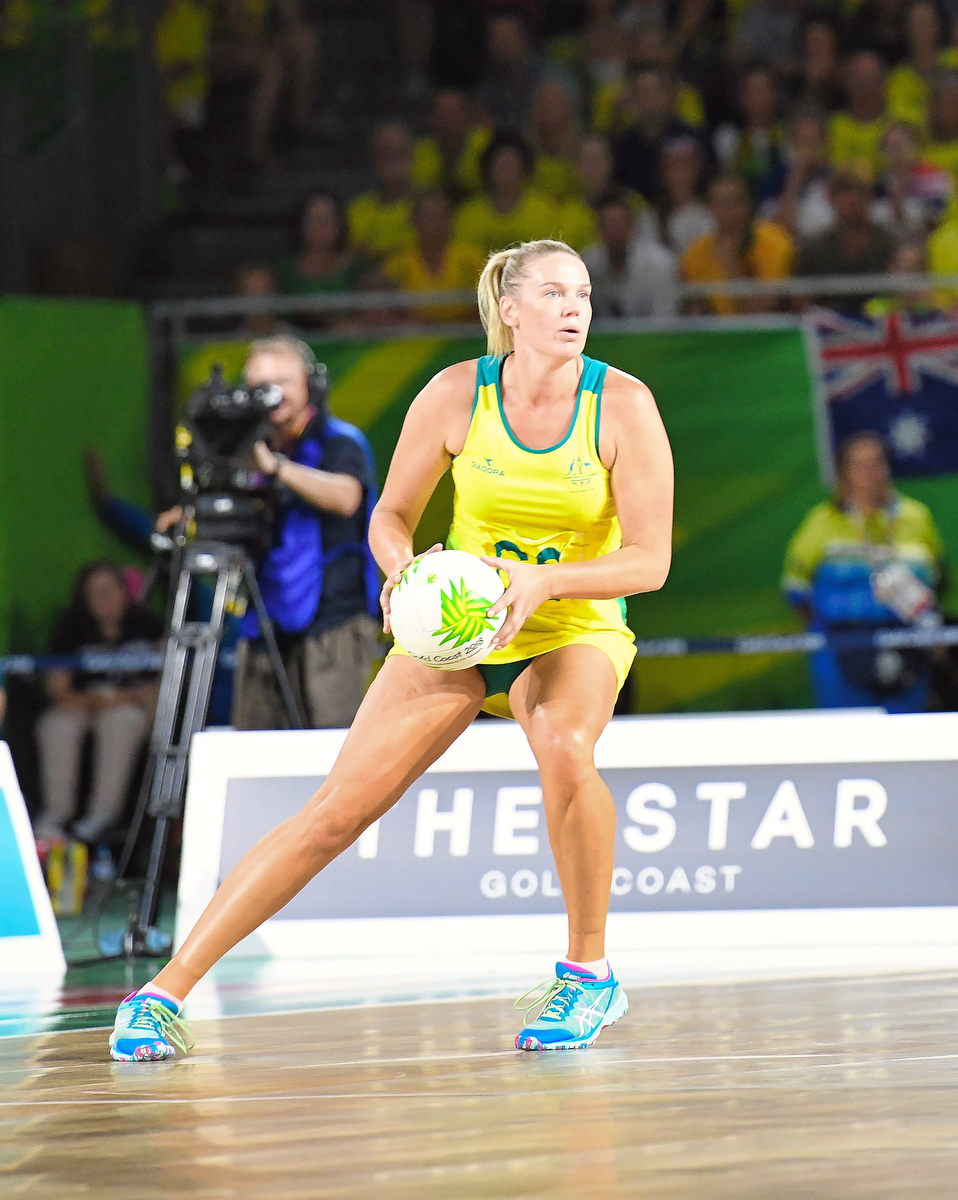 "Unfortunately we do not get to see [women's sport] in the media too often," Healy said. "To be able to see our athleticism, strength and concentration allows the public to better connect with female athletes – instead of having to picture in their minds how we compete."
Jess Fox, nine-time world canoe slalom champion, said one of the problems holding back women's sport was the traditional stereotyping of the female body image."For too many years the female stereotype was for women to be slim and beautiful," Fox said. "That stereotype needs to change. Strong, fit women are beautiful. Their fit, strong, healthy resilient bodies – created through hard work, training and competition – are beautiful."
Katie Brennan, captain of the AFLW premiership-winning Western Bulldogs, said when it came to the female form, it was not a case of one-size-fits-all. "The beauty of female athletes is they come in all shapes and sizes, depending on their sport. This shows young women that no matter how you are made up, you are beautiful, strong and powerful," Brennan said.
Kim Brennan, the Olympic and two-time world rowing champion, says "being strong, fit and healthy should be celebrated and role modelled". Jenna O'Hea, a World and Commonwealth Games basketball champion and Opals national basketball team captain, agrees.
"You can't be what you can't see," O'Hea said. "It's important, especially for young girls, to have role models and to see them in action, playing and excelling at their chosen sport."
Minjee Lee, Australia's top golfer ranked world No 6, said: "For generations our sporting heroes have predominantly been men because they've had the exposure.
"With so much progress being made with elite female competitions in so many sports, it's really important that young Aussie girls have their own heroes to follow, mimic and hopefully eventually surpass"
*LOUISE EVANS is Women Sport Australia's Communications Director. She was the first female sports journalist hired by the Sydney Morning Herald and the first female sports editor at The Australian. www.wispaa.com.au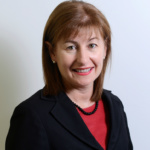 Louise is Women Sport Australia's Communications Director and a women sport's pioneer. She was the first female sports journalist hired by The Sydney Morning Herald and the first female sports editor at The Australian. Louise has worked at six Olympic Games, six Commonwealth Games and numerous world championships around the world. Louise is also the author of the Australian war-time book Passage to Pusan – which has been turned into a documentary of the same name. https://passagetopusan.com/ and https://www.facebook.com/passagetopusan/
Comments
comments
0 comments