---
Reading Time:
2
minutes
JOSH Hazlewood may not necessarily play a home town Test in Sydney next week, says KEN PIESSE:
IT SEEMS almost heresy to suggest that Australia's much vaunted  pace trio of Mitchell Starc, Josh Hazlewood and Pat Cummins may be separated in a week's time in Sydney.
Clearly they are three of the outstanding bowlers in the world, but having bowled for almost two full days with more work likely when India bat a second time,  their fitness levels are being challenged like rarely  before.
Workloads are so important in these  days of massive off-field support networks. Bowlers have to count the balls they bowl at practice and depending on when a match starts, finish at no more than 24.
The champions of yesteryear would bowl for two hours on a Tuesday and almost as long on a Thursday.
Those who manage the Australian pace trio are saying not even ice baths are going to keep their men fresh, especially with back-to-back Tests over this Christmas/New Year period.
Coming into this tortuous Test on a pitch which should be floated out into Bass Strait, concrete tub and all, and left there,  the three speedsters had all averaged between 18 and 20 overs per innings in the Tests in Adelaide and Perth.
Here on a lifeless MCG, all bowled around 30 overs. Thank goodness there was a fifth bowler in Mitchell Marsh to share the workload.
The do-gooders who count the overs will be seriously contemplating a return to the rotation system, especially with reserve speedster Peter Siddle on the wings in this Test match.
Siddle is not as dangerous as any of the Big Three, but he's fighting  fit and could be invaluable with some reverse swing in Sydney.
Of the pace trio, Hazlewood was the least impressive over the two opening days in Melbourne and he has a history of being at his best when he is at his freshest.
Pat Cummins was clearly Australia's best bowler in Melbourne. Mitchell Starc had his moments too, without swinging the ball as much as he has in the past.
Another option of course is to play only two fast bowlers, the offie in Nathan Lyon and maybe a leggie. Why not Fawad Ahmed who many believe is at the top of his form, even if he is in his mid-30s?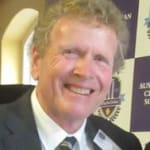 KEN PIESSE has covered cricket and football for more than 30 years in Melbourne. He has written, edited and published more than 70 sports books. His latest book, Favourite Cricket Yarns, is available from www.cricketbooks.com.au
Comments
comments
0 comments