---
Reading Time:
2
minutes
FROM  autumn despair to springtime hope… it has been a roller-coasting, emotional journey for Australian cricket lovers, says KEN PIESSE:
AUSTRALIA'S cleansing Great Escape in Dubai has given the injection the home summer needs. Even the most-unforgiving Australian  cricket follower is walking just a little more jauntily right now.
Cricket is back, and don't we love it.
Just six months ago we all wondered if the southern sun would ever again shine on the greatest game of all.
David Warner, Steve Smith and Co had damned the good name of cricket like never before. And suddenly the top-order was incredibly vulnerable with unsung replacements jettisoned in ahead of their time.
No matter what Melburnians all thought about the selections (no Maxwell, no Tremain), the 11 lads who represented the country so gallantly in the opening Test deserve every plaudit.
A draw was as good as a win in the end and having been blasted out in the embarrassing first innings which lasted barely 80 overs, to bat five sessions on the final two days was an astonishing act of valor.
Usman Khawaja's big 100 was heaven-sent, the innings of his life.
After initial heart flutters  Tim Paine simply refused to concede. It was a moment in time which silenced his doubters. And, barring injury, will see him lead this summer and on to England and the Ashes in 2019.
All of Hobart, Tim's hometown, and all of Australia, rose as one around midnight on Thursday when he calmly defended the final delivery, surrounded by fieldsmen, several so close they could have picked his back pocket.
The Australians had their good fortune, but maybe it was meant to be.
The game plunged into an abyss last March. One, many despaired, would take the game years from which to recover.
Now we can all see the light. After this week's Second Test in the UAE, the opening home red-ball international in Adelaide is just six weeks away. Suddenly we all can't wait.
PS: For all those who say it was the greatest draw of all, it wasn't. Adelaide '61 and Old Trafford 2005 are still ahead. Clearly.
KEN PIESSE'S latest two books Cec Pepper and Australian Cricket Scandals are available from cricketbooks.com.au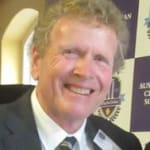 KEN PIESSE has covered cricket and football for more than 30 years in Melbourne. He has written, edited and published more than 70 sports books. Signed copies of his latest cricket book Heroes of the Hour, cricket's quintessential moments from Bradman and Lillee to Warne and Steve Smith, is available from www.cricketbooks.com.au
Comments
comments
0 comments