---
Reading Time:
5
minutes
AUSTRALIAN cricket today faces its most damaging scandal since the infamous underarm incident 37 years ago, with Test captain Steve Smith admitting he and other senior team members deliberately planned and carried out ball tampering on the third day of the match in Cape Town. KEN PIESSE reports:
AN AUSTRALIAN opening batsman was in strife again today in Cape Town… and for once it wasn't David Warner. This time it was youngster Cameron Bancroft, who has been charged with bringing the game into disrepute by using tape and grit from the side of the pitch in an attempt to change the condition of the ball.
Bancroft has admitted guilt and may miss the final Test, but the man under the greatest heat over the incident is skipper Steve Smith who owned up to being involved in the plot to tampering with the ball. He said Bancroft had been following the suggestions of the leadership group who had met at lunchtime after Australia's failure to capture early wickets with the new ball.
Asked if he would step down as captain after this massive error in judgment, Smith said he wouldn't. However, he may have no choice in the matter. Cricket Australia is going to take a grim view of the team's behaviour and, at least, heavily fine those responsible. Coach Darren Lehmann, due to stand down within the next two years, will also be under investigation, but it seems had he been consulted, he would never have agreed to such a desperate tactic being used.
Coach Darren Lehmann is also going to face some scrutiny over what role if any he played in the team's tactics. Smith has denied that the team coaches were involved.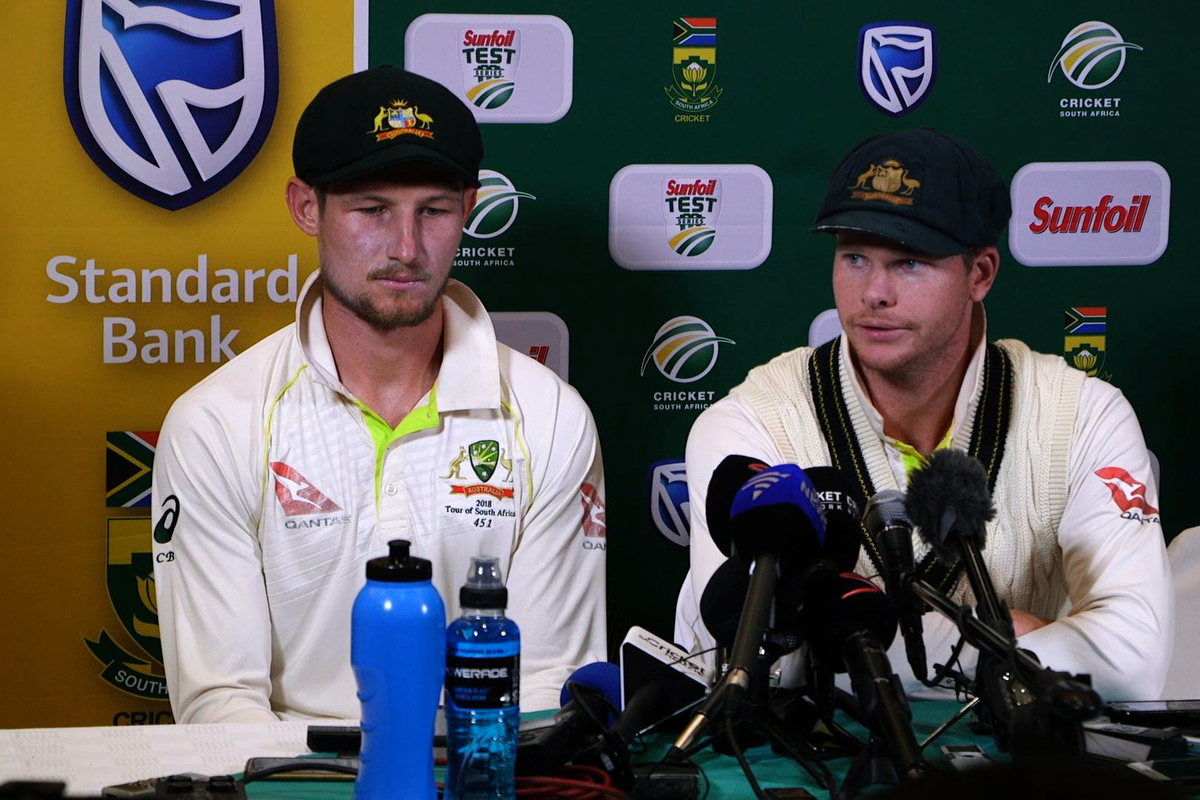 The damage done to Australia's cricketing reputation is going to last for a long time and the cheating incident has drawn widespread condemnation from the cricketing community in Australia and around the world.
Concerns over the ball tampering saw the third Test match momentarily stop in mid-afternoon.
While South Africa maintained the high ground thanks to a fine innings from rookie opener Aiden Markram, the interrogation of Bancroft was the major talking point, the biggest crowd of the summer so far booing and jeering as close-ups of Bancroft reaching into his pocket and then shining the ball were played and replayed on the big screen.
As the players swapped ends between overs, both umpires approached Bancroft and questioned him.
Captain Smith ran 40 metres from second slip to be involved.
The booing rose again when replays on the big screen showed Bancroft appearing to be trying to hide something down the front of his trousers.
The unhappy truth emerged later at a highly-charged press conference when Smith and Bancroft admitted that the ball tampering was no spur of the moment thing but had been deliberately planned.
"The leadership group knew about it. We spoke about it at lunch," Smith confessed.
"I'm not proud of what's happened. It's not within the spirit of the game.
"My integrity, the team's integrity, the leadership group's integrity has come into question and rightfully so.
"I'm not naming names, but the leadership group talked about it and 'Bangers' (Bancroft) was around at the time. We spoke about it and thought it was a possible way to get an advantage.
"Obviously it didn't work. The umpires didn't see it change how the ball was behaving, or how it looked or anything like that. (It was) a poor choice and we're deeply regretful for our actions."
Questioned about his own position, Smith was defiant: "I won't be considering stepping down. I still think I'm the right the person for the job. Obviously, today was a big mistake on my behalf and on the leadership group's behalf as well. But I take responsibility as the captain, I need to take control of the ship, but this is certainly something I'm not proud of and something that I can hopefully learn from and come back strong from.
"I am embarrassed to be sitting here talking about this. We're in the middle of such a great series and for something like this to overshadow the great cricket that's been played and not have a single cricket question in here, that's not what I'm about and not what the team's about. We'll move past this. It's a big error in judgment but we'll learn from it and move past it."
Bancroft had been caught by the TV cameras pulling a small yellow item from his pocket and using it to work on the ball. Later, in a moment of absolute farce, he was seen trying to hide the item down the front of his pants. He confessed later that it was a piece of adhesive tape.
"I saw an opportunity to use some tape, get some granules from rough patches on the wicket to change the ball condition. It didn't work. The umpires didn't change the ball.
"Once being sighted on the screen I panicked quite a lot and that resulted in me shoving it down my trousers.
"We have this yellow tape in our kit and it is connected to some padding but the sticky stuff is very sticky and I felt like it could be used to collect some stuff from the side of the pitch."
The extraordinary events, which now cast serious questions over Smith's continued leadership, drew condemnation from a wide range of commentators.
"What the … have I just woken up to!" tweeted former captain Michael Clarke. "Please tell me this is a bad dream."
Before Smith owned up to his involvement, Australian great Shane Warne said whoever told Bancroft to cheat had to be identified.
"I feel a bit for Cameron Bancroft because I don't think he's taken it upon himself to do something and put it in his pocket," said the former leg-spinner.
"Who's told him to do that? It's important to find out that. I think we've got to get to the bottom of why that has happened and what was it.
"You've got to own up. You've been caught, you've got to own up and say what was it you were hiding. You can't have that in the game."
Former England captain Nasser Hussain: "This was a premeditated attempt by the Australian team to cheat."
Former England fast bowler Jonathan Agnew: "Laws of cricket: 'The major responsibility for fair play rests with the captains…' Smith has admitted not merely cheating, but planning to cheat. Everything else in that ill-tempered series is irrelevant to this. By his own actions, Smith's position as captain is untenable."
Former Australian quick Rodney Hogg: "Unfortunately, this is blatant cheating and Steve Smith will have to step down as Australian captain."
Former England skipper Michael Vaughan said all of the Australian team and coaches would forever be remembered as cheats.
"Steve Smith, his Team & ALL the management will have to accept that whatever happens in their careers they will all be known for trying to CHEAT the game," Vaughan wrote on Twitter.
Ex-England batsman Kevin Pietersen was not convinced that coach Lehmann knew nothing about the incident.
"My 2cents worth – This will be Darren Lehmann's greatest test as a coach, cos I will struggle to believe that this was all Bancroft's idea."
Injured South African fast bowler Dale Steyn agreed, replying to Pietersen: "Bud you know nothing in professional sport is done without the consent of your captain and coach… Tough times ahead."
At stumps the Proteas had reached 5-238 and lead by 294 runs with two days to play.
Earlier, before the sensational events on the field, there were plenty of evictions for rowdy behaviour, with Australia's security officer stationing himself on the fence when David Warner fielded in the deep.
A number of commentators have compared the cheating incident to that other day of Australian cricket shame in 1981 when captain Greg Chappell ordered his brother Trevor to bowl the last ball underarm to prevent the Kiwis from scoring an unlikely six to win a one-day match.
However, while the decision was highly condemned for poor sportsmanship it was at least done within the laws of cricket at the time. The Cape Town behaviour was not within the laws and Smith's decision is made even worse when you consider that Bancroft, the man left to carry out the cheating, is just 25 and playing in only his seventh Test match.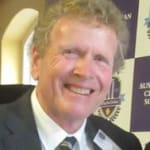 KEN PIESSE has covered cricket and football for more than 30 years in Melbourne. He has written, edited and published more than 70 sports books. His latest book, Favourite Cricket Yarns, is available from www.cricketbooks.com.au
Comments
comments
0 comments