---
Reading Time:
8
minutes
A KIWI sharpshooter will bring plenty of personality and blunt words to Super Netball, as ERIN DELAHUNTY reports:
IN EVALUATING the inaugural season of Super Netball – the new netball elite competition which saw the five Australian clubs from the now-defunct trans-Tasman league joined by fresh franchises aligned to AFL clubs Collingwood and GWS, and NRL side the Melbourne Storm – one of the game's most respected names, Sue Gaudion, bemoaned the "plain Jane-ness" of Australia's top netballers.
Gaudion, an ex-national player, newly-appointed West Coast Fever specialist coach, Channel 9 commentator and self-confessed "acquired taste", has a habit of saying aloud what others think and her lament about the game's lack of spotlight-grabbing stars echoed something often whispered by pundits and fans.
Ahead of the competition's first grand final in July, won comfortably by the Storm-backed Sunshine Coast Lightning, "Gaudo", as she's affectionately known, called on top-flight players to "step up" in the second season of Super Netball … to "get real".
She said players should let their personalities shine, for the good of the game, which has long been Australia's number one female team sport, but has failed to truly capture the nation's imagination or eyeballs.
Somewhat prophetically, Gaudion singled out cult figure, Sharni Layton, as the standard bearer, saying the promotion and profile of netball, in an increasingly crowded women's sport marketplace, was "resting on the shoulders of too few at the moment".
"We need more Sharni Laytons!" Gaudion said. "We want players to feel confident enough to be themselves on camera, to show some personality; not hide behind clichés and have a bit of fun!" she said.
About 50 days later, Layton, who has represented the national side, the Diamonds, 46 times since her 2011 debut, was one of the Pies' biggest signings for Super Netball and has an unrivalled and growing public profile, announced she was taking a break from the game at all levels, due to "exhaustion". She's only now taking her tentative first steps back into public life.
Happenstance aside, Gaudion's broader point was unequivocal. "For too long we've been too 'plain Jane'. After all, it's the players who sell the game, who are the face of the game, no one else," she said.
"Whether the players like it or not, they need to understand that showing yourself, being yourself, is part of the gig. Clubs and (the game's governing body) Netball Australia have to allow them to. Yes, that comes with risk, but it's an educated risk and as a sport, we have to be prepared to take those risks."
News, then, that one of international netball's biggest risk-takers, and some might say biggest personalities, dumped Silver Fern sharpshooter Cathrine Tuivaiti is joining the Adelaide Thunderbirds in 2018 – after she recovers from ACL surgery – must have been music to Gaudion's ears.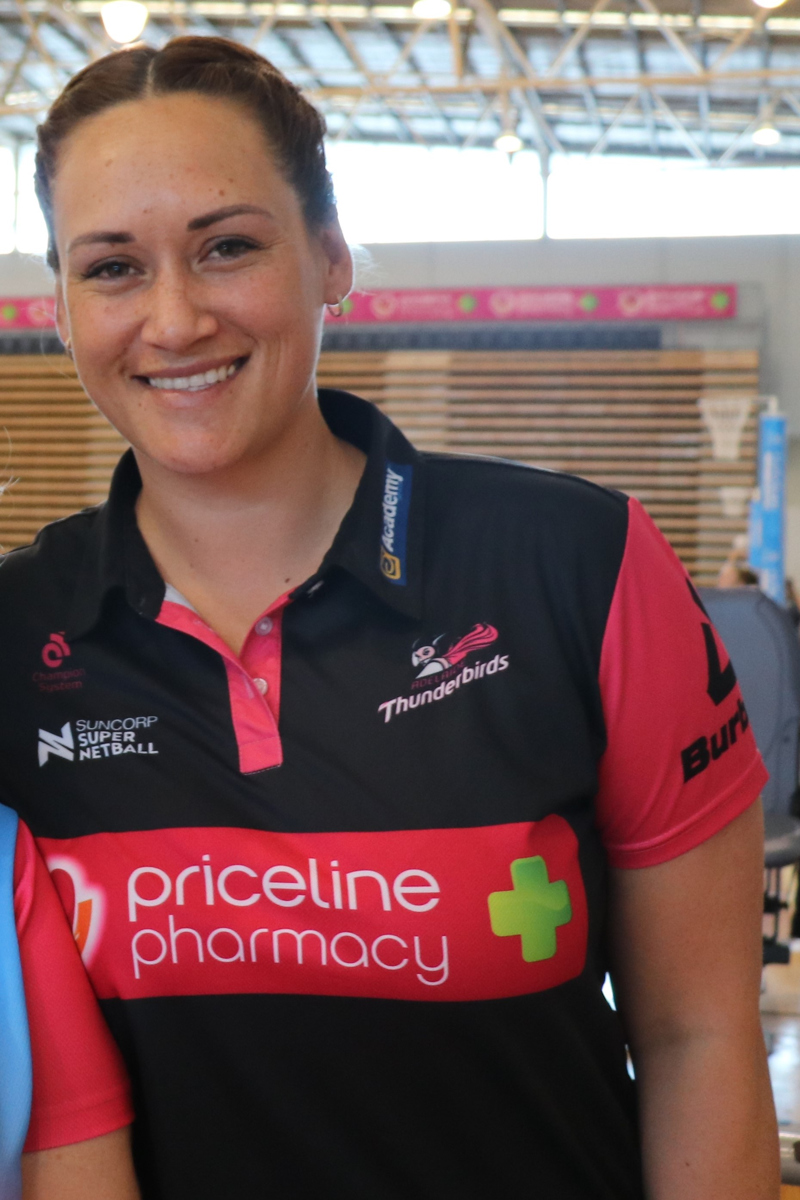 Thirty-year-old Tuivaiti is the straight-talking, heart-on-the-sleeve personality Gaudo so craves. The kind who'll tell a courtside reporter she's being well beaten by her opponent – and yes, it's "bloody well" bothering her. The kind who'll slap her thigh in frustration at her own performance and wear what's colloquially called "resting bitch face" from the moment she takes the court.
Defenders hate playing on her, because she's tall (189cm), stronger through the body than most lean shooters, unpredictable in her movement, deadly accurate and, by her own admission, she doesn't mind the "rough stuff".
Thunderbirds coach Dan Ryan described her as crafty and cunning. "I've always loved the passion and fire that Cat has brought to the game," he said when he announced her signing.
Tuivaiti, who is known for not taking a backward step on or off the court, sensationally quit netball in New Zealand – where she starred in the equivalent national competition for her team the Central Pulse this season – in July.
Despite being the most accurate Kiwi shooter in the league, scoring 483 from 509 attempts, for 95 per cent accuracy, she wasn't asked to trial for the national team the Silver Ferns, who she has served with distinction. It was a glaring omission, even from all the way across the ditch.
On her way out the door, Tuivaiti made her feelings known to Netball New Zealand; not for her omission, but because of rumours she wasn't selected because of "off-court" issues.
"To read that there were some off-court issues makes me out to be a bad guy. Yes, I have a foul mouth, but I'm a good person and I do as much as I can for my team-mates and for my country. I don't really know what that's about, but I'm not happy about it. It's news to me and it really pisses me off the most," she said at the time.
It's the forthrightness of Gaudion's dreams! And if Tuivaiti's first sit-down interview on Australian soil, for Sportshounds, is anything to go by, the netball fraternity can expect more of the same from the newest Thunderbird, who joins a team that had a horror 2017, winning just one of 14 games and finishing last.
Still limping after surgery in late July and wearing a support on her knee, Tuivaiti was an open book about the injury that "hurt her heart" more than her knee, leaving New Zealand for a city where she knows no-one, fears about not being good enough for the Australian league, the need for "different types" of role models, loving Sunshine Coast Lightning and England captain Geva Mentor, and how the Thunderbirds might just shake up the competition in 2018.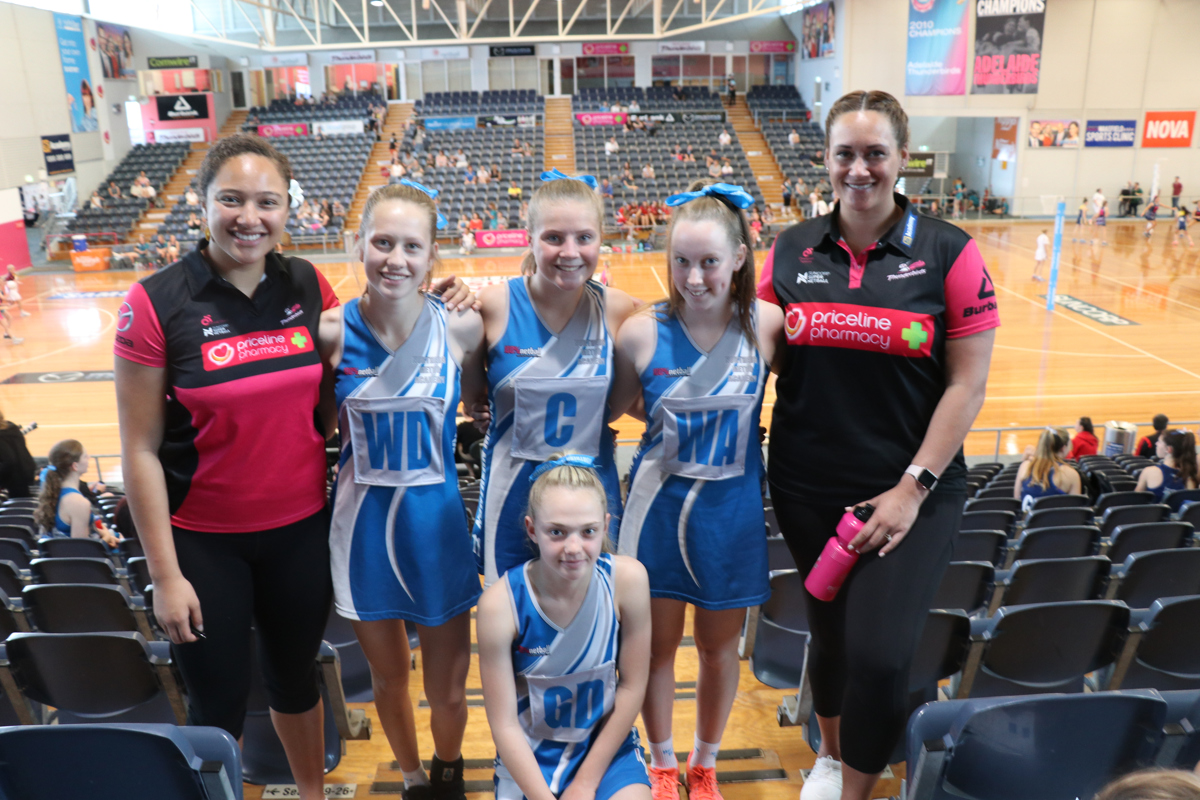 After losing the grand final in the ANZ Premiership, New Zealand's domestic competition, Tuivaiti hurt her knee in the final game of a post-season tournament in Nelson in early July. It looked bad.
"Not many people will know that I only confirmed (with the Thunderbirds) a day or two before I hurt my knee. When I was lying on the floor, I didn't understand what happened, it was a massive shock. It wasn't that painful; more of a shock. That makes me sound really tough!"
When she stood up and could feel the knee "hanging", Tuivaiti knew it was severe. "In all seriousness, my heart hurt more than my knee," she said.
"I tried to hop as fast as I could, because I knew I was about to cry. I was on the other side of the court, so I was thinking, 'Come on, quick, get off,' to myself. I was gonna show tears and I've got his bad arse reputation to uphold … they can't see me cry! I knew what had happened at that point and my heart just shattered."
Her great Australian plan was in tatters, or so Tuivaiti thought. "I was like, 'Oh no, they're just gonna let me go,' in my mind." She talked to Ryan though, who told an apologetic Tuivaiti to calm down and wait for results. While scans revealed the worse, a full ACL rupture and other damage requiring a reconstruction, the club was "still keen". And so was Tuivaiti.
"The club has committed to me. They know I'm injured and they're still gonna take a chance on me. And that means I need to give them everything I've got; absolutely everything. They could have easily not," she said.
Moving to Adelaide to rehab her knee, to get on the court as soon as she can, means Tuivaiti is missing out on an extended holiday in Italy, where her husband Jim plays professional rugby.
"This time now is the time I'm meant to be with him. This is the first time in six years I haven't been in the Silver Ferns program, so while that hurt, it meant I was going to get to be with him. Then I hurt myself, and I had to have a painful conversation with my poor husband to say, 'I want to play really bad, I can't come to you. I need to go to the Adelaide.' He wasn't my friend there for a while."
Friends and family are two things Tuivaiti, who has nine siblings and 24 nieces and nephews, has missed the most since relocating to the South Australian capital in September.
"I don't really know anyone here … at all … and that's the hardest part, because I'm used to being around so many people. I'm pretty driven though, and I'm pretty pissed off I'm injured, so that's kinda what keeps me going."
While Tuivaiti, who played 30 international Tests for Samoa and 24 for New Zealand, is reticent to put a date on her court return – despite the club saying round four or five – it's not the injury she's anxious about.
"I'm nervous I'm not gonna be good enough for this Australian competition. I watched the competition quite closely last year, because I'm a nerd, and it was fierce and ferocious and fast. They were such good games; always closely contested.
"When the Thunderbirds approached me, I was like, 'Can I do this?' I'm very confident in who I am, what I am good at and what I stand for, but I've come here to try and learn new things, so I can be good enough to play here. Obviously, I have a few doubts though."
Doubts are not something most people would associate with Tuivaiti – who says what she means and means what she says. She doesn't like that her candour can be mistaken for attitude, though.
"Look, I'm very open. I feel like the people who do actually know me, have had conversations with me, coached me, been in teams with me, know that I will, hell, I will break my leg for you! I will do anything I can for my team and my team-mates. I will stand up for myself too, if I need to."
She says it's vital young girls have "different kinds of role models", not just perfectly-spoken, flawless robots.
"I do struggle with the fact that we're kind of moulded to be a certain kind of athlete and I think as long as your personal values come through in how you train, play and what you say, (that's what matters). Personally, I need to be me."
"Being Cat" involves admiring the best at work, which is why she can't wait to play against Sunshine Coast Lightning's Geva Mentor – who names Tuivaiti as her toughest ever opponent, because of her creativity and flair.
"Geva is the one I am most excited to play against. It's been a long time since I've played her, and it will be amazing again. I respect her skill and the way she approaches her game.
"We find defenders these days, they're sent in there to smash and bash and I don't mind that, but I can see what Geva's trying to do, how she positions her body beautifully and I'm like, oh, you sneaky thing! And she does that spin! And gets her hands on so many balls. She's so clever and I'm all for skill like that, I love it!"
While Mentor's Sunshine Coast side will be looking to go back-to-back when the Super Netball season begins after the Commonwealth Games, don't underestimate the Thunderbirds, Tuivaiti says. She will be joined in the shooting circle by local emerging star Sasha Glasgow and Queensland junior Abigail Latu-Meafou, who has switched from the Queensland Firebirds.
In defence, they have former New Zealand and South African international Leana de Bruin, home-grown talent Kate Shimmin and rising star Fiona Themann. South African captain Bongiwe Msomi and former Australian under-21 player Kaitlyn Bryce join stalwart Chelsea Pittman in the midcourt.
"The Thunderbirds have come off an historically bad season, and I know they're all not happy about it," Tuivaiti says. "I don't want to say I want us to notch up a few wins – because that's rubbish and because I like to set goals quite high – but I think we can put the fear of God in everyone, and an awesome, very creative brand of netball is going to get us a few of those wins.
"I feel like while there's a fair bit of inexperience in the group on paper, but with the sheer diversity we have I think we are gonna shake this competition up and I'm pretty excited to be a part of it."
So is Gaudo, no doubt.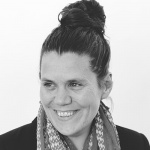 ERIN DELAHUNTY is a freelance journalist who specialises in reporting on netball. After an old-school print cadetship, she spent more than 15 years as a news and sports reporter and section editor for News Ltd in the city and Fairfax in the bush. She's now published by Guardian Australia, the Herald Sun and the ABC, among others. The self-confessed netball nerd consistently proselytises for the sport.
Comments
comments
0 comments