---
Reading Time:
6
minutes
TASTY TREATS tempted the tearaway Tiger troops in their time of triumph. SCOT PALMER'S Punchlines prises open the dining room doors of '74:
IT WAS the first of the colour TV grand finals and Tiger legend Royce Hart led his team into action in one of those historic lace-up jumpers. Black with a yellow sash, of course, there were none of those clash jumpers to create arguments in those days.
Their opponents were the up-and-coming North Melbourne, still without a single premiership, but seriously bolstered by the recruitment of stars Doug Wade, Barry Davis and John Rantall from other clubs.  It turned into a one-sided affair with Richmond running away in the last quarter to win by 41 points.
I was reminded of that Tiger victory this week when a 1974 grand final dinner invitation surfaced, signed by several of the triumphant Tigers. The invitation was issued by president Ian Wilson and secretary Alan Schwab and the event was being held in the grand-sounding Panorama room at the Gazebo, Melbourne Town House.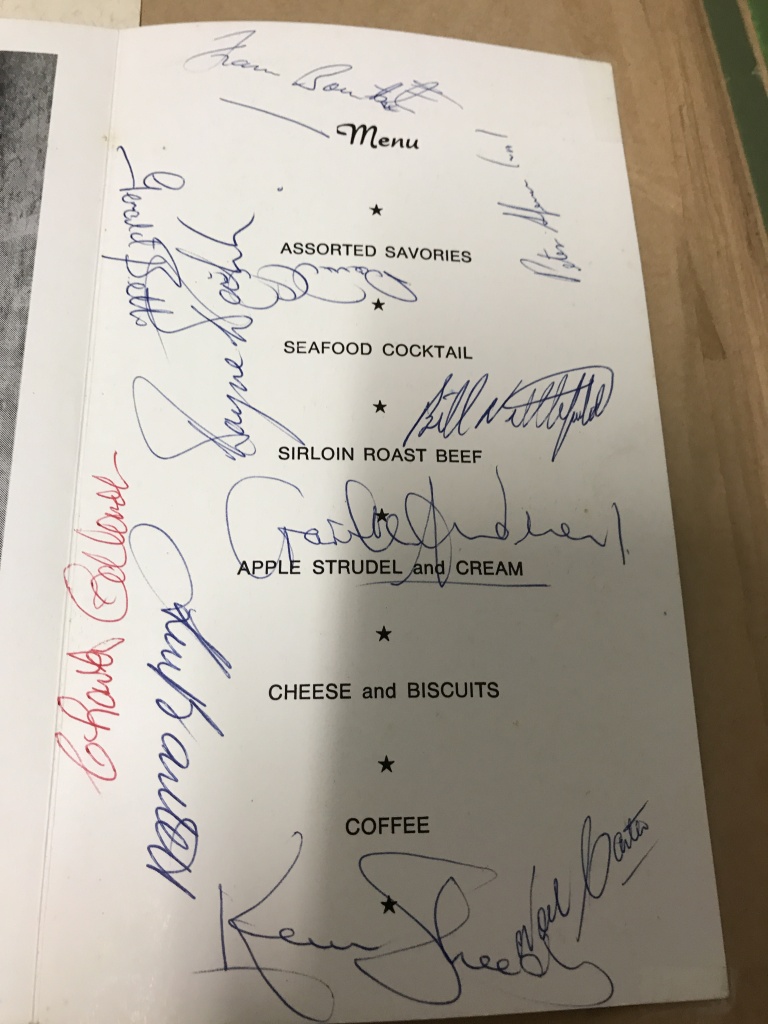 Maureen Hafey, widow of coach Tom Hafey, can clearly recall the grand final win but the dinner has faded from memory. "It would have been in typical Richmond style," she said. From my memory, that meant a lot of noise and plenty of backslapping, deservedly so because the '74 victory meant back-to-back flags for the Tiges.
Assorted savories were followed by the classic seafood cocktail, sirloin roast beef, apple strudel and cream, cheese and biscuits. There was also coffee on the menu but I expect that stronger beverages were more popular.
Physiotherapist Barry Richardson would have enjoyed tucking into the roast beef after kicking five goals. Hart's appetite would have been enhanced by the three goals he notched. Kevin Sheedy was rated by some as the Tigers' best player and you'll note his signature figures prominently at the bottom of the menu.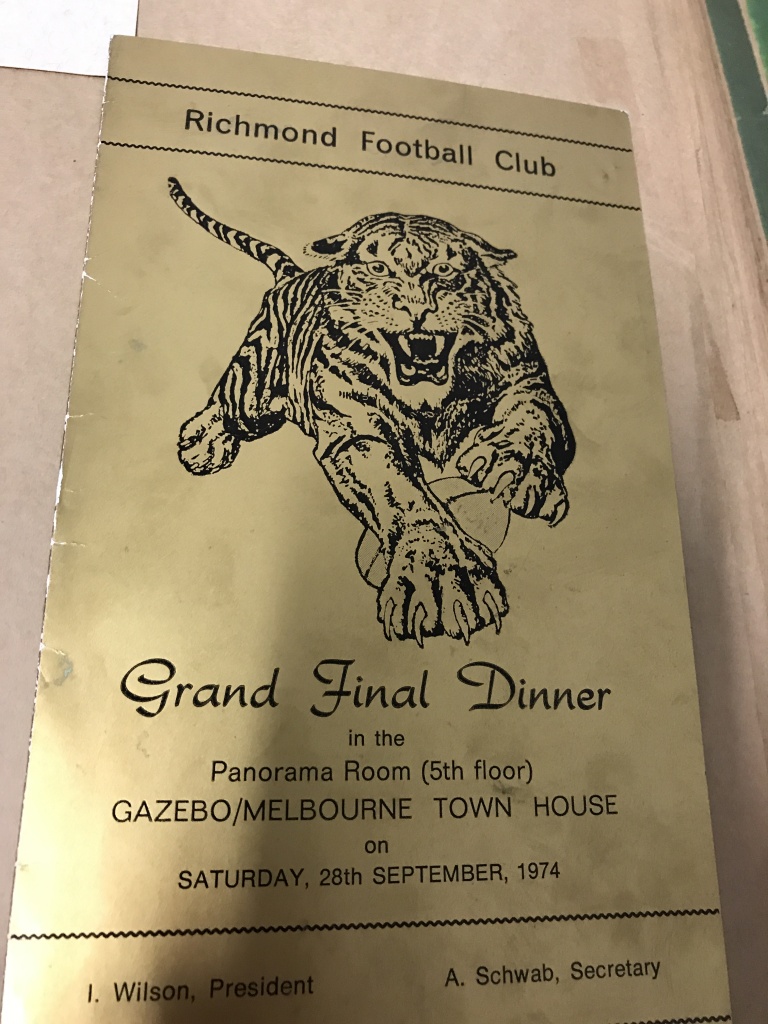 Sporting and TV friends are rallying around popular identity Ian Johnson who is recovering in Rosebud Hospital after a fall that shattered his kneecap. The former Channel Nine and Seven chief suffered the accident at home forcing him to miss Sorrento's premiership win in the Nepean League seniors, reserves and under 15's. Johnson, 68, who was once considered for the post of AFL chief executive, is a keen member of Sorrento's committee. He has also acted as MC for the club's home games and been responsible for the recruitment of top quality guest speakers at Sorrento's envied pre-match lunches. One of Johnson's major achievements was at Nine where he established The Footy Show with Eddie McGuire as the original host. Johnson for a time was also chief of Crown Casino before being enticed back to his great love television.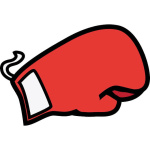 IT was in 1996 that Don Scott stood up in Operation Payback and led the battle for Hawthorn to resist what looked like a certain merger with Melbourne. Now the great ruckman is ready to throw his expertise behind another club if they want him. Scott has made it known to Sorrento Shark leaders that he is prepared to add footy expertise to its administration. He watched the Sharks win flags in the seniors and reserves this season but as a regular supporter saw areas in which he could help the club executive. Scott has maintained an interest in Sorrento football since he was responsible for the formation of a crack under 18 side when he was in business in the town some years ago.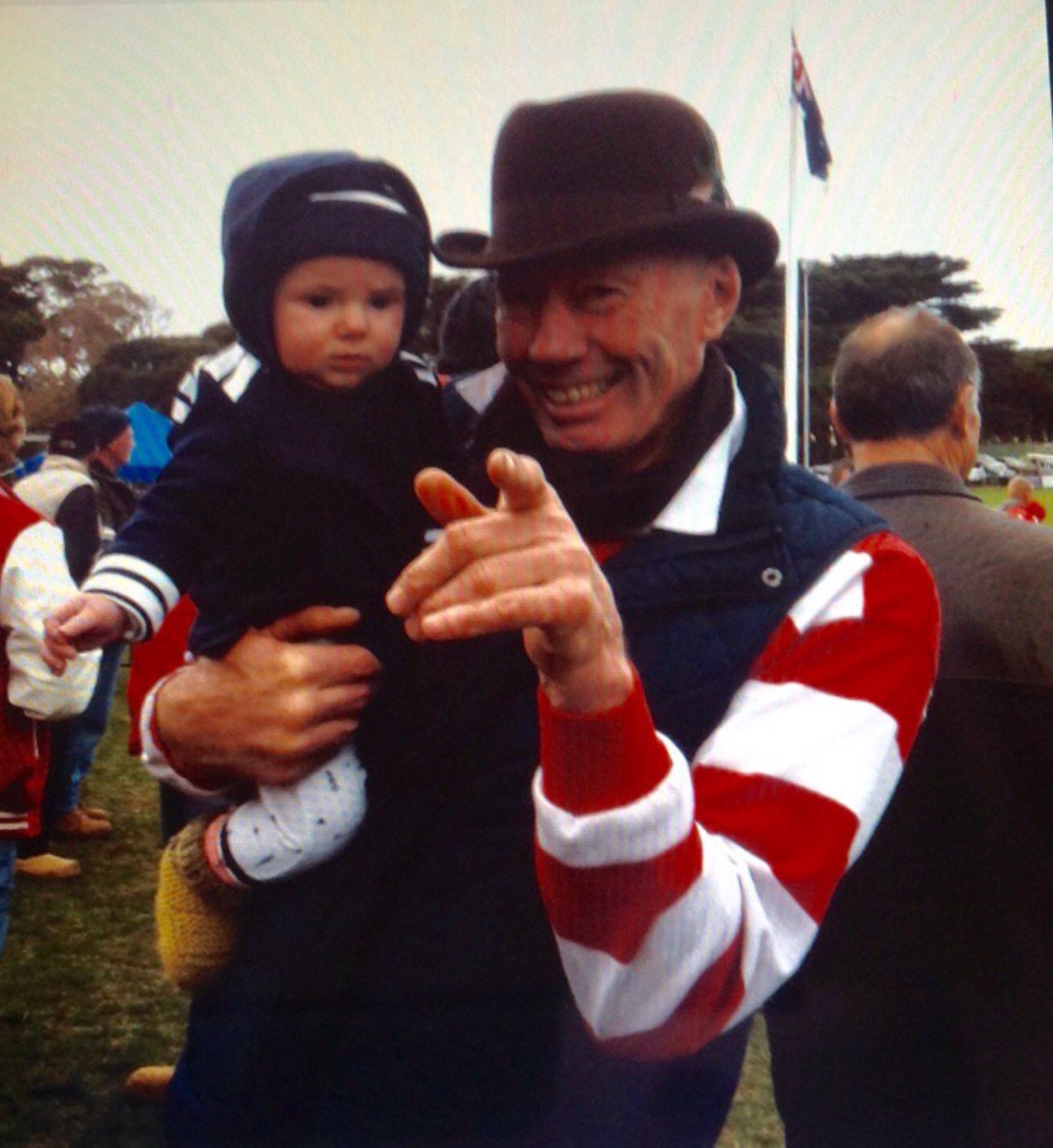 His recruiting formed the basis of the Sorrento sides for some years afterwards. Apart from footy, Scotty is waiting for the weather on the Mornington Peninsula to improve so as he can work with three of his equestrian horses that were due to travel to Swan Hill for a big event. The rain has stalled his preparation and he may have to withdraw.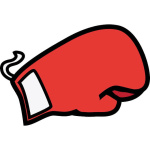 FEW men would possess the stand-and-deliver quality to match former footballer, Olympic water polo star and radio host Leon Weigard who has just hosted his 40th Grand Final luncheon. He was top of the bill at the sell-out Vingt Cinq Club lunch, by far the biggest of the weekend. The Vingt Cinq, named after the French number 25, originally had precisely that number of members when it launched back in the 60s. Today it's probably a lot closer to 70 and features many famous sportsmen.
After a successful business career, Leon became president of Fitzroy, the club where he played in the Reserves while his brother Keith was in the seniors, before joining the AFL directors and a number of other club boards. But it is his MC work for the VC club, one of the nation's most prestigious sporting groups, where most people have been able to observe his talent. His attention to detail, repartee and quick-fire humour are priceless.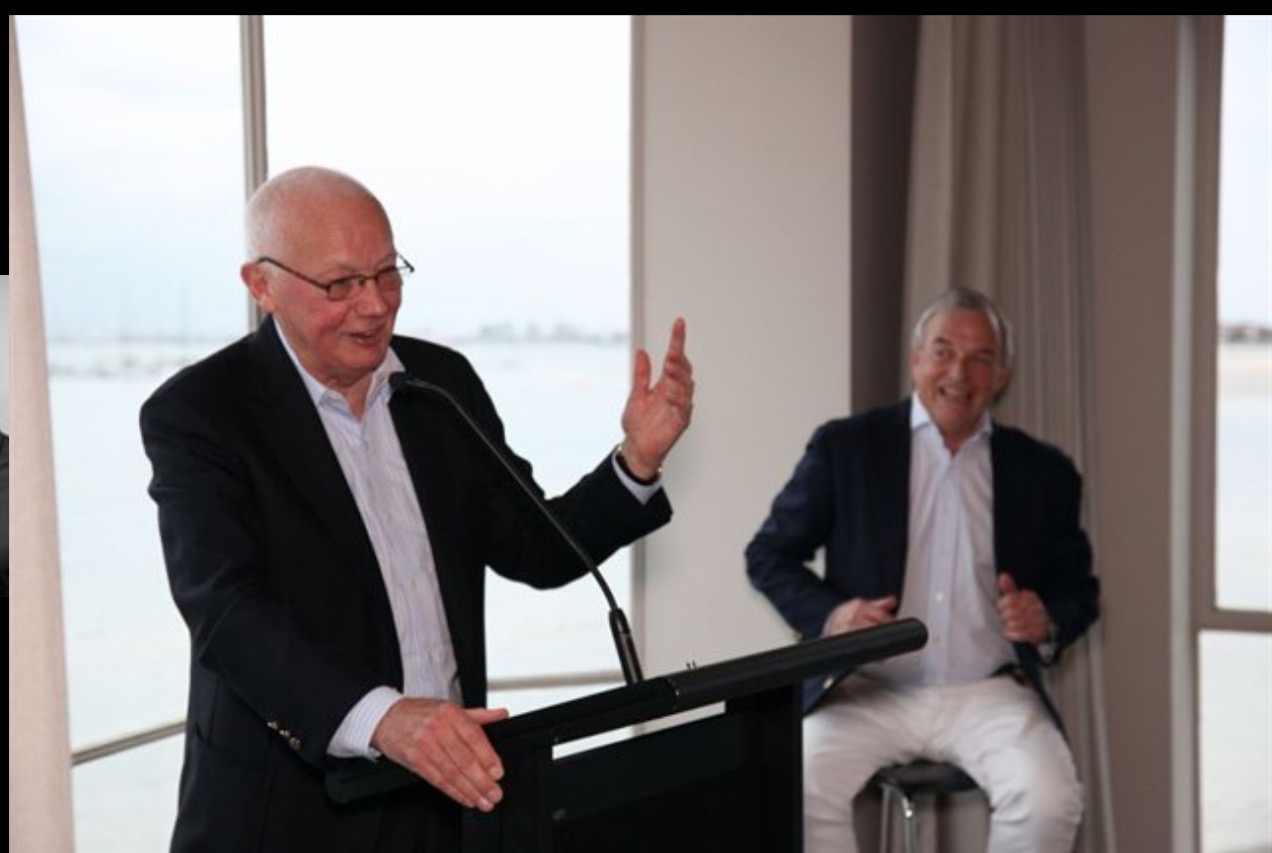 My association with Leon goes back to the grim days of the Munich Olympics of 1972 and the terrorist attack on the Israeli athletes. As a member of the Australian team, Leon became a valued news source for me about what was happening in the players' village. Most mornings we were able to meet not far from the Israeli compound, close to a telephone box, to exchange information.
At the Vingt Cinq, Weigard presides over a group of sport stars including Frank Sedgman, Ron Barassi, Ian Meckiff, Bob Skilton, Allen Aylett, Neil Roberts. Geoff Lane and Barry Round, to name a few.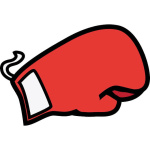 ACCLAIMED sporting artist Jamie Cooper was putting the first dab of oil to the nose of Liverpool's iconic manager Bob Paisley when he put the brush down to talk to Punchlines. As an old mate, the former Lion didn't mind the interruption. Jamie had just started on an exciting commission to paint Liverpool's great team as part of the famous club's 125th year celebration. For some time, he has been trying to establish a foothold in the European sports scene and this was a monumental assignment in Britain.
Spanish giant Real Madrid was still raving over his work on Ronaldo and the boys, but Liverpool wanted one of his masterpieces to display in November and to have posters available for its hundreds of thousands of worldwide fans. "Paisley's nose won't be too hard but I will be head down from now on," Jamie said. "After this I will be switching my attention to Manchester City."
Jamie is the go-to man for sports artistry. His works are already on display in most AFL clubs and many other sporting clubrooms and boardrooms. He credits Collingwood President Eddie McGuire with helping him land the contract for the Manchester job. On the local front, he has recently completed a portrait of Hawthorn's retired champ Luke Hodge which will soon be displayed by the Hawks.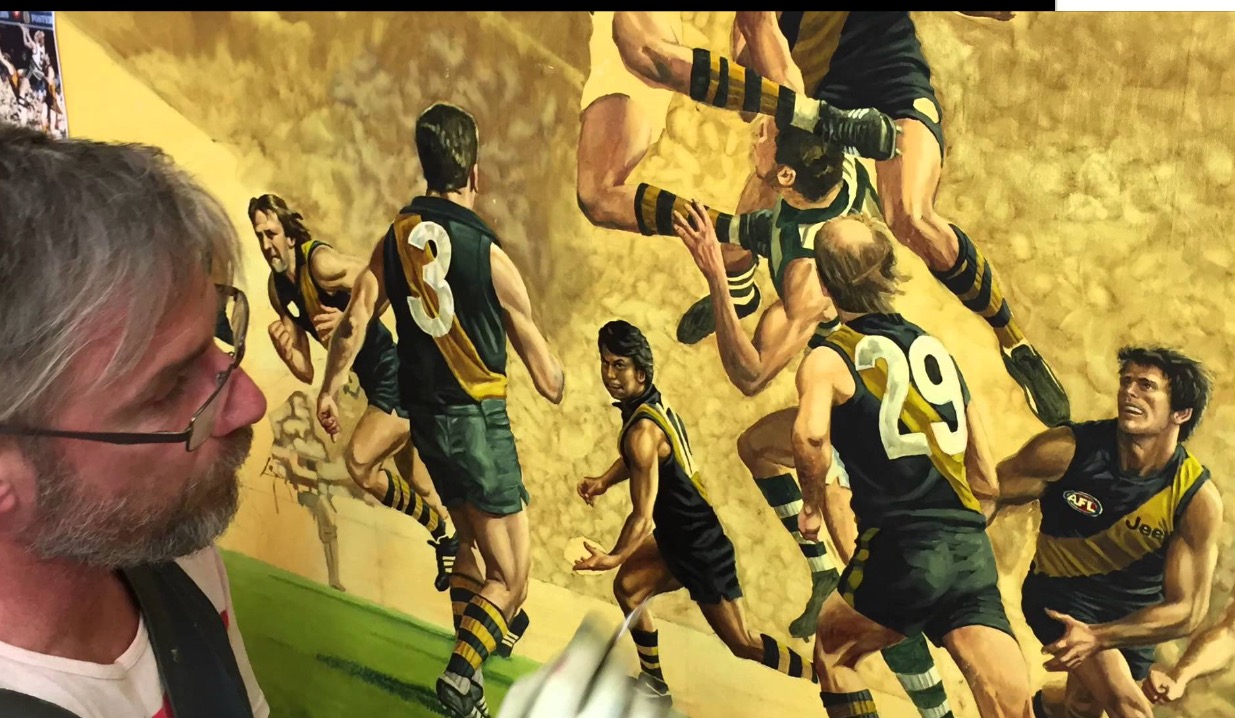 Another fine local product is his portrait of retired Bomber Dustin Fletcher, which I rate as one of his finest. Cooper played 26 games in four seasons with Fitzroy and ended up painting the Lions Team of the Century. The AFL also commissioned him to create a painting to commemorate the 150th anniversary of the first game of Australian Rules footy. And while Jamie looks increasingly towards Europe he has already left his calling card in the US where the Cooper class is seen in portraits of the Philadelphia Phillies and the New York Yankees baseball clubs.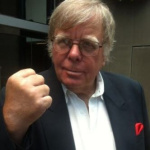 Author:
Scot Palmer
VERY few personalities are as well known in the world of sport as SCOT PALMER. He was a fine sportswriter on The Sun News-Pictorial and a news-breaking Sports Editor on the Sunday Press, Sunday Sun and Sunday Herald Sun. But he was best known for his famous column, Palmer's Punchlines, which ran for a record 25 years or more (he's lost count!).
Comments
comments
0 comments