---
Reading Time:
3
minutes
KEN PIESSE on a footy reunion to savour, with a moral to boot – never, ever, sing the victory song at halftime:
Gerry Callahan remains one of the most revered names in the old VFA, a six-time premiership captain and coach at Williamstown in the 50s.
Somehow, in retirement, he was encouraged to coach us at Beaumaris. For years we'd been accused of being soft under-achievers, social butterflies who partied harder off the field than on it.
In 1977, 40 years ago, it all changed, once and for all.
We won the premiership in the old South-East Suburban League against hot favorites Chadstone, led by another association great in Eddie Melai.
It was a win to savour for life. We'd lost three times out of four to Chaddy, including the second-semi.
Come Grand Final day our tallest player, full forward Tony White was king-hit and in Ga-Ga land for the rest of the match. There was little or no quarter-time break. The teams were brawling over most of those five or six minutes.
By half-time they led by 16 points and were so sure that they had our measure that they sung their victory song at the main break.
Totally against the odds, we dominated the third quarter, our centre-half-forward Peter Linton, recalled for the game from Buddy Franklin country outside Perth, proving to be in irresistible form.
He kicked three goals to have five.  He added number six and number seven in the final quarter and, somehow, we hung on to win by just a kick or two.
It had been a miraculous comeback, one which we celebrated for weeks — and again recently at our latest flag reunion.
Callahan, 88, was guest of honor at a lunchtime gig and spoke eloquently, repeating what he'd said to us immediately after the game.
"Lads," he said, "this premiership today has given me as much pleasure as any I've ever been involved with."
He posed for pictures and shook hands with everyone in the room. The faces had changed but he remembered every name.
"Fordie," he said to our full back Robert Ford. "Didn't I tell you once to get ferocious."
"Yes Gerry," he replied, "and I asked you what number he was!
For those of us involved, it was the greatest day in Beaumaris history, right up there with the time when Billy Thorpe of Aztecs fame temporarily moved into a house in nearby Harding St.
We loved worshipping on the altar of Sir Gerry of Callahan. One of the lads had flown in from the Middle East only hours earlier. And he'd been our 20th man — someone Gerry forgot about and left on the bench all day.
Had we had the guts at the selection table on the Thursday night before the Grannie and picked up-and-coming teen pair Michael Roberts and Michael Nettlefold, Chadstone would never have got close.
But, then again, the two young champs were only 15 at the time. They dominated in the two's Grannie, having 70 possessions between them. They were up from the Under 17s and just ran and ran. No-one could catch 'em. Both became brilliant VFL players.
Most of the boys attended: Reg, Chuck, Rowdy, the Italian Stallion, Rock Star, Scan and Peter Whitt.
I was lucky enough to be a keynote speaker and took us all on a trip back in time to the mid-70s when we smoked roll-yer-owns and Marlboro Red, bought the Saturday night Sporting Globe for the last race results and watched the Penthouse Club starring Mike Williamson and Mary Hardy.
Back then we had white shorts and black shorts; no logos and only big Whitey got away with a man bun. You weren't allowed to handball on the backline and if you kicked across goal you were straight off.
That was totally against the Beaumaris Blueprint as laid down by our founding father EJ "Ted" King. No one dared kick it backwards. And the switch?  That was something which automatically turned on in the fridge when you went to grab another couple of Long Necks.
It was a fun day — one we'd like to repeat in another 10 years' time.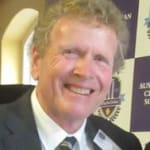 KEN PIESSE has covered cricket and football for more than 30 years in Melbourne. He has written, edited and published more than 70 sports books. His latest book, Favourite Cricket Yarns, is available from www.cricketbooks.com.au
Comments
comments
0 comments