---
Reading Time:
4
minutes
IT'S Hamilton again as the red flags fly in a chaotic Grand Prix, writes PETER COSTER:
F1 TEAMS change names as quickly as their drivers. Racing Point, which was Force India and will become Aston Martin next year is a case in point.
Canadian billionaire Lawrence Stroll, whose son Lance is one of its drivers, has bought a considerable chunk of Aston Martin and is its new executive chairman.
This year, Racing Point, which Stroll bought from Indian billionaire Vijay Mallya, is sponsored by BWT, an Austrian water filtration company, Best Water Technology.
Aston Martin, which currently sponsors Red Bull, should ensure the cars are painted British Racing Green instead of their present pink.
Still, as the world's most expensive sport it's a matter of taking the money wherever you can get it.
It hasn't always been this way. This correspondent was involved in sponsorship negotiations with Jackie Oliver, whose Arrows F1 car was being driven at the United States Grand Prix at Long Beach in California by former Australian world champion Alan Jones.
Embed from Getty Images
There was no sponsorship logo on the Arrows and while my next door neighbour in Los Angeles was the son of the owner of Korean Airlines and interested in putting the company's logo on the car and Jones had been my neighbour in earlier years in London, time ran out on the deal.
We were trying to do this at trackside as cars screamed past in practice.
Sponsorship is now a global industry although the connection between cars and sponsors is as puzzling as an Austrian water technology company sponsoring a Grand Prix car.
Philip Morris International, although banned from direct cigarette advertising, decided to continue its Ferrari sponsorship because the cars are red and Marlboro cigarette packets are red and white.
The Scuderia's cars then appeared carrying a barcode, which was thought to have a connection to the price of cigarettes. Just drive your Ferrari up to your nearest supermarket checkout.
The barcode disappeared and early this season PMI defied the protests of an Italian consumer protection group by continuing to carry Mission Winnow logos on their cars.
Mission Winnow?
This presumably focuses on "winnow" being a term for separating wheat from chaff and therefore promoting Philip Morris endeavours to find alternative and healthy substitutes to cigarettes.
Roll that up and smoke it!
Ferrari's Sebastian Vettel has been confirmed as signing for Racing Point next season following his ignominious departure from Ferrari.
But back to Sunday's race at Mugello where there was as much excitement over a promise by Renault F1 boss Cyril Abiteboul as the prospect of another Mercedes one-two finish.
Abiteboul promised to turn up for a tattoo if Ricciardo got onto the podium this year.
Sky's Crofty looked up nearby tattoo parlours and found several.
After two red flags following multiple crashes in the Tuscany Grand Prix, Ricciardo looked like taking second and almost certainly third place.
Max Verstappen in the Red Bull was punted up the rear by Kimi Raikkonen's Alfa Romeo on turn two of the first lap.
Monza Grand Prix winner Pierre Gasly's race ended after a clash with Raikkonen just before the Kimster ran into Verstappen.
The safety car came out but the restart seven laps later caused the first red flag.
The safety car lights went out as it pulled off the circuit but a concertina effect saw the back of the field speed up while Bottas and the front runners were still rolling toward to the start line.
Antonio Giovinazzi in the Alfa Romeo ran into the rear of Haas driver Kevin Magnussen.
Carlos Sainz, who is going to Ferrari next year to replace Vettel, who is going to Racing Point at the expense of Sergio Perez, became part of the chaos with Williams driver Nicholas Latifi.
There was a 25-minute wait while debris and wrecked cars were removed from the truck.
"Are they trying to kill us?" shouted Haas driver Romain Grosjean over team radio, blaming the drivers at the front for not pulling away when the safety car turned off its lights and turned into the pit lane.
Embed from Getty Images
But blame the rule that says the field cannot accelerate until the leading car, in this case, Bottas, passes the start-finish line.
"They want to kill us or what," continued a still agitated Grosjean. "This is the worst thing I have ever seen."
This from the French driver who is known for having caused several hair raising incidents in his F1 career.
"That was f…… stupid from whoever was at the front."
Bottas was later cleared of any blame. The lead driver at a restart is allowed to approach the line at his own pace, although not too slowly in the opinion of the stewards.
Twelve cars finished the race with Grosjean, who is the president of the Grand Prix Drivers' Association, bringing up the rear.
The second red flag came out when fourth placed Lance Stroll in the Racing Point crashed heavily from a suspected puncture.
Hamilton lined up on pole for what was the third standing start of the day, when you count the original lights out.
Bottas made a dreadful start and Ricciardo snapped up second place behind Hamilton, but could not hold off Bottas and Red Bull's Alexander Albon and finished fourth.
The Honey Badger won the Driver of the Day poll and saving Abiteboul, a visit to the tattoo parlour.
Still the Mugello circuit is less than an hour's drive from Florence, the birthplace of the Renaissance, where the tattoos are likely to be masterpieces.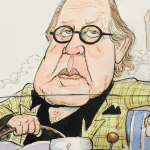 Author:
Peter Coster
PETER COSTER is a former editor and foreign correspondent who has covered a range of international sports, including world championship fights and the Olympic Games.
Comments
comments
0 comments