---
Reading Time:
2
minutes
RAVI Ashwin is threatening to derail Australia's patched-up batting line-up months before the toss of the coin in Adelaide, writes cricket expert KEN PIESSE:
NEVER before has a humble finger spinner promised to wreak such destruction on the dawn of a major new Test series as cricket's new spin king Ravichandran Ashwin.
Ashwin's likely mastery over Australia's top six threatens to derail Australia's bid to recapture the Border-Gavaskar Trophy.
His compelling form could easily see the weakened Australians two-nil down coming to the prestige Tests of the holiday season, in Melbourne and Sydney.
So dominant and so psychologically scarring were Ashwin's whirring varieties of offies, carroms and dippers from Edgbaston that viewing the late-night cricket from afar should have come with an X-rated warning, especially for Australia's likely set of lefties led by Matt Renshaw and Shaun Marsh.
Ashwin may not take 46 wickets like Jim Laker several generations ago prompting the headlines: YOU'VE BEEN LAKERED.
But so imposing is his form and skillset that the Indians are fast becoming unbackable favourites, despite a record of never having won a series on Australian shores.
Normally it's the more glamorous types like the sultan of spin Warnie or the expresses like Tyson, Akhtar and Akram, who have loomed as the most potent pre-series threats.
But big Ash, discovered less than a decade ago via Twenty20 cricket, is so pivotal to captain Virat Kohli's trophy quest that he may even be regularly entrusted with the new ball.
At 32 and given continuing fitness and good health, Ashwin could well run down the feats of every bowler in world cricket and even top Muttiah Muralidaran's phenomenal record of 800 wickets.
His remarkable strike-rate of five-and-a-half wickets per Test match outstrips all of Australia's most celebrated. The only one ahead of him is Murali, who virtually bowled from one end in most Tests.
In the opening Test in England, the tall man from Chennai bowled from the seventh over on the first morning and opened the bowling in England's second innings.
It was no surprise that five of his first seven wickets for the northern Test summer were left-handers. And five of the seven were in the top-order.
Like Murali, his ability to veer the ball back at pace and whip it away is decimating the confidence and denting the averages of dozens.
Left-handers average under 20 runs against him. The right-handers: 31.
His flight, dip and the sheer revolutions on the ball are confounding.
After a hesitant start in Australia — his average here is 54 runs per wicket — he is improving every year and at the pinnacle of his powers.
With no Smith or Warner in Australia's first six and only a mixture of hopefuls unused to the pressure of Test combat at its most intense, any Australian score of 350 this summer will be celebrated.
It seems only exhaustion can stop Ashwin and captain Kohli has more options at the other end with access to Jadeja and his array of seamers.
India's formidable depth is one of the reasons why this team is as menacing as any visiting combo since Clive Lloyd's West Indians of 1988-89.
Ken Piesse's latest two cricket books, Pep, the Cec Pepper Story and Australian Cricket Scandals are available from cricketbooks.com.au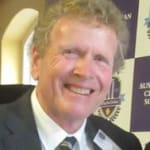 KEN PIESSE has covered cricket and football for more than 30 years in Melbourne. He has written, edited and published more than 70 sports books. His latest book, Favourite Cricket Yarns, is available from www.cricketbooks.com.au
Comments
comments
0 comments