---
Reading Time:
4
minutes
Drivers have kept their heads in the world's most dangerous sport. PETER COSTER watched the mayhem at the British Grand Prix where lives were on the line:
There was something of the Colosseum at Silverstone as the newest of the Grand Prix gladiators crashed out of the British Grand Prix.
The crowd of 142,000 was shocked to silence as Chinese rookie Zhou Guanyu was flipped upside down at the first corner before careering into a safety fence.
Four years ago, he would have been decapitated. As it was, the young Chinese driver escaped without so much as a headache.
Divine intervention came in the form of the "halo," the structure that sits above the driver. What might have been Formula One's most horrific accident happened at the first corner of the circuit where the first world championship race took place 72 years ago.
George Russell's Mercedes and Pierre Gasly's AlphaTauri touched, sending Russell's car into the back of Zhou's Alfa Romeo.
The Alfa rode on the halo into a tyre wall, flipping over it before becoming jammed between the wall and a safety fence.
Safety marshals ran for their lives as fears were held for Zhou in the wreckage.
But where was the driver?
He was somewhere amid the twisted steel and the carbon fibre safety cell in what no longer resembled an F1 car.
Looking over the video of the crash and stills of what looked like a missile strike in Russia's invasion of the Ukraine, deep within this destruction, I found what appeared to be Zhou's helmet.
After an hour under a red flag, there was a collective resumption of what for many in the crowd is the anticipation of mayhem.
Not everyone among the tens of thousands who pack today's F1 circuits are there for the racing. They know motor racing is dangerous. They are there for the life-and-death moments. They are in thrall to the thrill.
Silverstone had its Colosseum moment. The crowd erupted into a gyrating dance in the grandstands.
That was fun!
At least they had waited until Zhou was extracted from what was unrecognisable as an F1 car.
The rollover hoop that used to be all that separated a driver's head from the asphalt in earlier years had collapsed.
But the Colosseum gods were cheated by the halo, the safety device that was as controversial when it was introduced as it has proved to be a lifesaver.
Charles Leclerc, who led Sunday's British Grand Prix before being passed by teammate and eventual winner Carlos Sainz, would likely have been decapitated four years years ago when Fernando Alonso ran over the top of Leclerc's Sauber in the Belgian Grand Prix.
The halo saved him!
It happened at Monza last year when Verstappen's Red Bull landed on top of the halo instead of Hamilton's head.
The halo saved him!
At Silverstone on Sunday, Zhou said, "The halo saved me."
There was also the evidence or lack of it, not so much as a broken fingernail, that attested to the effectiveness of the safety cell that forms the core of the modern F1 car.
Too easy to say George Russell, who was partly to blame for the crash, should have let the marshals and the ambulance crew do their job. But it was a human reaction when he also ended off the circuit and ran to help Zhou.
Niki Lauda was saved by drivers who ran to his aid when the Austrian world champion lay trapped in his burning Ferrari at the Nurburgring in 1976.
As it was, Russell could do nothing to help the Chinese rookie. No one could see him in the wreck until long minutes passed.
Russell then found himself arguing with race officials after he found his own car had been loaded onto a truck and driven back to the pits.
Embed from Getty Images
Russell was told his race was over. There is a regulation that states you must be able to return to the posts unaided in the event of a red flag.
Russell's car would have been drivable, but the engine had been turned off and F1 cars don't start on their own.
Red Bull's Max Verstappen, who led the race through the first corner, was put back to second behind pole sitter Carlos Sainz when the race restarted.
Esteban Ocon, Alex Albon, Sebastian Vettel and Yuki Tsunoda were all involved in the Zhou crash and subsequent incidents at the first corner. In all, six cars did not finish.
But the winner deserved his victory.
Sainz, who had been asked to let Leclerc through changed to fresher tyres while Leclerc stayed out under a safety car.
The Spaniard was able to pass the Monagasque driver to win his first Grand Prix in 150 starts after finishing second or third 11 times.
Sergio Perez was second for Red Bull and Hamilton third for Mercedes, with Leclerc fourth. Fernando Alonso was fifth for Alpine ahead of Lando Norris in sixth for McLaren.
His teammate, Daniel Ricciardo, was 13th and unlikely to continue to drive for McLaren next year with still a season before his contract expires.
Whatever his problems, unfortunately mostly his own, the Australian appears to have reached the end of a remarkable career in which he has won eight GPs.
The last was at Monza last year when Hamilton and Verstappen crashed. At least Ricciardo was ahead when it happened.
His miserable 2022 season reads:
Bahrain 14th, Saudi Arabia DNF, Australia 6th,
Emilia Romagna 18th, Miami 13th, Spain 12th, Monaco 13th, Azerbaijan 8th, Canada 11th and Britain 13th.
Not good enough is sadly the season so far, with Austria next week a chance just as likely to be as swift in passing him by.
Embarrassingly, the driver regarded as one of the top five drivers in the sport was lapped on Sunday.
A final word about the crowd, or at least the celebrities who were allowed on the grid before the race started.
Tom Cruise was approached by Grand Prix commentator Martin Brundle on his grid walk but seemed more interested in getting away from him than answering any questions.
We all know the star of Top Gun, Maverick is a mate of Lewis Hamilton but was his reticence a lack of a script or Brundle's attempt at an unauthorised interview?
Brundle was jostled by men with stern faces and continued on his grid walk. It says something that drivers about to get into their cars are happy to speak to him, whereas celebrity minders need to be told to make their presence felt somewhere else.
Brundle drove in 158 Grand Prix and is the best known of the working media. Tom Cruise and his goons should have known who was trying to talk to them.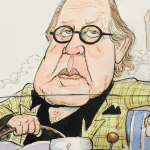 Author:
Peter Coster
PETER COSTER is a former editor and foreign correspondent who has covered a range of international sports, including world championship fights and the Olympic Games.
Comments
comments
0 comments