---
Reading Time:
4
minutes
Drivers were slipping and sliding in Canada but one seized the day, says PETER COSTER:
Come the deluge, cometh the old man. The great Grand Prix drivers are rain masters. Slippery when wet, these drivers excel on rain soaked circuits.
They seize the opportunity, as was proved by former double world champion Fernando Alonso at the Canadian Grand Prix.
The Spaniard was fastest in practice and was on the front row of the grid after qualifying, only Max Verstappen denying him pole.
It was the veteran's first front row since his glory years in 2010. When anything is written about Alonso these 12 years later, it is with the reminder that he is nearly 42 years old.
If mention of that has become tiresome, the Spaniard doesn't show it. He is a racer in the true sense of the word. He will drive anything that is offered, from Indycars to F1 and Le Mans in between. He has twice won the 24-hour race in 2018 and 19 and the world endurance championship in the same years, also the Daytona 24 hours in 2019.
He has led the Indianapolis 500 proving his willingness to slip into whichever seat is available.
While even the new world champion in Max Verstappen spun off in final practice in the rain in Canada, Alonso remained supreme in a car that did not deserve to be on the front row.
Embed from Getty Images
Alpine is the renamed Renault team, but the rebadged car is nowhere near the machine Alonso drove to two world championships in 2005 and 2006.
On the rain drenched circuit at Montreal, the Spaniard might have grown fins rather than wings.
His sensitivity in the rain was wonderful to watch and rather than think of replacing him with a driver from a younger generation after his contract expires next year, Alpine is waiting for Alonso to tell them whether he wants to continue.
There can be no doubt of that and while younger drivers could only watch in awe in the rain in Canada, it was no surprise to those who know his talent, only to have it confirmed by a rain soaked master class.
That the race was won by Max Verstappen after an end of race duel with Ferrari's Carlos Sainz was impressive.
Alonso's countryman had the chance to stream by the Red Bull driver after the field concertinaed under a virtual safety car.
Somehow Verstappen found the pace to hold off the charging Ferrari.
Somehow was also how seven-times world champion Lewis Hamilton brought his Mercedes home in third place; an unlikely podium in a car he declared "undriveable" after the previous race in Azerbaijan.
The so-called porpoising, the rapid bouncing that has affected the top teams, saw Hamilton struggling to get out of the car although F1 politics has replaced back pain as a possible diagnosis.
While Mercedes calls for the FIA to intervene over porpoising, which sees their drivers' heads bobbing as if they were basketballs, it is not all about driver safety.
Yes, driver safety is an issue. Keeping control at more than 300 km/h while your head is being slam-dunked is dangerous, but is it up to the teams to fix it rather than by FIA regulation.
Mercedes doesn't want to increase the ride height of their car because the higher the ride height the less the downforce and therefore the speed.
Teams against change by regulation say they are not experiencing the porpoising affecting teams like Mercedes and Ferrari and to a lesser extent Red Bull.
So, why change the ride height and put themselves at a disadvantage?
F1 cars this year have undergone some of the most radical changes since ground-effect cars and their suction-creating side skirts were disallowed.
To achieve as much downforce as possible under the new regulations has encouraged designers to limit suspension travel to a minimum.
The cars now have the suspension of the go-karts most F1 drivers started driving before they were teenagers. That means no suspension. If there is as much as a ripple in the track, the driver likely feels it.
Mercedes boss Toto Wolff said after the Azerbaijan race that he doubted whether Hamilton would be able to drive in Canada because of the pain.
Hamilton's teammate, George Russell, also complained about porpoising and said it could cause problems in controlling the car.
Hamilton was also supported by McLaren's Daniel Ricciardo, who also experienced rapid bouncing at Azerbaijan.
Of course, porpoising has not been Ricciardo's only problem in driving the McLaren. He has found the same problems driving the car as he found before the regulation changes.
This year's radically redesigned cars should have given him what he hoped would be a reset.
That seemed to come in Canada where he started in the top ten and finished 11th and ahead of teammate Lando Norris in 15th.
Both drivers would have finished higher except for pit stop blunders that destroyed their chances.
Both cars were brought in for tyre changes at the same time, double-stacking as it is called.
Ricciardo came in ahead of Norris but lost track position when his right front wheel was slow to release.
Norris was left waiting behind him and lost even more time when mechanics fitted the wrong tyre to the left front; a medium compound tyre when the other tyres were hards.
There were apologies from McLaren team principal Andreas Seidl for the botched pit stop that ruined their races.
Seidel also apologised for the lack of pace of the McLarens.
Even so, the Honey Badger may have turned the corner in handling the McLaren and the British Grand Prix on July 3 may be his chance to prove it.
To be fair, while he was faster in qualifying and the race in Canada, Norris had mechanical issues with his car.
A top five finish would silence his critics and stop the media pile-on that had McLaren talking about cancelling his contract at the end of the season.
That could still happen unless there is a a dramatic improvement in Ricciardo's performances.
But one aspect that has become evident is Ricciardo's continuing self belief. There have been races where he has had his head in his hands, but the Honey Badger still has bite.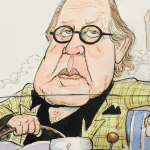 Author:
Peter Coster
PETER COSTER is a former editor and foreign correspondent who has covered a range of international sports, including world championship fights and the Olympic Games.
Comments
comments
0 comments