---
Reading Time:
4
minutes
Monaco is the race round the streets of the fairytale principality that drivers say they most want to win. PETER COSTER looks a what happened on Sunday:
Sadly, if the F1 season were over, Daniel Ricciardo would be looking at retirement or a seat in a lesser team after being sacked by McLaren.
Sad, because the eight-times GP winner coulda been a contender.
But after 216 races and at the age of 32 that is in the past.
The Honey Badger has been too slow for too long after what was seen as a resurgence at the Australian Grand Prix this year when he was sixth.
But rather than a return to form it was an indication of lowered expectations.
Monaco on Sunday descended into a disaster that had its beginnings at the start of the weekend when the Australian crashed heavily in practice in the McLaren.
He failed to make the cut in qualifying and started 14th. He finished 13th.
There have been better days. The king of the late brakers, who lives in the fairytale principality should have won the race in 2016 but was cheated of victory when his pit crew did not have his tyres ready.
He won in 2018 but that was only a fading memory on Sunday.
Nico Rosberg, the 2016 world champion who won three times at Monaco, was as puzzled as everyone else.
Embed from Getty Images
"Daniel was just a couple of years ago a top three-four driver in F1 and so it's difficult to explain what happened. I really feel for him because this is a painful situation.
"His team boss came out this morning saying that there is a way to break the contract next year for him. You don't want to hear that stuff."
No, you don't want to hear that stuff. The Honey Badger, named after the fierce little animal painted on his helmet, is looking at an after life with one of the B teams.
Maybe Aston Martin alongside billionaire's son Lance Stroll (daddy owns the team) if Sebastian Vettel retires at the end of the season.
Ricciardo says he doesn't take the likelihood of being dropped from McLaren personally. "I've got a thick hide," he said.
But it hurts.
Ricciardo's head was in his hands as he slumped back in the garage after hitting the barriers at Monaco.
The team took responsibility for the "loose" after making changes to the car's balance, but it was another bad day and there have been too many.
No one wants to see Ricciardo dropped from the team unless it is one of the drivers McLaren is sounding out as his replacement.
The American Indy car driver, Colton Herta says he doesn't wish bad things upon the Australian but he wants his seat at McLaren.
There are also others?as a new generation of young chargers push forward on the grid.
Why is Ricciardo consistently behind his team-mate in Lando Norris in qualifying and in the race.
That is difficult to answer. The cars are the same but while the 21-year-old Norris makes the car work for him, Ricciardo finds himself unable to work the car.
This was the case last year, when Norris proved himself so adept at handing the McLaren while Ricciardo struggled, in spite of an unexpected win at Monza in the Italian Grand Prix.
This year there are radical design changes, it is a new car, but still Ricciardo finds himself unable to adapt while Norris, who has signed a long-term contract, makes the car do what he wants.
Again, Ricciardo finds himself being driven by the car.
There were similar problems at Renault (now Alpine) before Ricciardo made the change to McLaren.
There are those who point to Ricciardo leaving Red Bull as the start of his problems. But it runs deeper than that.
Is Ricciardo's lack of form more psychological than a top three-or-four driver declining as time takes its toll?
The psychology of winning has been replaced by a lack of confidence that grows within the driver who tries, perhaps too hard, to regain what has been lost.
There are older drivers on the grid. Seven-times world champion Lewis Hamilton is 36 and failed in his bid to win an eighth championship last year as a result of a controversial call by race director Michael Masi at the Abu Dhabi Grand Prix.
Masi said he wanted to make a race of it by telling lapped drivers between Hamilton and Red Bull's Max Verstappen to get out of the way.
Hamilton lost the championship on the last lap on ageing tyres and Masi lost his job.
The race directors at Monaco on Sunday proved far more cautious and held the race up for more than an hour to allow a rainstorm to pass.
The cars got away without incident on a rolling start, but chaos followed for pole sitter Charles Leclerc when he lost the lead after mistakenly being called into the pits.
The Ferrari driver's scream over team radio was unintelligible but obvious for all that. First he was called in and then he was told to stay out but he was already in the pit lane.
Race strategy and grid position is everything at Monaco where passing is all but impossible and Red Bull's Sergio Perez held off Ferrari's Carlos Sainz to win with Max Verstappen third on the podium.
There is a break before the next race at Azerbaijan on June 12, but what of the disconsolate Ricciardo?
Lando Norris is likely to be in even better form than his fifth place at Monaco where he was suffering from acute tonsillitis.
For Ricciardo it seems there will be no snap back to his previous form. As Rosberg said that was "a couple of years ago."
The Australian, who now calls Monte Carlo home, is as puzzled as Rosberg at his drift from the sharp end of the grid.
Sometimes, the Honey Badger admits, he sits in the car thinking he has put in a fast lap only to find it's another slow one.
Is he sick, some having pointed to a gathering gauntness?
But the loss of weight has more to do with heavier cars this year and drivers, as well as what they are driving, having to lose weight.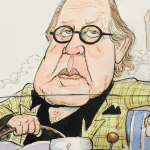 Author:
Peter Coster
PETER COSTER is a former editor and foreign correspondent who has covered a range of international sports, including world championship fights and the Olympic Games.
Comments
comments
0 comments