---
Reading Time:
4
minutes
LAY off Dan – they're all having trouble behind the wheel now, writes PETER COSTER:
DANIEL Ricciardo ran foul of the kerb and the doubters in the Emilia Romagna Grand Prix on Sunday, but while he was the first to do so, he was not the last.
Charles Leclerc did the same while trying to pass second place getter Sergio Perez with 10 laps remaining.
Ricciardo was last after sliding into Ferrari's Carlos Sainz who finished in the gravel trap at Tamburello, where triple-world champion Ayrton Senna died.
The corner was changed to a chicane following that accident.
Riciardo's mistake, if that is what it was, was never going to end in tragedy.
It did mean that Ferrari's Carlos Sainz was left lamenting in the gravel trap where Ricciardo joined him after receiving a nudge from behind by Valtteri Bottas in the Alfa Romeo.
The Australian driver's misjudgement was put down as a "racing incident." Able to at least finish the race after escaping the gravel trap, Ricciardo walked round to the Ferrari motor home after the race to apologise to Sainz.
Ricciardo slid off the kerb just as championship leader Leclerc spun off the kerb in the last 10 laps of the Imola race.
No one has had much to say about the Leclerc error. The Ferrari driver said he got "greedy" when trying get second place back from Red Bull's Perez.
Ricciardo did not deserve the pile-on that followed his error in sliding off the kerbing at the start of the race.
Embed from Getty Images
In the past, F1 drivers consistently used the kerbing to gain an advantage. Now, it's something to avoid.
The cars this year have undergone radical changes. They are heavier, to such an extent that teams such as McLaren have stopped painting some body parts.
The weight saved is minimal but asking the drivers to lose weight is a limited option. Drivers must keep to a minimum weight.
Very few drivers can drive these cars at their limit. The front wings extend like a snowplough in front of the halo and its central strut.
The drivers look through what seems no bigger than a slot in an old-fashioned letterbox.
They lie back as if they are in a bathtub, beside tiny rear-vision mirrors that do little to show another car passing within centimetres.
These cars are difficult to drive. Seven-time world champion Lewis Hamilton and current world champion Max Verstappen have been heard on team radio declaring the cars "impossible" to drive and "undriveable."
The biggest changes to the cars this year are aerodynamic with drivers bobbing about as the car "porpoises" along the straights.
Yes, drivers such as Hamilton are on packages of tens of millions of dollars a year. Forbes rich list puts Hamilton's earnings at $90 million from his contract with Mercedes and endorsements.
But how to drive the cars when everything has changed?
F1 drivers may be the elite but lying almost on your back in the "bathtub" while peering through there "letterbox" in a downpour and pushing buttons at more than 300km/h is mentally and physically challenging.
Aerodynamicists such as Red Bull's Adrian Newey, who has been doing this for more than 30 years, are confronted with making F1 cars even faster.
Mercedes has tried to virtually eliminate the side pods on its cars, which may have led to the porpoising down the straights.
The pods contain radiators and electronics and are particularly vulnerable. At Imola, Alpine's Fernando Alonso found himself driving a car that looked as if it had been attacked by a great white shark.
The former double world champion said he felt the merest "kiss" as his car touched with Haas driver Mick Schumacher.
But his car had to retire with a gaping hole in its side
Whatever was in there was strewn among the carbon fibre and debris back on the track.
In front of all this was Red Bull's Max Verstappen who was a winner in spite of having a poor start from pole.
It was his second victory after four races. Engine issues forced him out of the other two.
Ferrari's Leclerc also has two victories but has picked up enough points in the other races to lead the championship.
The teams as well as the drivers are struggling to come to terms with new regulations and radically different cars.
Mercedes' Toto Wolff has apologised to Lewis Hamilton for not giving him a car capable of winning.
Wolff said over team radio: "Sorry for what you had to drive today. I know this is undriveable and not what we deserve as a result."
It became a "sorry" fest. Hamilton was sorry he didn't do better.
Another sting in the tail was that teammate George Russell finished fourth behind McLaren's Lando Norris.
That was a sting in the tail for teammate Daniel Ricciardo.
But what Ricciardo didn't deserve was the aforementioned pile-on after he slid into Sainz.
Former Mercedes world champion Nico Rosberg dumped on Ricciardo, saying he could be in danger of being dropped by McLaren if his performances don't improve.
They have.
The Honey Badger has had a miserable start to his time with McLaren in spite of winning at Monza last year.
But he finished sixth in the Australian Grand Prix at Albert Park a fortnight ago and was on the third row of the grid alongside Lando Norris at Imola.
Sainz said after the race there were "no hard feelings" and "what happened with him could have happened to anyone out there today.
"But, unfortunately it had to happen to me."
Daniel doubters take note. There are another 18 Races with the next in Miami on May 8.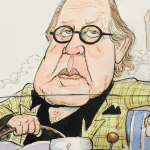 Author:
Peter Coster
PETER COSTER is a former editor and foreign correspondent who has covered a range of international sports, including world championship fights and the Olympic Games.
Comments
comments
0 comments