---
Reading Time:
3
minutes
ANOTHER red-letter day for the red cars, but Ricciardo also enjoys his Albert park outing, writes PETER COSTER:
"IT'S nuts, mate," was the best line to come out of the Australian Grand Prix, as delivered by a grinning Daniel Ricciardo in the minutes before the third race of the season started at Albert Park.
The McLaren driver had been asked what he thought of the ecstatic reception as he walked towards his car on the fourth row of the grid.
The crowd was a record 419,114 over the four days of the Grand Prix, which should be shifted back to the opening race of the season, if only to spare the drivers the jet lag after a double header in Bahrain and Saudi Arabia.
As it was, the reception when Ricciardo finished fifth behind teammate Lando Norris could not have been greater had the Perth driver won the race.
Ricciardo, who had a miserable start to the 2022 season after switching to McLaren from Renault, might have finished fifth had he not been asked to stay behind Norris.
Embed from Getty Images
"Daniel, we're managing something on Lando's car," Ricciardo was told over team radio.
"It's OK to close the gap, but don't put him under pressure. This is the last lap. Don't get too close to Lando, he may lose power."
Ricciardo responded "If he loses power what do I do?"
Team radio: "Oh, drive past! I just don't want you to hit him."
The fourth and fifth places have put McLaren back in contention after Ricciardo and Norris finished 14th and 15th in Bahrain.
Norris was seventh in Saudi Arabia with Ricciardo failing to finish along with Williams driver Nicholas Latifi and AlphaTauri's Yuki Tsunoda.
Latifi crashed into the barriers with only five laps to go in the last race of the season in 2021, enabling Max Verstappen in the Red Bull to pit behind the safety car while Lewis Hamilton stayed out in the Mercedes, only to see Verstappen snatch an eighth world championship from him on fresh tyres.
Latifi delivered the understatement of the day at Abu Dhabi by saying: "It was not my intention."
The Canadian driver might have said the same when he crashed at Bahrain.
Again in Saudi Arabia and again on Sunday at Albert Park when he tangled with fellow Canadian Lance Stroll in the Aston Martin during qualifying.
Stroll was turning in when Latifi tried to squeeze through an ever-diminishing gap, leaving Stroll fuming over team radio.
"Latifi man, what the fuck was he doing, he's just fucking hit me, man," complained Stroll sounding like someone from the sixties.
What year is it in Canada, one might ask as Stroll went on to say he was on "a cool lap" when Latifi ran into him.
The stewards didn't agree and Stroll was given a three-place grid penalty for causing the accident but Williams might be close to losing their cool over Latifi, who owes his place in the team to paying for the privilege.
It may be that some drivers, including Lewis Hamilton, are hoping Latifi seeks some other form of employment.
Hamilton, who finished fourth in Melbourne behind teammate George Russell, is fast losing sight of an eighth world championship.
Hamilton was eliminated in the first round of qualifying in Saudi Arabia and the last time that happened was in the Brazilian Grand Prix in 2017.
Ferrari's Charles Leclerc, having won at Bahrain and finishing second to Verstappen in Saudi Arabia, finds himself leading the world championship by 37 points over Hamilton's teammate George Russell and 46 points over fifth-placed Verstappen, who failed to finish in Bahrain and Melbourne.
Last year's world champion pulled off the circuit at Albert Park on the 39th of 58 laps when his engine failed when he was running second to Leclerc.
The Red Bull driver challenged Leclerc for the lead when the race was restarted under a safety car but admitted he could not match the Ferrari's speed.
Nor Leclerc's mastery for that matter. The Monegasque driver led from start to finish, seemingly unaffected by the strange "porpoising" action of the Ferrari.
His head could be seen bouncing like a basketball as the car pitched, a problem that has also affected Mercedes as teams contend with radical design changes to cars this year.
Leclerc took pole and fastest lap in a flawless performance at Albert Park, a circuit where he has struggled.
But not on Sunday.
Ferrari has been off the pace for the past two seasons but the Scuderia is again at the sharp end of the grid.
Enzo Ferrari's bloody red cars as his competitors called them have brought the passion back to Formula One.
There were thousands celebrating wildly in Lygon St as Carlton's Italian rev heads smoked their tyres and danced the night away.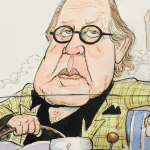 Author:
Peter Coster
PETER COSTER is a former editor and foreign correspondent who has covered a range of international sports, including world championship fights and the Olympic Games.
Comments
comments
0 comments