---
Reading Time:
7
minutes
SEVEN DAYS IN SPORT: Some teams just seem destined never to deliver on the big stage and RON REED follows two of them.
IS there anything more frustrating than following Carlton during the footy season?
Yep, following the Melbourne Stars during the cricket season.
I do both, and haven't had the desired result from one since 1995 or from the other in the 10 full years that they have been in existence, despite being loaded with highly-paid local and international talent every campaign as well as an all-star range of camp followers including Eddie McGuire, Ian Chappell, Viv Richards and, of course, not forgetting their first captain, Shane Warne.
The Green Team are experts at finding a way to let you down just when you think they've got the game skun.
It happened again this week when their main man Glenn Maxwell smashed an extraordinary century against the Sydney Sixers at the MCG – the best innings he's ever played in the Big Bash, which is saying a bit – and still they managed to walk away without the choccies.
To be fair, it wasn't a case of the Stars losing the game but the Sixers winning it – and there is a difference, of course – when their best player Josh Philippe responded with what was an even better knock than Maxwell's.
Games like these are the reason I have always been a big fan of the Big Bash and Twenty 20 cricket in general, and I suspect there might be a lot more like me these days than there used to be, when it was widely bagged as unskilful, lightweight dross.
There was certainly no shortage of acclaim for the national team when they won the recent world championship for the first time, and the proliferation of tournaments around the world – led by the incredibly successful and mega-rich Indian Premier League – means that it is now as much a staple as the other two forms, especially for female cricketers.
Embed from Getty Images
It was pleasing being back at the mighty MCG – a second home for all of my working life – after an unusually prolonged absence, my least appearance having been to watch the Blues play Geelong in April which left me with no choice but to quarantine for a fortnight because I had sat within a bull's roar of someone who had covid.
Ah yes, covid. Remember that? We've stopped being spooked by that, haven't we? It's not really an issue any more – right? That was the mood as a fair-sized crowd mingled in the bars, eateries and seating bays as the Stars and the Sixers came out to play.
Well, wrong. It hasn't gone away, as we were reminded starkly less than 24 hours later when the Australian captain Pat Cummins was forced to pull out of the second Test because he had dined near a positive case while we were mixing freely at the G.
Melbourne cricket crowds love their own and Maxwell is no exception, not least because he is not only the Stars' captain and best player but with the exception of rookie all-rounder Brody Couch – a new arrival from Geelong – he was the only born-and-bred local in the team on Wednesday night.
That's not all that unusual in T20, which encourages peripatetic mercenaries such as Jamaican Andre Russell, currently in the middle of a five-match stint with the Stars, who was playing his 391st match for his 28th team, including two others in the Big Bash.
Maxwell was pumping him up, pre-match, as the best T20 player in the world – late innings big hitter, genuinely quick bowler, athletic fielder and colourful personality.
He has won two world championships with the Windies but played just a single Test match, scoring two and taking 1-73 against Sri Lanka in 2010.
There aren't many who are better to watch than Maxwell when he comes off, but you do have to accept that you never quite know what you're going to get, and his erratic and sometimes suicidal methods can be disappointing – for him and everyone watching.
This time we were all in luck when he survived an outfield catch on 15 and proceeded to smash a dozen fours and three sixes – becoming only the second player behind Queenslander Chris Lynn to clear the fence 100 times – as he roared to 103 off 57 balls, taking the Stars from a sluggish start of 2/12 in the four-over powerplay to a challenging 177, enough to win most games.
Interestingly, he employed mostly orthodox(ish) cricket shots with a minimum of reverses and ramps, at least until the last stages of his knock, which might have had the effect of making him harder to dismiss. Food for thought, perhaps?
Shane Warne – and he wasn't alone in this, I thought the same thing myself – tweeted that it was as good a T20 knock "as you will ever see."
In fact, we had to wait no longer than 15 minutes to see arguably a better one.
Josh Philippe, 24, enhanced his growing reputation as one of the most talented young batsmen in the land in any format by batting throughout the innings, slamming the fourth ball of the last over for six to walk off 99 not out.
Embed from Getty Images
He didn't quite match Maxwell's hundred but he offered no chances and made sure his team won, which was enough to make him man of the match IMO.
It took him to a competition-high 259 runs from four matches, with three fifties, which underscores how unlucky he was not to feature in the World Cup, where he was part of the sqauad.
The Stars must have been sick of the sight of him – and of the Sixers.
Philippe had also got 83 in a rout on the opening night of the tournament when the Sixers beat the Stars for the sixth time in a row. Two of those had been with a ball to spare, this one was with two balls, so it's not as if they Sydneysiders – premiers for the past two seasons – are unbeatable. Only that the Stars aren't the mob to do it, or haven't been since Marcus Stoinis took a competition record 147 of them at the G two seasons ago.
The Stars went on that year to win 10 of 14 games and finished on top of the ladder, Stoinus amassed 705 runs to be the player of the tournament, they got through to the final – and lost. Yes, to the Sixers by 19 runs.
Last year they didn't even make the finals.
They have now played in eight of 10 finals series, been minor premiers three times and runners-up three times – and never champions.
Are we watching the creation of the biggest jinx in contemporary Australian sport?

STEVE Smith's temporary resurrection as Test captain was inevitable at some stage, and so was the mixed response when he walked out to bat in Adelaide. However, there was more applause than objections, much to the relief of Cricket Australia who must have crossed their fingers when they appointed him Pat Cummins' deputy, knowing that many fans had still not forgiven him for overseeing the ball tampering scandal three years earlier – you only had to pay attention to the letters pages in the papers and listen to talkback radio to know that.
However, he has served his penance and gone out of his way to improve his personal brand, and everyone is entitled to a second chance. So, time to forgive, if not necessarily to forget. However, that does not seem to be the case for David Warner, who was banned from leadership roles for life and was therefore overlooked as a replacement deputy for Smith, which would normally have been an obvious choice given his seniority and ability. He certainly outranks Travis Head, who did get the gig, but it looks like his cards are going to stay marked forever in this respect.

THE English cricketers managed to avoid the fate that befell Pat Cummings – maybe because they couldn't afford to go out for dinner after losing their entire match fees from the first Test because of their abysmal over rates. That's about $27,000 per head, apparently, or nearly $300,000 collectively. If it happens every match, they'll be up for $1.5 million.
And yet, they still laboured through just 25 overs in the first hour in Adelaide, forcing captain Joe Root to race through some extra overs of spin himself late in the day to limit the damage.
Fines don't seem to work, then. Perhaps deducting Test championship points will prove more effective, having cost Australia a chance to play in the inaugural final earlier this year, which opened up a place for New Zealand, who duly won.
What else can be done? Well, maybe adding a third penalty by deducting runs from their own score or adding them to the opposition's, thus potentially changing the result of the match. Twenty-five per over, say, might prompt the captain to pull their collective fingers out.

SPEAKING of Carlton footy club, as this column often does, it was interesting to hear retired captain Marc Murphy unload on Mick Malthouse's dismal coaching stint between 2013 and 2016, the last of his long career. According to Murphy, Malthouse just wasn't the players' cup of tea – certainly not his own, as captain – and was in the job for the wrong reasons. Murphy did not spell out what those reasons might have been but it's probably safe to suggest that chasing down the all-time coaching games record, which he did, might have been high on the list. To his credit,
Embed from Getty Images
Murphy made a point of acknowledging that the former Footscray, West Coast and Collingwood boss had been a very high achiever. But few Blues fans were ever able to muster much enthusiasm for the appointment and it has taken its place in a long litany of administrative mis-steps by this once-feared juggernaut of a club. Here's hoping Michael Voss is not another one.

YOU don't have to barrack for Collingwood to be glad that Jeff Browne has finally been installed as their new president. This saga has dragged on for almost a year, ever since Eddie McGuire walked away in disarray, and while it's been good for the media – another six pages of overkill in the Herald Sun this week, adding nothing we didn't already know – it has become tedious for everyone else.
Now we still have to sit through the remaining chapters of the Jordon De Goey saga, the end of which seems to be nowhere in sight. Browne is obviously a capable operater and is well-liked around the traps, so it would be churlish not to wish him good luck in one of the biggest gigs in the game. We just don't need to hear about it every day.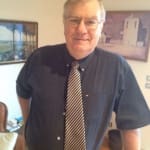 Author:
Ron Reed
RON REED has spent more than 50 years as a sportswriter or sports editor, mainly at The Herald and Herald Sun. He has covered just about every sport at local, national and international level, including multiple assignments at the Olympic and Commonwealth games, cricket tours, the Tour de France, America's Cup yachting, tennis and golf majors and world title fights.
Comments
comments
0 comments