---
Reading Time:
6
minutes
SEVEN DAYS IN SPORT: There's not much about Melbourne sport than this group of mates don't know about or haven't lived through, writes RON REED.
IF YOU were a historian seeking clues as to why Melbourne is the sports capital of the nation, if not the world, you would have done well to have been present at a very convivial lunch in an upmarket St Kilda pub a few days ago.
Happily, I was. This was the combined 60th birthday party and Christmas celebration of one of the city's more venerable and interesting sporting institutions, the Vingt Cinq Club.
You could probably say this is a definition of a "boy's club" – there are no female members –  except that the term boy might be considered a tad optimistic. Nobody has ever bothered to work out what our average age might be but there would be very little, if any, change out of 70.
In fact, we conferred life membership on three of our number on this day, one of whom was tennis legend Frank Sedgman. Frank is 94. Nonetheless, he is confident he will make very good use of the honour, and he is still moving so well and still so in charge of all his marbles that no-one doubts it.
The others were two of footy's greatest names, Ron Barassi (who was absent because he has covid) and Bob Skilton. They are 85 and 83. And they are not the only octogenarians. Neil Roberts is 88, Allen Aylett is 87 and Doug Wade is 80, and that's just the footballers, of whom there are quite a few other big and not so big names. Test cricketer Ian Meckiff is 86.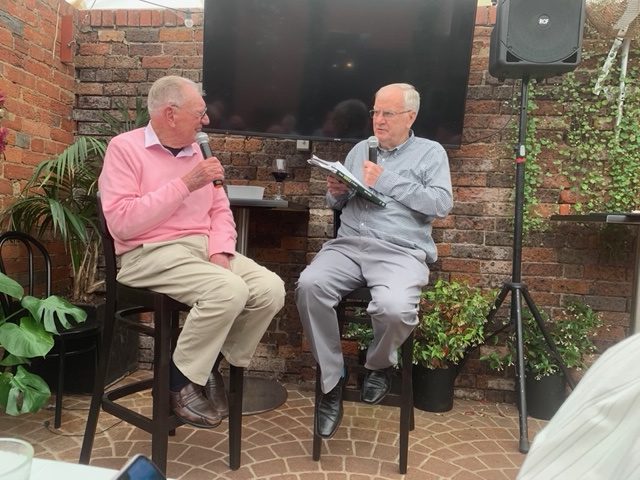 And the president Leon Wiegard, a dual Olympic water polo player and one of the last presidents of the Fitzroy Football Club when it was in the VFL, is 82.
So when you think about it, it is a minor miracle that this club continues to exist, let alone thrive, as it is doing with a membership that currently numbers 82.
Why does it exist?
The reason couldn't be any simpler – to have fun in each other's company. For the camaraderie. The mateship. Which, when you get down to it, is probably the main reason why sport itself exists.
It came about in 1961 when some footballers didn't mind enjoying a liquid lunch on a Friday before a game, often with their mates from other sports, but for obvious reasons needed to do so with a certain amount of privacy.
It evolved from there, largely under the direction of prominent sports journalist Ian McDonald, who became the first president – Wiegard is only the second one, an amazing stat given it takes in six decades.
Neil Roberts and Ian Meckiff are the only two survivors from the original group of 25, or Vingt Cinq in French.
The same year, a similar group calling itself the Carbine Club after the great racehorse was also formed and is still going as strongly as Vingt Cinq, perhaps in a slightly more upmarket fashion, with some members common to both.
Back in the 70s, Vingt Cinq pioneered the concept of big lunches on the Friday before the footy Grand Final. Now there are dozens of them, but the original one is still a pace-setter with as many as 700 guests each year, at least until the pandemic put them on the backburner.
Footy is the lifeblood of the club, as it is of most things Melbourne. Kevin Sheedy, Peter Bedford, Simon Madden, Simon Beasley, Norm Brown, Sam Kekovich, Ian Law, Wayne Richardson, Barry Richardson, Wayne Schimmelbusch, John Sharrock and Ted Whitten are just some of the other prominent identities.
In the last year, Murray Weideman, 85, Graham Arthur, 84, and Albert Mantello, 87, hung up their (drinking) boots, taking another massive chunk of Melbourne sporting history with them.
It takes all sorts, so there are umpires, cricketers, Olympic gold medallists, cyclists, jockeys and trainers, hockey players, basketballers, administrators and journalists, with well-known businessman and sports entrepreneur Gerry Ryan – a life member – contributing extremely generously to the club's ability to keep functioning as enjoyably as it does.
Why does he do that? "Because it is a really special group of people," he says. No other motivation necessary.
Why do so many big names gravitate to it?
"Because everyone is on equal terms here," says Sedgman. "You can't come here thinking you're pretty good because you'll quickly be put in your place."
Obviously, the amount of knowledge , wisdom and experience – and the vast repository of tall tales and true – on offer is astonishing, probably unequalled in any similar cohort.
There is no such thing as the fountain of youth of course, but whatever they put in the drinks at the Vingt Cing Club's 11 functions a year sems to get the job done pretty well. Many Happy Returns to it.

AM I the only boxing fan who had never heard of George Kambosos Jr until last weekend? I suspect not. But if so, note to self: start paying more attention.
Kambosis is now, suddenly, the king of the sport in this country after relieving American Teofino Lopez of four lightweight world titles in a massive upset at Madison Square Garden in New York, a performance "up there with the greatest Australian sporting achievements of all time" according to legend Jeff Fenech.
Hmmm, we'll let that assessment marinate for a while, but, yes, it certainly was impressive and consigns the unbeaten Tim Tszyu,w who has yet to fight for a world belt, to a back seat for a while.
How come Kambosos, 28, with a perfect 20-0 record, has flown so under the radar. Partly, no doubt, because his previous six fights have all been overseas since a low-key appearance in Melbourne more than four years ago.
Embed from Getty Images
But also, it seems, because he has a big mouth, with suggestions he has clashed with some sections of the boxing media in his home town, Sydney. "He's very outspoken. I tried to talk to him once and he gave me a mouthful," Fenech says. "You need the boxing people on your side."
Well, yes, that does help, but since when did talking yourself up become a no-no in the fight game?
With his Greek heritage, a defence of his new belts in Melbourne would be a blockbuster – but it looks like Sydney will snare this one.

NEW Zealand cricketers continue to prove themselves one of the best teams to watch in any format. Probably not many watched it, but one of the highlights of the week was the last hour of their Test match against India in Kanpur when the last-wicket pair, debutant Rachin Ravindra (18 off 91 balls) and Ajaz Patel (2 off 23) survived 52 balls from the world's best spin attack in fading light to force a draw. Some commentary hailed it as "the perfect Test match" – it was certainly a nice prelude to the turn of the long game in this country.

SPEAKING of Gerry Ryan, as we were, his professional road cycling team now with a slight name change to Team BikeExchange Jayco – has admitted it needs to lift its game as it approaches its second decade as Australia's only World Tour outfit.
The roster has undergone some surgery with seven recruits from as many countries, which means a quarter of the total of 28, one more than last year, are new faces.
There are now 17 internationals from 12 countries and 11 Australians, including veterans Damien Howson, Michael Hepburn, Michael Matthews and Cameron Meyer.
"Over the last two seasons our roster has changed, so we also need to do things differently and adapt," says Matt White, who has been the team boss since day dot.
"We have traditionally been a team that has won races from across our roster from January to October and never relied on one star to deliver the majority of our wins. We did not achieve this in 2021 and its an era we will again focus on in 2022.
"The Grand Tours are of course very important objectives, especially with riders like Simon Yates and Michael Matthews, but in this rebuilding phase, winning races everywhere and anywhere is also crucial. We will alter some of our goals and adapt our style of racing."
What all that actually means, exactly, remains to be seen, but it sounds as if Ryan – who has been in two minds about the team's future for a while now – might have delivered a rev-up.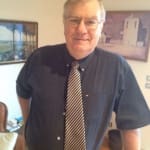 Author:
Ron Reed
RON REED has spent more than 50 years as a sportswriter or sports editor, mainly at The Herald and Herald Sun. He has covered just about every sport at local, national and international level, including multiple assignments at the Olympic and Commonwealth games, cricket tours, the Tour de France, America's Cup yachting, tennis and golf majors and world title fights.
Comments
comments
0 comments