---
Reading Time:
7
minutes
SEVEN DAYS IN SPORT: Footy has changed hugely since the last time the Bulldogs and Demons played off, and so has the way it is reported and by whom, writes RON REED.
IF ANY Western Bulldogs player kicks as many goals as the entire Melbourne team does in the Grand Final, especially if that's at least seven, he'll be a fair chance to win the Norm Smith medal for best afield, you would think.
But old Bulldogs of a certain vintage might not necessarily agree.
They would be the ones old enough to remember the only other time they and the Demons squared off in the premiership decider, way back in 1954 – when footy was a decidedly different game, to say the least.
Their full-forward that day, Jack Collins, did indeed kick seven as the Bulldogs doubled the Demons' score, 15.12 – 102 to 7.9 – 51 to claim their first flag.
Late in the last quarter, Collins – a colourful character and very good player who later became the club president – took a mark well within range but passed off to team-mate Brian Gilmore, who didn't even bother having the shot because the siren sounded to end the game and another goal was neither here nor there.
If Collins had taken the kick himself and put it through, he would have broken the Grand Final record.
With 15 kicks, one handball and eight marks from the spearhead, it was a mighty performance – but it wouldn't have got him the medal.
Team-mate John Kerr, a rover, was – according to contemporary reports – unanimously listed as the best, with 24 kicks and eight handballs. The AFL handbook says Collins was second best, Percy Beames in The Age had him fourth best and a third source third best.
Beames, who knew a bit about playing well in Grand Finals, having been best on the ground himself in three successive Melbourne premiership wins during the war years, was impressed by Collins' "dazzling first quarter display" in which he kicked three goals, which "demonstrated the value a great full-froward is to a team."
But he left it to the second last paragraph of his lengthy match report to note that Collins had ended up with seven, and the fact that it equalled the record, held by four other players, including the opposition coach, Norm Smith, wasn't mentioned at all.
Far be it from me to criticise Beames unduly – he was my grandmother's brother after all, and she wouldn't stand for such family impertinence – because he was a hugely respected Press Box presence in both footy and cricket, another sport that he succeeded in at an elite level. His credentials from that perspective were beyond outstanding, even if he had not been formally trained at the craft.
But at the risk of being guilty of stating the bleeding obvious, it is not just what happens on the footy field that has changed beyond recognition since those distant days, so has sportswriting.
The pre-eminent football writer in those days was undoubtedly Alf Brown, who covered the game for the evening paper, The Herald, from 1945 to 1979, after an earlier career reporting politics and crime.
I was his last Sports Editor, which was a privilege because he was so good at what he did that it was an education to work with him.
In my book WAR GAMES, published earlier this year by Wilkinsonpublishing.com.au, I wrote: "Brown had the game skun like nobody before him or since. Unusually for this cohort, he didn't drink – apparently because he once woke up in a fit of remorse after injuring someone in a pub the night before, and never touched a drop again.
"Although rarely seen out socially he was on such good terms with every coach in the League, the established ones and the new ones, that they all entrusted him with selection secrets before the teams were published, not just positioning but the reasons why players would be dropped or recalled, which enabled him to produce a full broadsheet page of previews of the main three matches every Friday which were must-reads because they were always spot-on with this off-the-record information.
"If a player had, say squibbed it the previous week, this was the place to find out what the coach thought of him, without being actually quoted. Rookie club officials were often warned by old hands that while they didn't necessarily have to tell Brown the truth, the whole truth and nothing but the truth, they must never tell him a straight-out lie – if they did, there would be hell to pay.
"In an era when there were only a handful of full-time footy writers, he stood alone as the doyen – and that respect lives on, with the award for football media identity of the year named after him in perpetuity."
That accolade was shared this week by Caroline Wilson and Sam McClure, both of The Age and various electronic platforms, both of whom have links with Brown. Wilson started her career at The Herald straight after he finished and McClure's father Geoff also worked closely with him there.
If there is a doyen these days, Wilson is probably it – another sure sign that much has changed since 1954 or thereabouts, when female sports journalists were extremely rare and decades away from being permitted let alone encouraged to work in football.
That progress was further under-scored this week when Melbourne AFLW player Daisy Pearce won the award for best analysis and opinion and 20-year broadcaster Kelli Underwood was made a life member of the footy media association.
Brown covered 34 Grand Finals by a method that pretty much became a thing of the past when he did himself, namely by dictating many hundreds of words of description of the play, goal by goal, kick by kick, melee by melee, over the phone to a copytaker with the last of several deadlines only a few minutes after the final siren.
It was an art form of its day – also employed to great effect by Brown's racing counterpart Jack Elliott on Melbourne Cup Day – which will never be seen again but which I for one still marvel at because of the skill, concentration, knowledge and accuracy it demanded.
"Colour" – or observational – writing is now more the go, along with endless quotes, stats, trivia and of course opinions on every conceivable aspect of the match, its presentation and its aftermath.
There would have been plenty of grist for these mills in 1954, as there always has been and will be.
A random few:
· Because the MCG was being prepared for the Olympics two years later, the attendance was only 82,697, the lowest for five years, and many of them had to sit on the grass inside the fence.
· One photo in The Age of the spectators was captioned: "A sea of hats, suits and ties and best frocks, an immaculately dressed crowd watches the game." Nobody goes to the footy in a suit or best frock now unless they're hobnobbing it in corporate boxes.
· Although the game was at Melbourne's home ground, The Argus newspaper estimated that "at least 70,000" were barracking for the Bulldogs.
· Smith, later to become known as the Red Fox for his coaching wiles, pulled a blatant act of gamesmanship by sending his team out five minutes after the game was supposed to have started, to a chorus of hisses, cat-calls and boos. It briefly worked, with Melbourne kicking the first goal. Channel 7 would have apoplexy if that happened now.
· Not that anyone was to know it then, but the game was one of the first to pit against each other two young men who would go on to become clearly the best-known figures in the game, 18 year old Ron Barassi and 21 year old Ted Whitten. Both were in the best players.
· Barassi was one of six teenagers in Melbourne's team, along with Frank Adams, 19, Geoff Case, 19, Brian Dixon, 18, Bob Johnson, 19 and Don Williams, 18, while Laurie Mithen was 20. Footscray had only one, Ron McCarthy, 18, but despite that their average age of 23 years and 230 days was only 58 days older than Melbourne.
· There was no interchange then, only two reserves, and three of the four – Footscray's Angus Abbey and Jack Nuttall and Melbourne's Adams – did not get a run, and Dixon featured only briefly at the end despite Smith making wholesale positional changes at the last break.
· Footscray were so impressive that a dynasty was immediately predicted. "Being so well-furnished with youth, yet possessed of well-established experience, Footscray – with a large and ever-growing area to call on for players – now seems destined to become a league football power for many years," Beames wrote. Jack Dyer said he could not see any other club seriously challenging the Bulldogs, who were "on the verge of genuine greatness." They waited 62 years for their next flag while Melbourne won six of the next 10 – and none since.
· Naturally, the Bulldogs celebrated hard with thousands of fans congregating at their old Western Oval and in the streets – but there were so many, it proved almost impossible to get a drink. It is doubtful that would have proved a problem for the young EJ.
All in all, it was quite a story – as most Grand Finals are. The one we are about to see is highly unlikely to be any exception.

THERE is always a bitter-sweet story in every premiership side, the player who has been part of it during the season proper but for whatever reason – injury, suspension, form – not in the team on the day. But it is doubtful if there has ever been a more poignant example than Dees stalwart Nathan Jones, who loyally did all the desperately hard yards for 16 years only to be stranded by his ageing legs just when the ultimate reward began to beckon – and now he won't even be at the game, having rightly elected to fly home for the birth of his twins. Undoubtedly, he was allowed to play a season too long but at least that got him across the line for 300 games, which is why both he and the club's decision-makers have no reason to feel uncomfortable about the outcome, sad as it is. They have done the right thing by each other.
Embed from Getty Images

NOVAK Djokovic's failure to complete the tennis Grand Slam – thrashed in straight sets in the final of the US Open – doesn't appear to have bothered too many people, even those would have liked to have seen some rare history created. Just not by him, it seems.
I confess to occasionally harbouring similar thoughts, but when I ask myself to justify them … I just can't.
OK, he has a knack of getting people off-side but this negativity tends to be exaggerated and difficult to explain. He is not unsportsmanlike, doesn't indulge in sharp practice let alone straight-out cheating, he's never been suspected of doping, match-fixing or betting on matches. Most than most players, he mostly keeps his frustrations under control.
Embed from Getty Images
So, really, what's the problem? The safest bet in world sport is that by this time next year he will have gone past Federer and Nadal as the most prolific (male) major tournament winner in history, and it would be churlish in the extreme for that not to be accepted as recognition that he is the GOAT and applauded unreservedly.

INTERNATIONAL cricket has become poorer with the news that Michael Holding, at 61, has retired from the TV commentary box. No other West Indies past player has come anywhere near the level of authority, respect and popularity in the media enjoyed by the champion Jamaican fast bowler who used to answer to "Whispering Death." Perhaps not quite the Caribbean's answer to Richie Benaud – those big shoes are yet to be filled by anyone, anywhere — but certainly up there with Michael Atherton, Ricky Ponting, Nasser Hussain and Shane Warne, who are the best of the contemporary players-turned-broadcasters, Atherton also among the finest writers on the game. Holding's most important contribution was not his in-play observations but his award-winning dissertations a year or so ago on racism, not just in cricket but life generally, and the best-selling book that followed, Why We Kneel, How We Rise.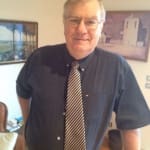 Author:
Ron Reed
RON REED has spent more than 50 years as a sportswriter or sports editor, mainly at The Herald and Herald Sun. He has covered just about every sport at local, national and international level, including multiple assignments at the Olympic and Commonwealth games, cricket tours, the Tour de France, America's Cup yachting, tennis and golf majors and world title fights.
Comments
comments
0 comments