---
Reading Time:
3
minutes
The Melbourne Cup has been a staple of the Australian sports scene for over 150 years, with many of the country's greatest ever horses, jockeys and trainers having made a name for themselves at the momentous event. These are some of the most interesting statistics about what is affectionately known as The Race That Stops A Nation.
1. 65.5kg is the biggest weight ever carried to victory
It was back in 1890 that Carbine lugged a monumental 65.5kg around Flemington to victory, a number that over 130 years later remains the biggest weight carried by any Melbourne Cup winner. Given he would end his career having won 33 of his 43 race starts, a heavy weight was probably justified, but nonetheless it was an incredible feat, particularly considering that he was competing in a field of 39 horses. To put the win into perspective, the four most common weights that have been carried by winners of the Melbourne Cup over its 160 years are all below 55kg, and Makybe Diva is the only winner since 1985 to carry more than 58kg – still more than seven less than Carbine.
2. The most common age for winners is four years old
Unsurprisingly given the gruelling nature of the race, it pays to be on the younger horses in the Melbourne Cup. In its 160 editions, the winning horse has been aged four years old on 46 occasions, making it the most common age for winners – albeit only just. Sitting immediately behind four-year-olds are the five-year-olds, who have won it 44 times, while six-year-olds have saluted on 33 occasions and three-year-olds 23 times. Evidently horses aged between three and six win a vast majority of the time, and the more mature horses of eight years or more have only managed to win on three occasions – one of which was just last year, when Twilight Payment turned back the clock in a pillar-to-post win.
3. Bart Cummings has trained horses to more than twice as many Melbourne Cup victories as anyone else
The late, great Bart Cummings was an icon of Australian racing for many decades, and it was at the Melbourne Cup where he most significantly made his presence felt. He first won the race in 1965, and 43 years later he was still going, winning his 12th and final Cup when Viewed was first past the post in 2008. It's an extraordinary feat which is best understood by comparing it with every other trainer in history – Etienne de Mestre and Lee Freedman are the second most successful Melbourne Cup trainers, having trained horses to victory a comparatively meagre five times.
4. Shadow King made six Melbourne Cup appearances (the most in history)
Prince of Arran might get all the attention as the unluckiest horse at the Melbourne Cup, having finished second or third in each of the last three editions of the event, but his misfortune pales in comparison to that of Shadow King. Shadow King first ran in the race in 1929, and would go on to run it on another five occasions. These six starts at the event are the most in history, but despite the volume of attempts and consistently finishing in the top handful, he never won. He finished 6th and 4th once each, while he also finished 3rd and 2nd on two occasions each, meaning that along with being the most capped Melbourne Cup runner, he might also be the most unlucky.
Melbourne Cup statistics are a great way to get a feel for Australia's biggest race, and understand some of the factors that go into taking out the event. Given it has been run annually for 160 years, it's no surprise that there is an endless pool of stats to jump into about the race, but the above four are some of the most interesting.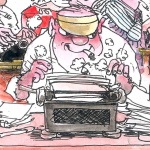 Comments
comments
0 comments