---
Reading Time:
8
minutes
THE country's favourite star – in any field, probably – has completed a unique three-way sisterhood that transcends sport, writes RON REED:
AUSTRALIA has responded to Ash Barty's inspirational Wimbledon win with the sort of unanimously joyful acclaim not seen since Cathy Freeman's immortal Olympic triumph 21 years ago.
From the moment she sealed the 6-3 6-7 (4-7) 6-3 victory over Czech Karolina Pliskova at 1.04 on Sunday morning back in this neck of the woods – with seemingly everyone in the country tuned in, kids long past their bed-time no exception – the applause has been not only unrelenting but totally without any suggestion of ho-hum, let alone negativity or carping about this or that.
Such total positivity is very rare in sport or any other walk of life, and while Freeman's unforgettable lap of the Sydney stadium is unlikely to ever be usurped as the most emotional Australian sporting moment of this century, and possibly the last one too, Barty is now the only rival to it.
There may have been even more authentic feel-good elements to it, and perhaps a stronger sense of inevitability – given it's symmetry with her idol Evonne Cawley's first realisation of the identical childhood dream 50 years earlier, it was written in the stars.
Barty, Freeman and Cawley, of course, are sisters in a sense – all female, all indigenous, all intelligent, articulate, modest, humble and proud role models for successive generations of not just people with whom they share an ancient heritage but Australians of every ilk.
Embed from Getty Images
Barty's mantra – expressed again to the world's media after her triumph – is that being a good human being is far more important than being a good tennis player, and it has been widely and correctly hailed as a lesson in life for all and sundry. In other words, she now transcends sport.
So a new stratosphere has engulfed the Barty Party, a term coined when she dominated women's tennis for most of 2019, capturing the No 1 ranking and winning her first major tournament, the French Open, as well as the year-end championship play-offs and a couple of other big events as well.
That story was encapsulated in forensic detail in the book BARTY: POWER AND GLORY, which is still available but crying out for an update, which is now in the works, although with the Olympic Games and the US Open on her agenda in the immediate future it has become no easy assignment keeping pace with her towering achievements and challenges.
At least there is no longer any disputing her right to be regarded as the world's best player. Because the covid crisis prevented her from leaving Australia throughout last year, and with Japanese star Naomi Osaka rising quickly, some arch questions were asked about the validity of Barty's ranking.
But with Osaka temporarily and controversially withdrawing from the circuit – she skipped Wimbledon after playing only one match at the French — and with the formidable Serena Williams on her last legs and no other obvious dominant power emerging, Barty is queen of all she surveys, no argument about it.
There was such a lot to like about her denouement on the manicured lawns of London SW19, the repository of more tennis history than any other place on the planet.
It was a more daunting challenge than anyone knew – including herself.
That's because when she was forced to withdraw early in the defence of her French crown with a hip injury that had been troubling her for some time, her support team decided not to tell her how bad it was, believing she wouldn't recover in time for Wimbledon.
Not knowing that, or perhaps just not wanting to know, Barty got herself there anyway.
Just making it into the final was a highlight in itself given the quality of the semi-final against Germany's accomplished Angelique Kerber, a former Wimbledon champion, which Barty won in two entertaining, competitive sets.
She began the final by nervelessly claiming the first 14 points from a stunned Pliskova, who looked so shaken that by early in the second set the result looked inevitable. It wasn't. Barty wavered, Pliskova rallied, and sport's eternal truth came into play – namely, it ain't over until its over.
But while Pliskova took the second stanza in a impressive tie-break, it would still have been a major shock if Barty had not prevailed in the end, which she duly did with both combatants earning applause for the manner in which they had gone about it, no grunting, no tantrums, no arguments with linesmen or the umpire, just a pure exhibition of tennis the way it is meant to be played.
At home, people still didn't go to bed when the last point was played, preferring to share the euphoria with her as best they could from the other side of the world. It was that sort of occasion, a national celebration, conducted with all the class and maturity for which she has become so well-known and admired.
I was fortunate enough to be on hand to watch Pat Cash famously clamber into the grandstand to embrace his coach after defeating Ivan Lendl in 1987 – a celebration the staid old tennis and croquet club had never seen before — when he was dubbed the Wild Colonial Boy by the British media, not disapprovingly but as a happy nod to his Australianess.
When Barty did the same thing, albeit a tad more elegantly, she wasn't called any such names but it was recognised as just one more confirmation that there is nobody who represents Australia more authentically than she does.
The cameras showed her being feted by real royalty, the future king and queen of England, and tennis royalty, Martina Navratilova and Billie-Jean King, and it wasn't until she moved on to her coach, boyfriend and other team members that the tears couldn't be held back any longer.
They are all images that will resonate just as powerfully as the exquisite groundstrokes and pulsating serves that had got her there.
Like Cawley, who was 19 and went on to win seven Grand Slam tournaments including a second Wimbledon, you sense that the Barty story is a very long way from over. She is only 25, which is peak territory for a modern tennis player, and so the sky is the limit.
Cawley also was named Australian of the Year after her Wimbledon breakthrough. It's still only halfway through this year, but it is going to take something pretty special to prevent Barty emulating her one more time.
RON REED is the author of BARTY: POWER AND GLORY, a former award-winning sports editor, columnist and feature writer with the Herald and Weekly Times and a past Australian Sportswriter of the Year.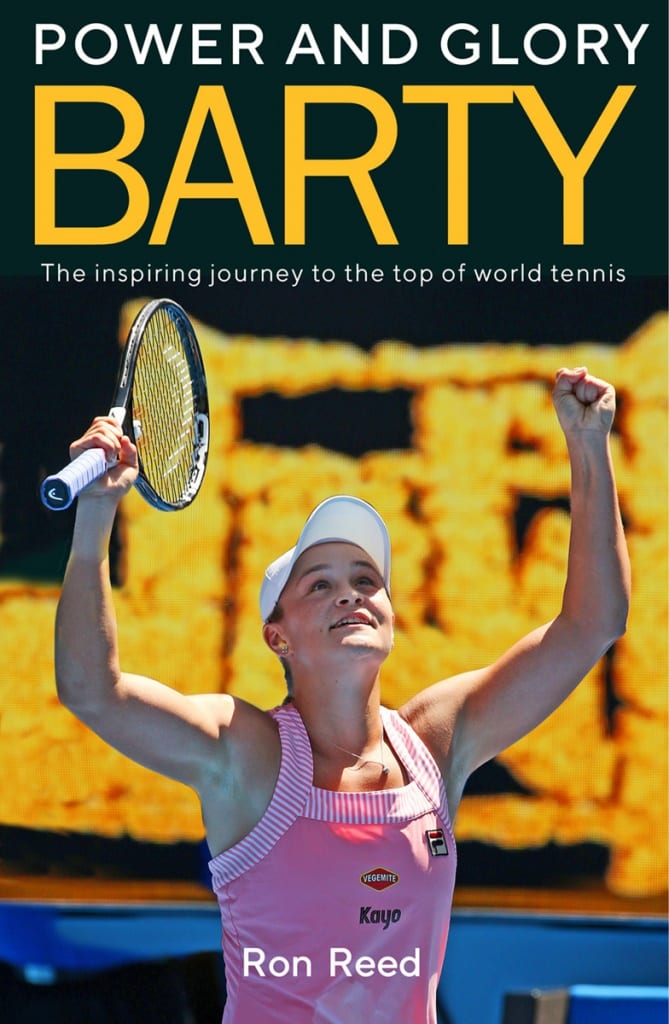 ·      The book is available from Wilkinsonpublishing.com.au, Amazon, Booktopia and some bookshops.

POIGNANT is not the first word that springs to mind about the uplifting nature of Barty's triumph, except in the case of another young star from an earlier era. Jelena Dokic, now a commentator, struggled to hold back tears as she paid tribute to Barty's parents for the way they have brought her up and supported her to the max. That, of course, was far from the case with her own father, Damir, the epitome of the ugly sports parent, who made her life an embarrassing misery. Much more happily, she seems to have recovered her confidence, poise and mental health and is now continuing to make a living from the sport that threatened to swallow her up through no fault of her own. The stark comparison between her story and Barty's is an instruction manual for all families with kids who are gifted at sport – or anything else, for that matter.

HAVE we witnessed this week the emergence of perhaps the most powerful athlete the world will see for the foreseeable future? Big call, yes, but Slovenian cyclist Tadej Pogacar has produced an amazing performance in the Tour de France, which he is now certain to win for the second year in a row on Sunday, and by the dominant margin of about six minutes. Pogacar, who is only 22, validated his authority by winning successive stages in the huge mountains of the Pyrenees, defeating his two closest challengers, Denmark's Jonas Vingegaard and Ecuador's Richard Carapaz, on both occasions, riding away from them over the closing stages as if they were on stationary gym bikes and then appearing to be in no physical distress immediately afterwards. There is no more gruelling physical challenge in mainstream sport than the three weeks of Le Tour and Pogacar has likened it to "playing a game," an expression of confidence not arrogance. Just as he did last year, he will also take home the polka dot jersey for best climber and the white one for the best young rider, a trifecta claimed only once in the long history of the great race. That was by 24 year old Eddy Merckx on his first Tour in 1969. The Cannibal, as the Belgian champion was known, went on to win four more editions of Le Tour as well as six other Grand Tours and just about everything else that counted and is now widely regarded as the best cyclist in the history of the sport. So while he has made a great start to his career, Pogacar  has plenty left to chase and it promises to be fascinating to watch him do so.

AS A fully paid-up member of the Chris Gayle fan club – there is no more entertaining cricketer on and, mostly, off the field – it was a pleasure to watch him in full flight this week even if it did consign Australia to a third successive defeat in the T20 series in the West Indies. The big Jamaican blasted 19 off Josh Hazlewood's first over on the way to 67 off 38 balls with four fours and seven sixes, which took him past 14,000 runs in T20s, an unprecedented feat which has been spread across 35 teams around the world. In a bizarre interview as he accepted the man of the match award, he claimed that at almost age 42 there was plenty more where that came from and he would prove it at the World Cup later in the year. Hmmm – we'll see about that. This was his first international 50 for five years and his other scores in this series have been 4, 13 and 1 so there is every reason to suspect that he is now merely raging against the dying light and that such innings will now be few and far between. But until we discover for sure whether or not that is the case, he is still a must-watch whenever the chance presents.

LIKE every other Carlton supporter, I salute Sergio Silvagni who has died at 83, one of the club's greatest servants on multiple fronts, not least siring son Stephen, also a legendary player, and grandson Jack, who is gradually becoming a good one. I have known Stephen since accompanying a VFL under 17 team on a tour of Ireland in 1984, when he was already an outstanding performer with a guaranteed big future, but never really got to know his famous father. I do, however, know several of his old team-mates well, and their admiration and respect for him is without quibble – which is not always the case in footy teams. Vale.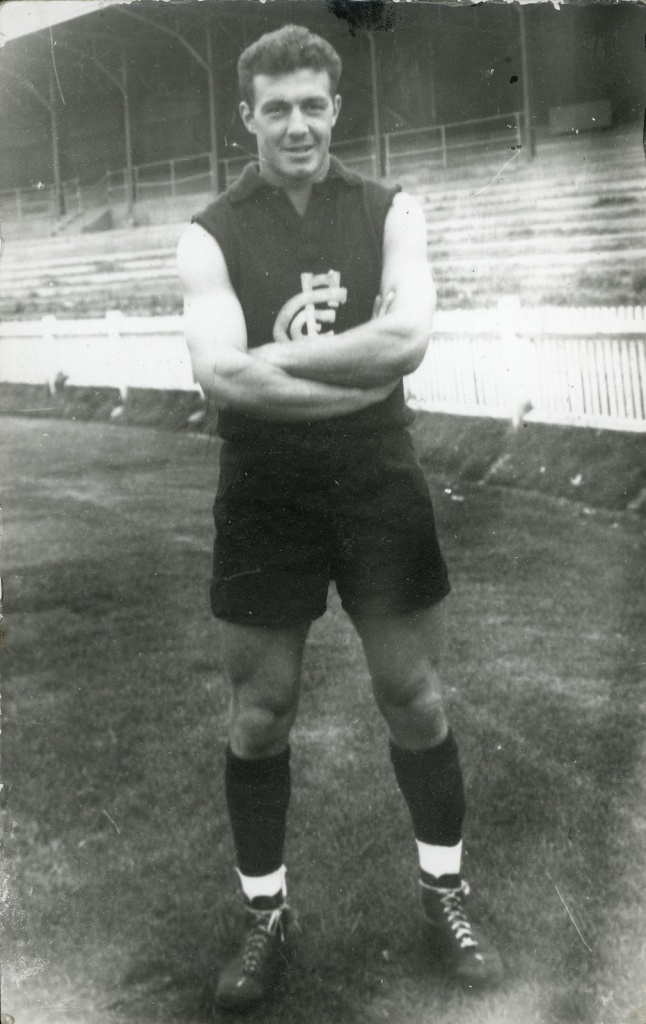 Carlton's clashes with Collingwood are always a must watch, and this weekend's edition will be no different even if they are 13th and 15th with nothing but pride to play for. I won't be there, of course, and neither will anybody else, which is a shame. As it happens, I would have been unable to go anyway after having been declared a close contact after visiting the bar named after my great-uncle Percy Beames while watching the Blues get hammered by Geelong last Saturday night, and told to isolate for a fortnight even though I have since tested negative. I had much the same experience during the Boxing Day Test seven months ago, and many thousands of others were then and are now in the same boat. If people start to get leery about mixing in big crowds, I wouldn't be surprised if this becomes a significant problem for the Melbourne Cricket Club, the AFL and Cricket Australia. Certainly, I think I'll be confining myself to the couch for a while.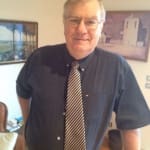 Author:
Ron Reed
RON REED has spent more than 50 years as a sportswriter or sports editor, mainly at The Herald and Herald Sun. He has covered just about every sport at local, national and international level, including multiple assignments at the Olympic and Commonwealth games, cricket tours, the Tour de France, America's Cup yachting, tennis and golf majors and world title fights.
Comments
comments
0 comments