---
Reading Time:
3
minutes
YOUNG Australian Ben O'Connor puts in another big one as the Tour de France heavy hitters slug it out, writes JOHN TREVORROW:
WOW, what a stage – That was as good as it gets.
Stage 17 of the Tour de France showed us who is the best and who are the stars of the future. To watch the best three riders in the race attacking each other over the final 10 kms of a major mountain finish was jaw-droppingly good.
Tadaj Pogacar proved he is the worthy wearer of the Maillot Jaune, while Jonas Vingegaard and Richard Carapaz showed they are the only riders who are capable of fighting it out for the podium. And, realistically, the Dane and Ecuadorian are duelling for the lower rungs.
Australian Ben O'Connor was magnificent and smart in defeat. He followed for as long as he could on the final climb of the Col du Portet before realising that he would have to go too deep into the red zone if he kept trying to react to the attacks from Pogacar.
"Initially, the tactic was following Pogačar, but then after getting dropped I said, 'OK, I've got to play the second game with Urán and Kelderman'," O'Connor said after the finish.
O'Connor began the final climb with dreams of getting on the podium but he soon realised that it could be just out of reach. As the leaders climbed into rare air above 2000 metres, O'Connor decided to focus on keeping his place in the top five. O'Connor looked in control over the final few kilometres of the brutal climb and burst clear of his rivals to finish an amazing fifth on the stage.
"In the end, I thought I could try and grab a couple of seconds. Maybe I could have gone a bit earlier, but I went through a couple of rough patches too, so I'm proud of today," said O'Connor, who remains fifth overall, now 7:34 behind Pogačar.
"I still showed that I deserve to be here. I think it's really great for the team too, because they've looked after me the whole week and put effort into it and now there's a genuine reward for it. It was pretty special to be fifth up there in a mountaintop finish at the Tour de France," he added. "It was a classic mountain stage today and it played pretty well for me. It wasn't crazy hot and it's beautiful up here. I'm just super proud to fight in the Tour de France with these big guys."
O'Connor's brilliant solo victory in Tignes on stage 9 lifted him to second place overall at the Tour, but while he slipped off the podium on Mont Ventoux three days later, he has performed consistently ever since. The 25-year-old is just 17 seconds off Urán's fourth place ahead of tonight's summit finish at Luz Ardiden.
"If I can keep that, that would be insane, pretty much," said O'Connor. "I think tomorrow will be exactly the same as today, to be honest: two big climbs and more weather like this. Then the time trial is pretty simple. It's just you and the machine and off you go."
O'Connor was asked if another stage win was a possibility? "No," he said. "I don't think it would be possible to do that. I think I took my chance in Tignes. I can't ask for any more than what's happened so far."
Michael Matthews managed to gain one more point back from Mark Cavendish in the intermediate sprint but his 36-point deficit looks to be uncatchable unless Cavendish has a major drama. Matthews' Team BikeExchange have ridden their hearts out for him although the Manx missile has been just too fast. But it can change in a heartbeat. Sprinting is one of the most dangerous parts of a very dangerous sport and a crash in the finale of a sprint stage can see a 50 point turnaround in the blink of an eye.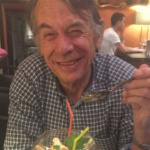 Author:
John Trevorrow
JOHN TREVORROW is a multiple Australian champion road racer and Olympian who has been doing media commentary at the Tour de France for more than 20 years.
Comments
comments
0 comments