---
Reading Time:
3
minutes
THE CANNIBAL is now sharing his Tour de France record but not his status as the sport's greatest-ever performer, says one of his old opponents JOHN TREVORROW:
WITH Mark Cavendish equalling Eddy Merckx's staggering record of 34 stage wins in the Tour de France, the inevitable comparisons have started. And I guess that's fair enough as Cavendish will most likely go past that record by the finish on Sunday. But the comparison starts and finishes with stage victories – as athletes there is no comparison .
Mark Cavendish versus Eddy Merckx. Now that's a race the world would come to watch.
n imaginary race between two great champions from different eras would undoubtably attract the interest of the sporting world.
But, in my mind, there is also little doubt of the outcome. Merckx is probably the most competitive man I have had the privilege to meet and he was not called The Cannibal for no reason. He always had an enormous will to win and his pride would not have allowed the pair to come together in a sprint finish – even on the flattest of routes.
Cav's record shows he is the best sprinter the sport has seen. He has been world road racing champion, beating Aussie Matt Goss by millimetres in Copenhagen in 2011 and won one of the sport's monuments in Milan San Remo, again in a photo finish from Australian Heinrich Haussler in 2011. But Merckx is the best cyclist in the 140 year history of the sport, the GOAT – Greatest Of All Time..
I was fortunate enough to line up with Merckx in a few races and saw first-hand what a giant of the sport he was back in the 70s. In winning his first Tour de France in 1969 he won 6 stages and also won the green jersey points competition as well as the Polka dot best climbers jersey. A feat that has never been repeated.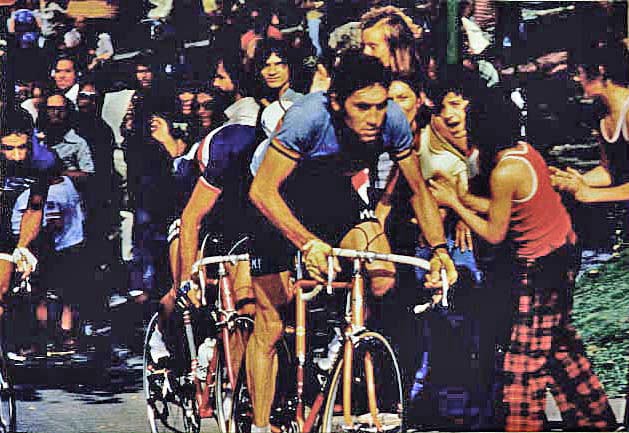 Merckx achieved a record 525 victories over his eighteen-year career. He is one of only three riders to have won all five 'Monuments' (Milan–San Remo, Tour of Flanders, Paris–Roubaix, Liège–Bastogne–Liège, and the Giro di Lombardia) and the only one to have won them all twice or more. Merckx was successful on the road and also on the track where he and compatriot Patrick Sercu dominated the 6 day circuit.
But this comeback performance from Cavendish is worthy of the highest praise. No one, and I mean no one, predicted Cav to win a solitary stage let alone match Merckx's record. The fairy story that put him on the start line has been well documented. But then for Australian Caleb Ewan, the best sprinter in the race, to crash out when in site of victory on stage 3, helped set the scene for a comeback of Rocky proportions.
Cav looks set to take the Green points leaders jersey of which he has only won once previously, but to do that he needs to make it to Paris on Sunday.
I'm good mates with Mark Renshaw, the Aussie who led Cav to many victories. The now retired Renshaw was full of praise for his Manx Mate.
"He did prove me wrong, because I didn't think he'd go to the Tour but, honestly, for him winning stages in the Tour de France this year hasn't shocked me," Renshaw said. "To see him come back from injury and to overcome the challenges in the last couple of years – well it's chapeau to him. It just shows the grit that he has as a rider. I always knew that he was the best sprinter ever," Renshaw said.
I have been privileged to watch most of Cav's many wins and when I get asked who was the best sprinter I ever raced against – well, the answer is easy. Belgian Freddy Maertens. I first remember racing against him at the Munich Olympics in 72 and although he missed the winning move he was one of the favourites. He turned pro later that year and was the fastest man I ever saw.
He was World Road Champion twice and won a Vuelta, Tour of Spain, including a mind boggling 13 stages (yes in the one year). That same year 1977, he was leading the Giro d'Italia when he fell and broke his shoulder which put him out of the Tour de France.
Maertens' record in the Tour de France is super impressive. At his first appearance in 1976, he won the Green jersey and eight stages – yes eight stages!!! He only rode three Tours de France for three Green Jerseys and 15 stage wins.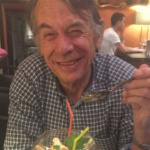 Author:
John Trevorrow
JOHN TREVORROW is a multiple Australian champion road racer and Olympian who has been doing media commentary at the Tour de France for more than 20 years.
Comments
comments
0 comments