---
Reading Time:
4
minutes
FUN and games for Ricciardo – but not for Hamilton – as the French Grand Prix puts on a show, writes PETER COSTER:
THE killer grin was back on the face of the Honey Badger, Daniel Ricciardo, after the French Grand Prix on Sunday.
Remember Jack Nicholson in The Shining?
Lando Norris is whinging on team radio: "He's pushing me wide, not giving me enough space."
Ricciardo later laughs it off: "It was fun, battled, fought, talked some smack, elbows out."
The stewards see it the same way. The King of the Late Brakers was back and bold. Norris went off the track and had to rely on team orders to get back in front of Ricciardo on lap 34 for a chance at a podium finish on fresher tyres.
Norris finished fifth with Ricciardo sixth behind Verstappen, Hamilton, Perez and Bottas.
Some might say it was predictable after the top four finished mostly in grid order.
But this race delivered one of the best races of the past few seasons.
Norris and Ricciardo in the Maccas are now in front of Ferrari in the points for the world championship, clearly the best of the rest behind Red Bull and Mercedes.
It was a triumph for Red Bull and Verstappen who lost the rear end at the first corner under gusty wind conditions and went off the track .
Hamilton took the lead but it was a race of deteriorating tyres and pit strategies.
What teams thought would be a one-stop became a two-stop when Red Bull brought in Verstappen for fresh rubber and Hamilton stayed out in the hope his tyres would carry him to the finish.
They did, just. The fast-finishing Verstappen took the lead on the penultimate lap with an easy pass. Too easy, said 2016 world champion Mercedes driver Nico Rosberg, indulging himself in a crack at his old teammate.
"Soft" was the word he used about the seven-times world champion, who is now 12 points behind Verstappen in attempting to win an eighth title.
It did look as if Hamilton knew he was beaten, but he could have defended more aggressively.
As well as Norris complaining over team radio about Ricciardo, Bottas vented his anger at being ignored by Mercedes over pit strategy.
Bottas was on quickly deteriorating tyres and knew that a two-stop was necessary and the results proved him right.
Mercedes boss Toto Wolff apologised to Hamilton for failing to take the two-stop option.
But no "sorry son" to Bottas, who is out of contract this season and likely to be replaced by Williams driver George Russell.
A bungled pit stop cost Russell victory when he was leading the Sakhir Grand Prix in a Mercedes last year.
Mercedes was fined 20,000 euros after putting the wrong tyres to Russell's car when he was driving in place of Lewis Hamilton who had tested positive for the corona virus.
Williams is under contract to Mercedes as a Mercedes junior academy driver.
Wolff apologised to Russell in the first of what have become regular apologies for team mistakes.
Mercedes is known for its usually flawless development and administrative program, but pressure produces mistakes and Mercedes is no exception.
Team principal Toto Wolff and Christian Horner at Red Bull have exchanged insults. Horner said after an argument over flexing rear wings at the previous race In Baku.
Embed from Getty Images
"If I were Toto, I'd keep my mouth shut," said Horner with the Mercedes boss responding that Horner is a "windbag."
Most commentators have taken this verbal jousting as at least putting some life into what had become a funereal F1 procession under years of Mercedes dominance.
No more.
The reason for Red Bull's success this season is its vastly improved Honda engines. One of the first to enthusiastically embrace Verstappen after Sunday's race was a delighted Honda team member.
Back in the day, Honda dominated F1 with McLaren and triple world champions Ayrton Senna and Alain Post.
The Japanese engine supplier then lost its way with McLaren turning to Renault for its engines and now Mercedes and Verstappen insisting on an out-clause in his contract with Red Bull if Honda failed to deliver.
Now, it's a race of equals. Mercedes admits the Red Bulls are appreciably faster down the straights and it seems the street circuits, with Verstappen winning at Monaco and Baku in Azerbaijan.
Honda had sacked the men at the top of its F1 program with even the CEO of the company falling on his sword.
The bloodletting had its effect. Honda should now reconsider its decision to leave F1 at the end of the year, but has probably not done the necessary research and development work to meet the significant changes to regulations next year.
Just how seriously Honda regarded the damage to its reputation as a manufacturer during the lean years can be taken from the tears of joy streaming down the cheeks of the Honda team when Verstappen took third at the Australian Grand Prix in Melbourne in 2019.
Forgive this indulgence from an old correspondent who occasionally goes out to the garage to take a run in a Honda S2000.
This classic sport car was built to celebrate Honda's 50th anniversary and was given to its F1 drivers during those great years as a personal car.
French driver Olivier Panis, who won at Monaco, told me it was a better car than some of the F1 clunkers he drove.
They don't make them like that anymore.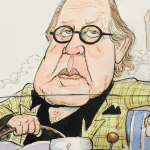 Author:
Peter Coster
PETER COSTER is a former editor and foreign correspondent who has covered a range of international sports, including world championship fights and the Olympic Games.
Comments
comments
0 comments