---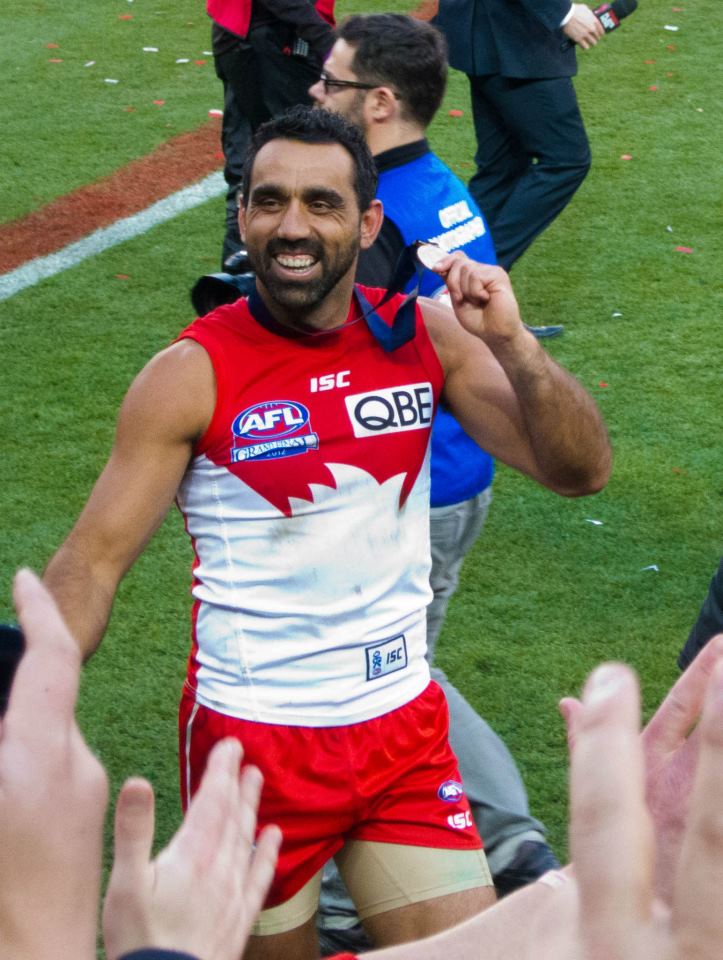 Reading Time:
8
minutes
SEVEN DAYS IN SPORT: The game has done all it can to bring Adam Goodes back from his own exile, writes RON REED:
UNRESOLVED bitterness is seldom a very helpful emotion. For that reason alone it is hard to be entirely comfortable with Adam Goodes' refusal to accept his well-earned place in the football Hall of Fame. But without question, it's his decision to make, and as his supporters—and indeed, the AFL itself – have insisted, he is entitled to have it fully respected.
Few would seriously dispute that his pain and his grievances are genuine, soundly-based and deeply felt. But the footy world is entitled to hope – as CEO Gil McLachlan said on Friday – that it's not going to last forever. That would be hugely regrettable from everyone's perspective.
So it is hardly being disrespectful to Goodes to wonder what it will take for the former Sydney Swans superstar to one day change his mind.
What more can the game do? The AFL has repeatedly apologised unreservedly in language that could scarcely be any more conciliatory, and admitted they should have done more for him when it mattered most.
Separately, two documentaries have provided unqualified support for his belief that he was racially victimised, and have been met with widespread applause. And now, the minute he has become eligible for the game's most elite cohort, it has been offered to him unanimously – another powerful gesture.
In general, the League has for quite some time been admirably proactive in changing the way indigenous footballers, and their communities, are perceived and portrayed. Other than the Grand Final, the mid-season Sir Doug Nicholls round has become the most important date on the calendar, more so than even the Anzac Day tribute, I would suggest.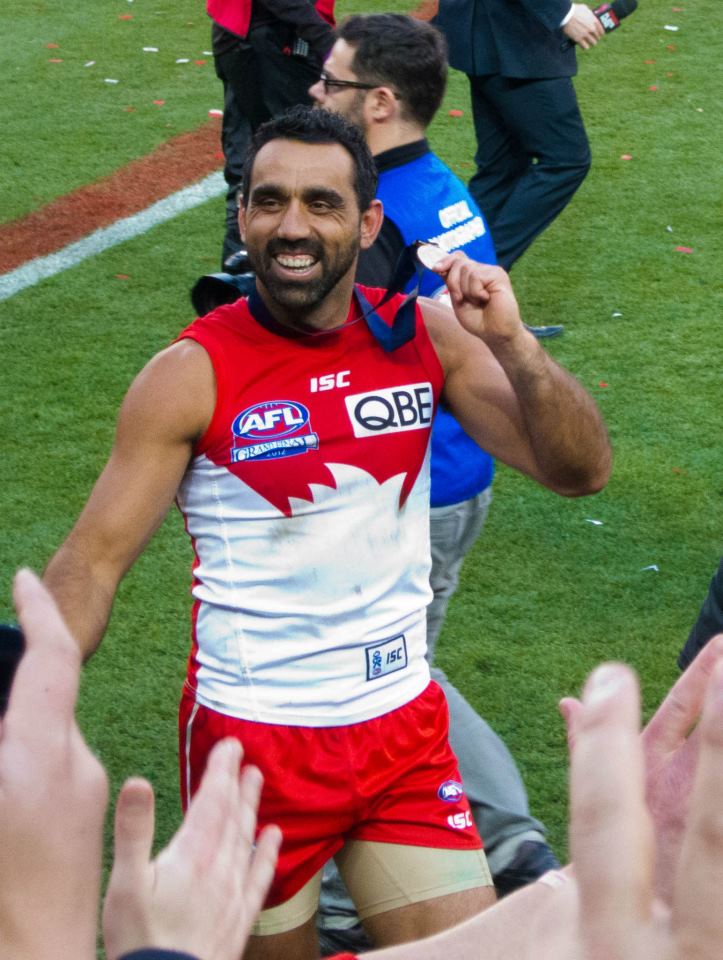 This year it was spread over two weekends, not one, and was as uplifting and inspirational as ever, perhaps more so. My old mate Syd Jackson, a pioneer of indigenous footy when he starred for Carlton half a century ago, was chosen to be the official symbolic face of it, and his dignity, pride, good humour and total lack of bitterness and anger over his own encounters with on and off-field racism struck exactly the right note.
In a special series in the Newscorp papers over the same two weeks, every Aboriginal and Torres Strait Islander interviewed, bar none, agreed that footy had changed their lives for the better. Several said they had not encountered problems with racism.
Yes, obviously Goodes had a different experience to many others, and nobody should dismiss that lightly, but he would be hard-pressed to suggest that his life didn't change for the better in at least some ways – such as being selected as Australian of the Year, an honour he was prepared to accept.
The sports media has been overwhelmingly – pretty much unanimously – supportive, to the point where even discussing it can be an exercise in walking on eggshells, as commentator Tim Watson discovered this week.
The game is in danger of being left with nowhere to go.
Goodes cannot bring himself to forgive and forget – not that anybody would remotely expect him to forget what was obviously a traumatic experience, but it should not be impossible to provide at least some level of forgiveness for an institution that also contributed a huge amount of positivity to his journey.
After all, it's not as if every single member of the footy family contributed to his discomfort. I very much doubt it was even a majority, and even many of those who admit to booing him claim that it was not for racist reasons, rather a protest against or commentary on some elements of his personality and the methods he used to play the game. That's an important distinction to make, even if it is impossible to say how true or untrue it is. It is most likely a bit of both.
In short, it would be good on many levels to see the old champion cut the game a bit of slack and re-embrace it in the way that it is bending over backwards to re-embrace him.
Perhaps he could do worse than consult Robert Muir, whose experiences when he played for St Kilda last century were so profoundly negative and damaging that they ruined his life. Recently, after many years in a self-imposed exile of his own, hating the game for what it had inflicted on him, Muir told his story to reporter Russell Jackson of the ABC, and he, too, received unqualified apologies from the AFL and his old club, and is now more at peace with his past, less bitter and, it would seem, happier. Finally, he is a good news story — better late than never.

IT'S been a very busy week for news editors – but one decision wasn't surprising for anyone who has lived in Melbourne for any length of time. Nathan Buckley's departure from Collingwood was a bigger story than Australia's biggest ever crime bust, the ongoing damage to the Victorian way of life by the State Government's increasingly unpopular (mis)management of the latest covid outbreak or the killer weather. It proved again that nothing is more important in Melbourne than the footy, and nothing in footy beats a bit of uproar at Collingwood. That's how it's always been.
There's not much to add to the general sentiment – yes, Bucks was a good but ultimately not quite successful coach and a towering figure in the footy landscape, as well as a good bloke by all accounts.
He is a different case to every other coach in the competition, with one minor exception. How so? Other than his rookie year in Brisbane, which was a liaison of convenience that was never intended to have any future, he played all of his stellar career with the Magpies and never left to further his coaching ambitions anywhere else. He is the ultimate favourite son at a club that has always loved its own with more passion than most. Loyalty might be an outdated word in footy in many respects but it does describe the relationship between Buckley and the most famous footy club in the land. Even when the moment of truth arrived, both parties were honest and respectful towards each other, a relative rarity when it comes to moving coaches on.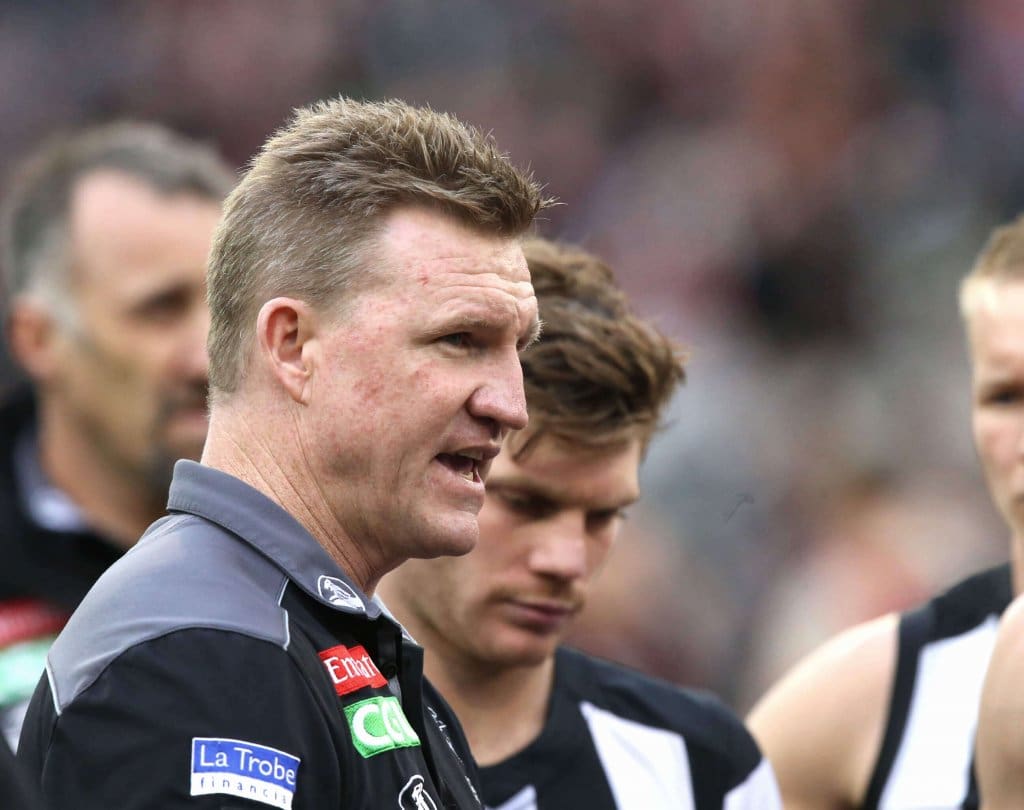 Only one other current coach is directing the fortunes of the club where he played all of his career, Fremantle's Justin Longmuir, and he is, of course a much lower profile figure than Buckley. David Teague started at North Melbourne but played 50 of his 83 games at Carlton, while Luke Beveridge played more games with St Kilda and Melbourne than the 31 he managed with Footscray. They are not in Buckley's category, not by a long way.
It has been pointed out Buckley was advised to do an apprenticeship elsewhere while he waited for the Magpies job to become available, but was so black and white from head to toe that he couldn't bring himself to do that – and the Eddie McGuire-led Magpies went to great lengths to discourage him.
The mutual loyalty factor was admirable – but it wasn't rewarded with a premiership, and hasn't been since John Worsfold was the last coach (Beveridge aside) to lead his old mob, West Coast, to a flag in 2014. It just doesn't seem to work like that these days.

ASSIGNING nicknames to footballers has been a media art form for decades, perfected by the late, great Lou Richards back in the sixties and taken to another level by broadcaster Rex Hunt a few years later. As I recall, nobody ever complained, with the possible exception of a certain Mrs Matthews who wasn't particularly happy about her son being dubbed Lethal Leigh. There was no shrugging it off, though, and rightly so.
So St Kilda were being a bit precious, methinks, when one of their best forwards, Jack Higgins, kicked a match-losing 1.6 last weekend and was promptly christened Missy Higgins, after the faintly famous (at least to me) singer of that name. It was a clever word-play, inoffensive and probably disposable if Jack ever starts kicking a bit straighter. Certainly, the Saints have much more to worry about than that.

JOE Root has been England's best Test batsman for a long time, even if his output has declined slightly in recent times, but he has been an insipid captain. And still is, given his refusal to attempt to chase down an eminently gettable target of 273 off 75 overs in the first Test against New Zealand at Lord's, a match that had nothing of consequence hanging on the result. This was old-fashioned cricket of the timid variety and deserved the scorn that has been heaped on it around the cricket world, England itself no exception.
Now Root has another embarrassing issue on his hands, this time not his fault. He has had to admit that the team is dealing with "some ugly truths" following the controversial suspension of young bowler Ollie Robinson, whose impressive Test debut was followed by a suspension when it emerged he had been guilty of posting racist and sexist tweets eight years earlier, when he was a naïve and immature teenager. In the circumstances the punishment seemed over the top – even Prime Minister Boris Johnson said so – but now that it seems there are a few far more senior players with similar skeletons in their cupboards, it's a bit more complicated – as these types of scandals usually are. Even so, the message has surely been sent and received by all concerned, as Root has said, and it would definitely be over the top if any further damage was inflicted on Robinson's highly promising career just as it is taking off.

ROGER Federer copped a barrage of criticism for pulling out of the French Open after winning his first three matches so as not to risk damaging his suspect knee, which would then compromise his chances of having an impact at Wimbledon. I have no problem with that. The dude is almost 40 and there is every chance this will be his last lap of the Grand Slam circuit, with the London showpiece his best chance of signing off with one last title. He was never going to win in Paris, so after all that he has contributed to the sport over two brilliant decades why would anyone begrudge him giving himself the best possible chance of signing off in style at the tournament that means the most to him?

AS NOTED here previously, road cycling no longer gets the mainstream media respect it did a few years ago, so one of the best Australian performances on the international stage in the last week passed without much acclaim. Richie Porte won the important week-long French stage race, the Criterium du Dauphine, which will be high on the list of highlights of his impressive career.
Embed from Getty Images
The veteran Tasmanian said it felt like he had won the Tour de France, his lifelong ambition which is now destined never to be realised even though he finished third at his 10th attempt last year. Now back with British team Ineos Grenadiers after five years with BMC and Trek, he will saddle up again but, at 36, is already older than any previous winner in the great race's 118 year history, so he has happily accepted that he will be acting as a sort of super domestique for team-mates Geraint Thomas and Geoghegan Hart. "I don't need the stress and pressure," he said.

IN A premiership footy team I once played in, our full-back had two conflicting hobbies, getting on the beers and catching snakes – hiss and piss, so to speak. It was a combination that never seemed likely to end well – and, alas, it didn't. The strange story of Robbo the snake man can be found at footyalmanac.com.au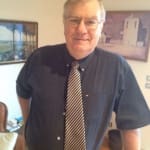 Author:
Ron Reed
RON REED has spent more than 50 years as a sportswriter or sports editor, mainly at The Herald and Herald Sun. He has covered just about every sport at local, national and international level, including multiple assignments at the Olympic and Commonwealth games, cricket tours, the Tour de France, America's Cup yachting, tennis and golf majors and world title fights.
Comments
comments
0 comments