---
Reading Time:
4
minutes
THE Grand Prix's annual showpiece had everybody wondering what was happening, writes PETER COSTER:
"NO, no, no, no, no!" The Monaco Grand Prix had not started but Ferrari pole-sitter Charles Leclerc knew that his race was over.
His pleading voice said it all. The hometown Monegasque driver had qualified on pole the day before but hit the barrier at the chicane.
That brought out the flag, which meant no other driver had a chance to better his time, but it also meant that if the gearbox had be to be replaced, Leclerc would be penalised five grid places.
That would put Max Verstappen in the Red Bull on pole. Ferrari was confident the gearbox, which is usually damaged in such a crash, could be repaired.
Leclerc drove out on the "installation" lap on Sunday afternoon, but no, no, no, no, no!
It wasn't OK. Or was it something else that was wrong?
It was a day of disaster at the premier event on the F1 calendar. People who should know better were either confused or in need of a good lie down.
There was talk of the gearbox failing under load. The eight gears change within two to three milliseconds at a hydraulic pressure of 3000 psi.
"It is like a Swiss watch," said Martin Brundle, one of the few who did know better on Sunday in Monaco, that "sunny place for shady people," as once described by Somerset Maugham, who wrote about those with no visible means of support for their lavish lifestyles in the principality.
The cars still race around the Casino de-Monte Carlo where some splashed their money and older correspondents remember Australian triple world champion Jack Brabham going backwards through the doors when he spun in Casino Square.
Leclerc hung around for the race on Sunday, but even he didn't know exactly what had happened. He hung his head in the cockpit and thought of what might have been.
The car was impounded overnight by the stewards, as per regulations, returned to the Ferrari mechanics an hour before the race on Sunday and then officially retired when they decided they couldn't fix the gearbox in time.
As it turned out, it was not the gearbox that was at fault. And it wasn't a track rod, which was suggested later and which could have been fixed.
By the time Ferrari team boss Mattia Binotto (who looks a bit like Larry from the Three Stooges, but with more hair) got his crew back to Maranello, they decided it was a crack in the driveshaft hub on the other side of the car from the impact, which was down to Leclerc who said he was "pushing too hard."
A couple of days earlier, there were conspiracy theories. Leclerc had deliberately driven into the barrier to get the race red flagged. His plan was to prevent drivers such as Verstappen and Leclerc's teammate, Carlos Sainz, from overtaking him.
This was arrant nonsense and even more remarkable was that Ted Kravitz, who walks around pit lane with a microphone for Sky Sports, asked Mercedes boss Toto Wolff what he thought about that.
Wolff was too much the German gentleman to be drawn. Why would a pole sitter crash his car when the resulting damage would likely put him out of the race?
Which it did. No matter which part of the exquisite machinery was at fault.
Other strange things happened on Sunday. Such as the television director suddenly switching from an overtake to another part of the race where the usual procession was taking place.
Most Monaco GPs are won by one of the first three cars on the grid and on Sunday it was Verstappen from Carlos Sainz and Lando Norris in a McLaren.
The incident the television director missed was Sebastian Vettel's pass in the Aston Martin on Pierre Gasly in the AlphaTauri.
They went wheel-to-wheel from St Devote, up Beau Rivage to Massenet. "We could have ended up in the harbour," said Gasly, which is where Alberto Ascari ended up all those years ago when he swept through the hay bales (no barrier then) after the tunnel.
His pale blue helmet then bobbed to the surface and the double world champion was pulled spluttering into a boat. They didn't wear seat belts in 1955.
Four days later the great driver was killed in a crash during practice at Monza.
But there was more craziness to come on Sunday when Mercedes driver Valtteri Bottas pulled in for a tyre change.
A reluctant wheel nut eventually stripped. The wheel came off but there was no thread left to attach another. Like Leclerc before him, Bottas walked away.
But back to Ricciardo, who finished 12th but was handed the final humiliation when teammate Lando Norris lapped him on his way to third place, giving the former Monaco winner an ironic wave of his hand as he passed him.
It reminded those who watched of the team order that let Norris pass Ricciardo at the Roma Grand Prix last month.
The Honey Badger was holding him up and Norris swept by to again finish on the podium.
It now appears Ricciardo, "king of the late brakers" and a seven-time GP winner, had to swallow a massive pay cut at Renault before he left for McLaren; mostly because of the pandemic. He's down to only about $25 million.
Still that's enough for a turn of the cards at the casino in the millionaires' playground where he lives.
So, what happened to seven-time world champion Lewis Hamilton on Sunday? Not much. He finished seventh after effectively starting sixth when Leclerc's retirement pumped him up a place.
That was another point of confusion when no one seemed to know whether Leclerc's pole position would be left vacant or all the cars would shuffle up one.
Again, Martin Brundle appeared to be the only one who knew what would happen, apart from the race director who was to confirm the slot would be left vacant.
That is because the Sky Sport commentator was a front runner himself for 158 GP starts and nine podiums.
Unassuming but unquestionably courageous, Brundle was flipped into the air at the Australian Grand Prix at Albert Park in 1996 and climbed from under the wreck of his destroyed Jordan Peugeot to rejoin the race.
The car barrel-rolled through the air like one of the RAAF fighter jets in the pre-race display.
Brundle ran past me in the pits to his team's spare car.
Never a hesitation. Former world champion Phil Hill said that a big crash was like posting a letter. You post it and it's forgotten. When you keep thinking about it, it is the time to stop.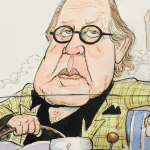 Author:
Peter Coster
PETER COSTER is a former editor and foreign correspondent who has covered a range of international sports, including world championship fights and the Olympic Games.
Comments
comments
0 comments