---
Reading Time:
3
minutes
IT'S a wake-up call for Daniel Ricciardo as Lewis keeps dominating at the Spanish Grand Prix, writes PETER COSTER:
DANIEL Ricciardo develops a taste for a "Macca" after the McLaren driver finishes sixth at the Spanish Grand Pix at Barcelona.
This time out in the Mercedes-powered McLaren saw Ricciardo two places ahead of teammate Lando Norris after being told to let him past in the Roma Grand Prix because he wasn't fast enough.
In Portugal two weeks later the Australian driver had his helmet in his hands after he failed in the first qualifying session and started 11th on the grid.
Norris finished third on the podium.
In Spain last Sunday, Ricciardo, a seven times Grand Prix winner, showed he is finally coming to grips with the car while Lewis Hamilton won his third Grand Prix in four races.
Before Spain, Hamilton said he wasn't happy at winning only two of the first three races of the season.
Ricciardo said he wouldn't be disappointed with winning two races. "I'll take a couple of wins," he laughed.
Embed from Getty Images
Nothing to laugh about here. Hamilton told him, "Well, you've got a good car man, so…."
Ricciardo got the message. "I know. I've got to pull my finger out," he admitted.
It proved to be a wake up call.
Ricciardo had changed seats from Renault to the now renamed Alpina in the hope the Macca would bring him a world championship.
It has already brought Norris fourth place in the world championship after four races.
Lewis Hamilton leads in what is likely to be his eighth world championship with Max Verstappen in second place and Valtteri Bottas third.
Charles Leclerc is fifth for Ferrari from Red Bull's Sergi Pererz and Ricciardo sixth for McLaren.
Next is Monaco on May 23 where Ricciardo would have won in 2016 but saw Hamilton pass him after a bungled pit stop.
The Australian driver won at Monaco 2018, but it was his last Grand Prix win.
On Sunday at Barcelona, Hamilton won one of his greatest races. It was his 100th Grand Prix pole although he lost the lead at the first corner to the aggressive Verstappen.
What followed was why Hamilton and Mercedes combined to win the race.
Hamilton was within a few seconds of overtaking Verstappan later in the race but was suddenly called into the pits to put on fresh tyres.
It was a master stroke. Lewis was tempted to ignore team orders but took the gamble.
The Mercedes pit wall calculated that with fresh tyres he would catch the Red Bull driver, which he did with only six laps to go. Verstappen said he knew that he was "a sitting duck" and his tyres would not last the distance.
Had he have come in he would have then been behind Hamilton.
Apart from better race strategy, which care is fastest, the Red Bull or the Mercedes?
Sometimes it seems that the Red Bull with its revitalised Honda engine is the fastest, on other occasions the Mercedes.
Both drivers are now recognised as the best on the F1 grid.
There is also an indication that Valterri Bottas might be in his last season for Mercedes following the promise Williams driver George Russell delivered when he replaced Hamilton last year when the world champion tested positive for corona virus.
Russell only lost because of a mix-up over tyres when he came into the pits ahead of Bottas.
Russell went out with one of Bottas's tyres on his car and back in on the next lap through no fault of his own and that was the end of what looked like certainty victory.
In Spain, Bottas blocked Hamilton when the world champion caught up on his fresher tyres. It made little difference, but after being told not to get in his way, he showed little care for team orders.
Embed from Getty Images
The Finn probably realises Russell will step into his seat next year.
As for Sir Lewis Hamilton, the 36-year old not only looks like exceeding Michael Schumacher's champion titles but has now won 93 GPs to Schumacher's 91.
The victories keep coming.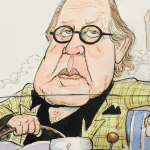 Author:
Peter Coster
PETER COSTER is a former editor and foreign correspondent who has covered a range of international sports, including world championship fights and the Olympic Games.
Comments
comments
0 comments