---
Reading Time:
4
minutes
THE Italian Grand Prix erupts into a blame game after a big prang, writes PETER COSTER:
QUESTION: What makes a "racing incident"? ANSWER: When two F1 cars travelling at more than 300kph collide in a blizzard of body parts, destroying both cars, yet leaving both drivers uninjured.
CORRECTION: Mercedes driver Valtteri Bottas then sits at the side of the circuit at the Emilia Romagna Grand Prix in Italy slightly winded from being thrown forward in his six-point safety harness at G forces greater than experienced by a jet fighter pilot whose plane dives into the ground.
ANATOMY OF A CRASH THAT WOULD HAVE RESULTED IN THE DEATH OF BOTH DRIVERS:
George Russell in a Williams was about to overtake Valtteri Bottas in a Mercedes in ninth place.
The young Williams driver was coming up on Bottas with his DRS wide open and about to pass when the Mercedes driver made a slight, but sudden, jink to the right.
Russell was travelling at least 30kph faster than Bottas and moved further right. His right wheel hit a wet patch on the grass. Mayhem followed.
THE TECHNOLOGY THAT SAVED THEM: As the Williams swung into the side of the Mercedes, both cars were destined for disaster, their drivers destined for oblivion. But since the death of F2 driver Henry Surtees (son of F1 world champion John Surtees) when a wheel flew off another car, the wheels are tethered.
Even so, the Williams driver would likely have been killed as a wheel on the Mercedes swung into the side of the Williams but was deflected by the halo.
Embed from Getty Images
Marussia driver Jules Bianchi suffered fatal head injuries in the Japanese Grand Prix in 2015 when he ran into a recovery vehicle parked beside the circuit.
Charles Leclerc would likely have been decapitated when Fernando Alonso in a McLaren skidded over the top of his Sauber in the Belgian Grid Prix in 2018, but by then the halo had been introduced
On Sunday, other cars somehow avoided the Williams and the Mercedes as they came to rest in a pall of smoke, but fortunately no fire as the now flexible fuel cells stayed intact.
Russell was the first to clamber from the wreck that was his car. But not before a rant over team radio:
"What the f… was he doing. Honestly. Is he a f…… prick or what?"
This outburst was followed by Russell standing over Bottas, still in his car and giving the Mercedes driver a rap on his helmet before stalking off.
At least he asked Bottas if he was OK.
Bottas gave him a dismissive finger flip before extricating himself from the Mercedes and sitting down near the Tamberallo curve where Ayrton Senna was to die in 1994 when a steering column broke on his Williams.
Russell later had more to say:
"Between all the drivers we've had this gentleman's agreement where if there's a faster car approaching with the DRS you don't jolt the steering wheel at the very last moment.
"I got the slipstream and just as I pulled out, Valtteri moved very slightly and that just put me off line and put me onto the wet stuff. It's the smallest of moves, but when you're going at 220mph and you're going 30mph quicker than the car ahead, it's massive."
Bottas kept his temper:
"George got close and decided to go for a move. Obviously the track is quite narrow and there's only one dry line and he went from the outside. There was space all the time for two cars, but it didn't make any sense that move. He obviously lost it and hit me. I haven't spoken to him. I couldn't hear a thing he was on about. I don't really get it. It was clearly his fault and I don't understand the rage."
Mercedes team boss Toto Wolff didn't see it Russell's way either, which has led to a backdown by the Williams driver, who is also a member of the Mercedes driving academy and would likely have won the Sakhir Grand Prix last year when he was a replacement driver for Lewis Hamilton who had tested positive for the corona virus.
That brought politics into the equation and Wolff made a grovelling apology for the botched pit stop that cost Russell the race.
Not so after a few days to think about what happened at Sunday's race.
"The whole situation should have never happened," responded Wolff. "Valtteri had a bad first 30 laps and shouldn't have been there. But George should have never launched into this manoeuvre, considering that the track was drying up.
"It meant taking risks and the other car is a Mercedes in front of him. In any driver's development, for a young driver you must never lose this global perspective. So yeah, lots to learn for him I guess."
For global perspective, read Mercedes' perspective.
Wolff had even more to say about a suggestion from Russell that Bottas might have tried to prevent him passing because he's afraid the Williams driver might replace him next season.
"That's bullshit," snapped Wolff to reporters.
Picking all this apart was left to the stewards, who eventually found Bottas left "at least a full car's width to the right at all times."
But when Russell moved to pass Bottas "the gap between them and the right-hand side of the track decreased. At no time did either car manoeuvre erratically."
Bottas said he didn't make any sudden moves. "I always left a space. No, from my side, it was clean.
"Of course I'm defending, I'm not going to make any room for him, but also when I race I have respect. So I see it differently to him."
Others see it differently to Bottas, including F1 managing director Ross Brawn who said it "did look like Valtteri drifted across and left George nowhere to go."
So, why is Russell now saying he's learnt a lot and he is going to apologise to Bottas?
That's because one of the lessons he has learnt is to bite down on his tongue if he wants to drive for Mercedes next year.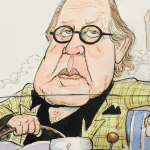 Author:
Peter Coster
PETER COSTER is a former editor and foreign correspondent who has covered a range of international sports, including world championship fights and the Olympic Games.
Comments
comments
0 comments