Agony for Appleby and Skinner after North Melbourne decide against handing duo contracts
---
Reading Time:
2
minutes
Pre-season would have been at the very least extremely tense for Flynn Appleby and Sam Skinner as they desperately tried to do enough to be awarded a 2021 AFL contract by North Melbourne. With less than three weeks left before the start of the 2021 AFL season, the pair would have been all too aware that if they hadn't already been called in to put pen to paper on a deal over the next 12 months, it probably wasn't going to happen.
Their worst fears were confirmed after North Melbourne announced that they wouldn't be on their 2021 list. It really was an all-in situation for the duo with teams finalizing their rosters for the 2021 showdown and the supplemental selection period drawing ever closer to shutting.
"We thank Sam and Flynn for their time and dedication to the club and wish them luck in the future."

Flynn Appleby and Sam Skinner have been advised they will not be offered a position on the playing list through the pre-season supplemental selection period.

— North Melbourne (@NMFCOfficial) March 1, 2021
Now, professional sport can be ruthless and this is another one of those terrifying examples of how topsy-turvy life at the top can be. It was almost two months ago that the duo had been invited to train with the club in a bid to land deals for the upcoming campaign. The accepted wisdom in not only Aussie Rules but the wider world of sports as well is that the longer a trial goes on, the greater the chance is that the guillotine will fall.
But if you haven't got any other suitors or you've decided to throw all your eggs in one basket, it can be a devastating blow not to be offered a deal when there is virtually no time to land one elsewhere. Kangaroos football boss Brady Rawlings said with regards to axing both players that 'these decisions are never easy' and, of course, professional sport is a business so the club can't be blamed in any way. Naturally, though, it is a brighter future for the ones making the decisions.
To a certain extent, it looks like the Kangaroos are looking down every avenue they can to improve their chances this season. Indeed, the 2021 season promises very little in the way of silverware as North Melbourne finds themselves bottom of the pile at odds of 201.00 in the Aussie Rules betting to win the Grand Final. You would have to say recruitment seems to be a crippling problem for the Roos and this latest episode with Appleby and Skinner doesn't do a lot to convince anyone that they have got a handle on things.
For the Tiger Army 💛#AFLGF #gotiges pic.twitter.com/4xIyU7A4sM

— Richmond FC 🐯🏆 (@Richmond_FC) October 24, 2020
They're light-years away from being able to mix it with the 2020 Grand Final winners Richmond and another pre-season has gone by without adequate preparation for the campaign ahead.
As for the duo of Appleby and Skinner who now face an uncertain future, questions will have to be asked of their ability to compete at the top level given that they couldn't justify a contract at the team with the worst odds of winning the Grand Final.
Sometimes it pays to take a risk in professional sport when recruiting, other times it doesn't. This, however, feels like a situation where both the club and the now-axed players could have benefited from a productive collaboration.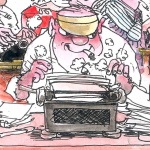 Comments
comments
0 comments