---
Reading Time:
6
minutes
SEVEN DAYS IN SPORT: AUSTRALIA'S favourite tennis player fell short again at the Open but lost none of her many friends – or did she?
AUSTRALIA'S love affair with Ash Barty won't be heading for the rocks any time soon – in fact the best female tennis player we've seen since Evonne Cawley four decades ago has already done enough to ensure she will go straight into the national sports Hall of Fame pretty much as soon as she is eligible, which is two years after retirement.
And that retirement is nowhere remotely in sight, even if she did suggest the other day that she wouldn't mind having a crack at the AFLW at some stage. It was probably just a throwaway line, more in jest than not, in response to a question about what might await when tennis is over. But she is already a good golfer with a stint of women's Big Bash cricket behind her, and she famously has a strong connection to the Richmond Tigers whose girls team is struggling to make any impact, so you wouldn't fall over in astonishment if she did give that a crack at some stage.
You do sense that the idea would appeal to her greatly.
What is a legitimate question now – although far from an urgent one – is what can we expect from the rest of her superb career with the racquet?
More Grand Slam titles to go with her 2019 French Open?
Embed from Getty Images
A lengthy continuation of her reign as the world No 1 which followed on from that landmark triumph, and which is still in place?
If you listened closely to the reaction to her shock capitulation – from a winning position – to Czech Karolina Muchova in the quarter-finals of the Open, you were left in little doubt that this has become a popular talking point. There is a definite school of thought out there that she is not as good as Australian sports fans would like to think, and needs to finesse her strategic game if she is not to be over-run by the likes of Noami Osaka and others.
There is plenty of time to find out how true this is. Barty turns 25 on Anzac Day, April 25, and could conceivably be still bashing balls around for another decade. Serena Williams is still doing it to good, if diminishing, effect at 39, but then Serena is obsessed with her status and legacy in a way in which the laid-back Queenslander has never been and never will be.
And it won't be the money that lures her on forever – with more than $20 million in prizemoney and a raft of big-spending sponsors on her books, that's unlikely ever to be an issue.
Barty's Open campaign ended on the same day that a newspaper published a corporate survey that listed the most marketable sportspeople in Australia, whether they're Australians or not, active or not, and based on awareness and likeability. So not many limits on the field, then.
She came in second behind Roger Federer and ahead of Rafael Nadal, Cathy Freeman, Sally Pearson, Mick Fanning, Anna Meares, Steve Smith, Ian Thorpe and Mitchell Starc.
Hmmm. Mitchell Starc in the top 10? Really? And the absence of any footballers – Dusty Martin, say – suggests you have to be a world-beater to qualify, not just a domestic megastar.
These lists are always highly debatable – that's why newspapers latch onto them, and talkback radio stations follow closely behind – but as a pointer to Barty's popularity – yes, her likeability – there's no reason to think this one is not spot on.
That's why her attempt to break the long home-grown drought was clearly the defining storyline of the Open, especially as she arrived with a perceived advantage having not had to endure harsh quarantine lockdowns and able to train freely.
She quickly found her form, to an extent that surprised even her coach Craig Tyzzer, winning a lead-up title, and then – shrugging off whatever was hiding behind strapping on her leg – she charged through to the semi-finals without dropping a set, even if she did wobble a couple of times.
Then in the semi-final, she wiped Muchova off the court 6-1 in the first set and with a break in the second was starting to look invincible even with Williams and Osaka lurking in wait.
Incredibly, Muchova, after claiming a controversial medical time-out to clear her spinning head, climbed off the canvas and won – or did Barty somehow lose? There is often a difference.
Muchova came under fire for allegedly pulling a swifty but in the current climate taking no chances with your health is hardly a hanging offence. Barty did not argue, her measured response – "I don't make the rules, I abide by them" and "she was well within her rights" – typical of her style.
Was this disappointing? Well, of course it was, just as Nick Kyrgios's defeat by Dominic Thiem after being two sets up was a let-down.
Yes, there was much to applaud in the performances of both of the high-profile Aussies, and they won't have lost any friends among their very different sets of admirers. Especially Barty.
But that doesn't mean we're not allowed to indulge in some wishful thinking about what might have been, and to wonder what, exactly, went wrong.
The moral of the story, as usual, is that Grand Slams – or any other peak event in elite international sport – are very hard to win, and everything has to go right. In my recent book, BARTY: The Power and Glory, the only biography so far, I noted that she got a pretty advantageous draw at Roland Garros, which is one thing – making sure you take advantage of it is another. And she did.
Can she ever do it again? There is no real reason to think not, but it's not something she or anybody else will be taking for granted.

MURRAY Weideman's colourful and important impact on football during the 50s and 60s has been well-documented since his death at 85, so no need to elaborate here. However, as a fellow member of the Vingt Cinq Club – a well-known Melbourne institution for sporting figures who aren't as young as they used to be and who gather for longish lunches to reminisce and tell a few fibs – I have greatly enjoyed his company for at least 25 years.
Not for nothing was the former Collingwood premiership captain regarded as one of the true characters of the game in the old days. He was an inaugural member of the club back in 1962, I think, when it was formed for the express purpose of allowing rivals from various clubs and big names from other sports to have a bit of fun together away from unwanted scrutiny. Nobody fitted the criteria for membership more than The Weed. It has been a melancholy month for the club, having also recently lost legendary Hawthorn player Graham Arthur.

WHILE it lasted, which was three and a half days, the second India v. England cricket Test was more compelling viewing during lockdown than most of the tennis. It was played on the sort of pitch you only ever see on the sub-Continent, greatly in favour of spin bowlers and difficult to bat on from the word go, sparking debate about whether this is rorting the home ground advantage or merely adding welcome variety to the dynamics of the game.
I, for one, am in the latter camp, finding the challenges facing very good batsmen fascinating, especially as one side was able to cope and the other simply couldn't. That resulted in a massive win to India, leaving the Poms little room for any whingeing – which they didn't attempt, to their credit, except from pundits on the sideline. You wouldn't want a track like that everywhere you looked, of course, but an occasional wildcard adds an x-factor not often found these days in Australia, where the curators mostly serve up much the same everywhere.
This has become an excellent series, just as India's campaign in Australia was, and it is all the more intriguing because it will decide whether Australia qualifies for the Test world championship in London in June.
Happily, Test cricket is on a roll.
This game was completed at the same time as the West Indies pulled off a 17 run win over Bangladesh, which was barely mentioned in Australian media, no doubt because both teams are considered unfashionable and uninteresting. That's a shame because it was a great finish, with Bangladesh batsman Mehidy Hasan whacking two sixes and three fours as he desperately tried to complete the run-chase with only the last tail-ender for company.
That's great theatre by any standards.
He was finally out caught at slip by the man of the match Rahkeem Cornwall, who had already taken 5/74 and 4/103. If that name is not familiar, you haven't been paying attention. Off-spinner and big-hitter Cornwall, 28, from Antigua, is fast becoming a cult figure because of his unlikely physique for an elite sportsman – he weighs 140kg.
He is now the proud owner of an amazing stat, brought to us by the eminent numbers man Rick Finlay, who tweeted that Cornwall now is averaging 5.40 wickets per Test (27 at 30.81from five matches) – the best ever for West Indies bowlers with at least 25 wickets. It puts him ahead of Malcolm Marshall 4.64, Colin Croft 4.63 and Joel Garner 4.47, not to mention countless other superstars.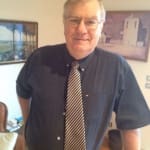 Author:
Ron Reed
RON REED has spent more than 50 years as a sportswriter or sports editor, mainly at The Herald and Herald Sun. He has covered just about every sport at local, national and international level, including multiple assignments at the Olympic and Commonwealth games, cricket tours, the Tour de France, America's Cup yachting, tennis and golf majors and world title fights.
Comments
comments
0 comments