---
Reading Time:
5
minutes
AT last, a batsman interrupts the bowlers' picnic, writes RON REED:
PERVERSELY, perhaps, India's stand-in captain Ajinkya Rahane might have won a few friends in high places in Australian cricket with his game-changing century on day two of the MCG Test.
They would be the bean-counters and broadcasters who must have been starting to fear that this $300 million series might fail to provide a fifth day's play in any of the four matches.
By the time the rest of the tourists' top order had wobbled their way to 4-116 and then 5-173, in reply to Australia's disappointing and inadequate 195, the sense that this is destined to be one long bowlers' picnic had taken root firmly.
There's every chance it still will be, but at least Rahane's stubborn if undeniably fortunate resistance has recovered much, and potentially all, of the high ground so meekly surrendered in Adelaide, when he and his cohort were meekly blasted out for a record low 36.
That game barely made it to halfway, probably much to the chagrin of Channel 7, who have been whingeing for weeks and now are going to court over allegedly being short-changed in various aspects of their expensive rights deal.
Until Rahane, 104 not out, and Ravindra Jadeja, 40, added an unbroken 104 for the sixth wicket, this contest was also headed for a fast finish. Now, thanks to the combative captain's knock that earned a standing ovation, not to mention his outstanding captaincy in the field, it is an old-fashioned arm wrestle to the death, a big tick for what Test cricket should be and very good value for the broadcasters.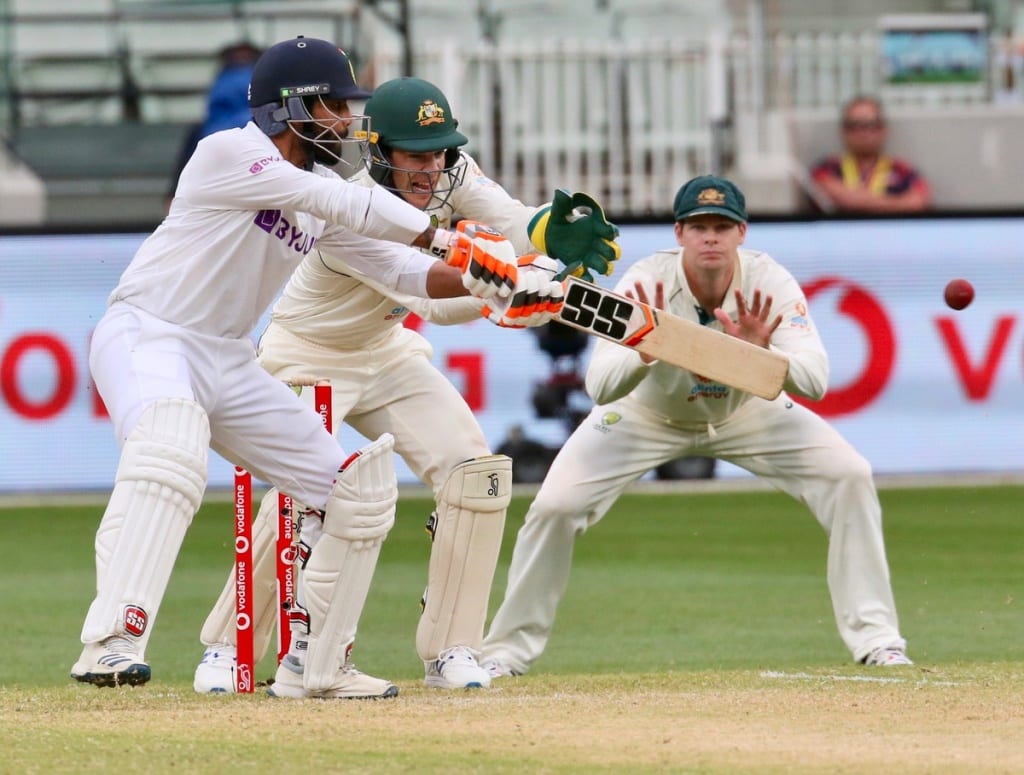 The change in fortunes – and the entire tone of proceedings — was gradual but dramatic, as is often the case with good cricket.
By lunch, 13 wickets had fallen for 285 at an average of 21 each. The series total stood at 45/849 at 18.8, which borders on pitiful. There was a desperate need for someone to lead a fightback on behalf of the batsmen on both sides, and Rahane — riding his share of luck — responded with the highest individual score of the series so far, by far.
The rest of the afternoon saw only two more wickets fall while 187 runs were added – but if four or five catches had been taken, the bowlers might well have triumphed again.
The earlier imbalance between bat and ball was weighted by the absence of Australia's David Warner and India's Rohit Sharma from both matches so far, the unavailability of India's best player Virat Kohli for all but the first match, and the total lack of form of Australia's mini-Bradman, Steve Smith, who has scored only two runs so far.
That said, the most compelling factor in this trend is the quality of the bowling – from both teams. The attacks are well-balanced, highly-skilled and relentless, both pace and spin. And when India lost one of their key men, new ball specialist Mohammed Shami with a broken arm sustained while batting in Adelaide, they were able to replace him with a Test debutant, Mohammed Siraj, who took two important wickets and looked right at home.
But it is the Australian quartet, Mitchell Starc, Pat Cummins, Josh Hazlewood and Nathan Lyon, who have really captured the imagination, especially when they ripped through India for 36 to win the first match. Even through the frustrating fightback by India, they were never less than threatening.
The debate now is whether they constitute Australia's best-ever attack, which of course is impossible to answer definitively.
Those of us old enough to remember Dennis Lillee and Jeff Thomson in terrifying partnership, backed up by Max Walker and Ashley Mallett, in the seventies would certainly at least begin the conversation there.
Lillee's name was getting another mention on Sunday when it was recalled that it was on this date in 1981, at this ground, that he dismissed West Indian Lance Gibbs to go to 310 wickets, then the Test record. He finished with 355.
The more popular, more recent comparison is with Glenn McGrath, Brett Lee, Jason Gillespie and Shane Warne, which is pretty irresistible, although Warne himself pointed out the other day that it might be wise to wait until all careers are complete before making a call one way or the other.
Bowling combinations fluctuate in their make-up, of course, and no four are ever together for every match and every series over a prolonged period.
With that in mind, @sirswampthing – one of several tireless stats men who populate twitter – was able to point out yesterday that before this match each of the two latter day foursomes had played together 16 times.
In those matches McGrath, Lee, Gillespie and Warne took 265 wickets at 27.93 at a strike-rate of 53.20, while the current crew had 281 at 25.71and 52.87, which puts them slightly ahead. But Warne is right – let's see how the ledger looks when its finally ruled off.
Captain Tim Paine would no doubt agree that ranking his strike force against each other is also an unenviable and probably impossible task.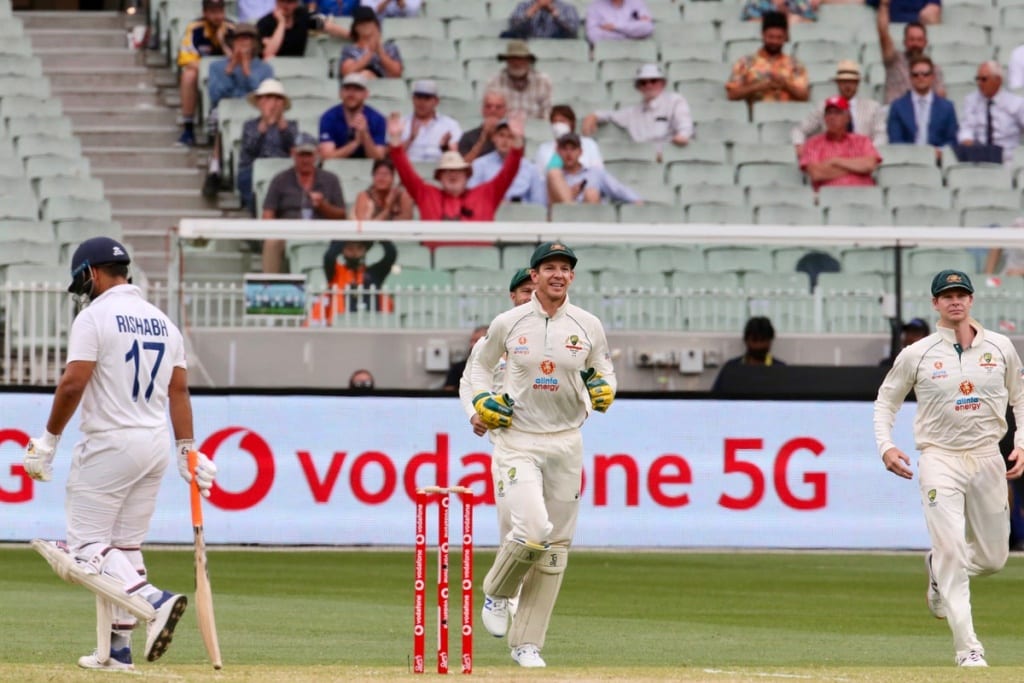 But I'm prepared to make a call – the best and most important of them is Cummins, who was mainly responsible for the 36 debacle even if Hazelwood claimed five wickets to his four.
Cummins is not appreciably faster than Starc and Hazelwood – they are all up in the mid 140kph range at their best – but he somehow seems more frightening, perhaps because of his sheer athleticism, aggression and unpredictably in terms of getting the ball to deviate in the air.
He is the complete fast bowler, if not the complete cricketer. A couple of years ago, I was happy to nominate him as the closest thing we have seen to a clone of the late, great Keith Miller, even in appearance. That was when Cummins looked to be developing as a potential all-rounder but his batting has stalled, even though he still comes in at 8, the top of the tail, as it were.
He has much of Miller's charisma, too, and it is no wonder he is one of Australia's highest-earning sportsmen, in largely because of a monster deal in the Indian Premier League.
In the hour that India batted on Saturday night, he was close to unplayable and should have had debutant opener Shubman Gill caught in the gully. On resumption, he was no less impressive, having Gill dropped again before getting both him and the wall-like Cheteshwar Pujara caught behind within 11 balls, the latter in classic fashion, one-handed by Paine diving far to his right.
The delivery that got Gill would have hit Paine in the face if he hadn't caught it, so viciously did it lift past the batsman as he optimistically attempted to cover-drive it.
This spell of two for 12 off eight overs was the best of the match so far.
India finished 82 ahead and Rehane and Jadeja still in occupation, their noses well in front. But the task of chasing a target in the fourth innings is still ahead of them. Providing, that is, the Australian batsmen can improve their own performance enough to set them a proper challenge. If they can't there might be no fifth day – again.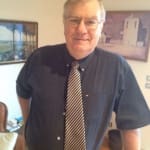 Author:
Ron Reed
RON REED has spent more than 50 years as a sportswriter or sports editor, mainly at The Herald and Herald Sun. He has covered just about every sport at local, national and international level, including multiple assignments at the Olympic and Commonwealth games, cricket tours, the Tour de France, America's Cup yachting, tennis and golf majors and world title fights.
Comments
comments
0 comments