---
Reading Time:
5
minutes
SEVEN DAYS IN SPORT: Richmond do it the hard way as they become one of the great teams in history, says Chief Writer RON REED:
OF Richmond's three recent premierships – the dynasty, as it now unarguably is – this was the most impressive. Yes, they thrashed Adelaide and the Giants by far greater margins, 48 points and 89 points compared to 31 points against Geelong this time, but if this was Olympic diving, where they weight the points for degree of difficulty, 2020 will be remembered as the gold medal for any number of reasons.
There is no need to explain or elaborate on why this season was more challenging for all concerned, at every level of the great game, and the Tigers were certainly no exception. One way or the other, they got the wobbles from time to time off the field – as did every club, and indeed the AFL itself. But they never really dropped the ball, and once they started to build momentum at least eight weeks ago it was already clear that nobody else would win the premiership without beating them.
In that charge to the line, only one team did – Brisbane in the qualifying final, but that was a stumble rather than a fall, and they then thrashed St Kilda in the semi and overcame the ladder leaders on Port Adelaide's home ground to roar into the decider. They were entitled to be hot favourites in my regularly-expressed opinion, but it was pretty much a line ball with the bookies, which may have had something to do with the weight of sentiment applied to the Gary Ablett fairytale finish storyline, not to mention Patrick Dangerfield's desperate determination to get what he does, undoubtedly, deserve.
But sentiment has never been much of a factor in Grand Finals, and when Ablett dislocated his fragile left shoulder in the first 10 minutes – significantly reducing his potential to influence the outcome – it was a sure sign that the footy fates were as fickle as ever. In every way, it was a sad outcome for a champion who deserved to exit on a much better note, but that's life in the big league – or anywhere else.
At least he has a couple of premierships, which is more than his equally brilliant old man can say, so he can live happily ever after.
Embed from Getty Images
Richmond lost Nick Vlastuin in the same first 10 minutes but he never returned at all, meaning his team-mates had to play a man short – and a very good man, at that – for virtually the whole game. That is an enormous disadvantage. And when they trailed by 22 points just before half-time, it was showing.
What followed from that point was astonishing, really.
Despite Vlastuin's absence and with another of their most important soldiers, gun forward Tom Lynch, almost unsighted for three quarters, and with only little more than two 16 minute quarters left to work with, they somehow engineered a 53 point turnaround to win easily.
That's doing "winning easily" the hard way, which is why coach Damien Hardwick and his troops will look back on it with extra satisfaction.
How and why did it happen? Two words, really. Dustin Martin. The best player in the competition – that assertion is now incontestable – changed the mood and the momentum with a crucial goal just before half-time, at which point he was already looking like the Norm Smith medallist regardless of whether he finished on the winning side or not.
Thereafter, he was the inspiration and the executioner, and in the end there was simply no other candidate for the medal, the five judges unanimously agreeing.
If Carlton Hall-of-Famer Wayne Johnston had claims as the best finals player of the past 50 years, ditto the legendary Leigh Matthews and perhaps Hawk Luke Hodge, Martin has gone past. His body of work in three Grand Finals has become it's own legend – and who is to say it is complete yet? He is not yet 30.
Embed from Getty Images
The unprecedented dynamics of the Grand Final — played in Queensland at night – produced a thoroughly entertaining contest that the ageing Cats couldn't quite carry through to the line, and in all the circumstances it was – as has been pointed out endlessly for the past week – a triumph not just for one club but for the League itself.
The decisions that will flow from it, and the entire season – not that it was "entire" – will be interesting, not least the experiment with playing the decider after dark.
There is no need to do that again. It didn't enhance the spectacle beyond what we normally get and the long wait for it to start – made worse in Melbourne by the lockdown ban on watching it with like-minded company – had nothing to recommend it.
As for the suggestion – rammed down our throats religiously by music promoter Michael Gudinski – that it is a better showcase for the entertainment, who cares? It's a footy match, not a concert, and while the exposure of some quality home-grown talent was welcome, it was of far less interest to me than the analysis and commentary that it replaced would have been. 
Also, the 16 minute quarters may have served a purpose in such a chaotic fixture but they should return to 20 minutes, not the 18 that appears to be on the table. The stream-lining of the organisation will also be an on-going good thing, and in a year when the focus has been so squarely on underpaid service cohorts such as the police, nurses and firemen, pay cuts for the players – who are entertainers, not life-savers – will be impossible to dispute.
Other than a couple of years living abroad many decades ago, I have never gone through a footy season without seeing a single game live, which brought one thing into clearer focus.
Over the years, my enthusiasm for the game has faded to the point where I came to believe I could live without it easily enough. But from the moment I was banned from rocking up to the MCG to watch the Blues take on the Tigers in the now-traditional opener, I discovered that it was still an important element in my life, my dotage really.
I watched more games on the box than ever before and the reconnection seemed important.
Just being banished from the G – my second home for all of my working life – was hard to handle, and of course it goes without saying that the grannie must never be played away from its spiritual home ever again.
And here's another first – as a long-time Carlton supporter, I have never mustered much enthusiasm for applauding Richmond, even as their mighty resurrection gathered steam over the past four years. But it would be churlish in the extreme to play down the magnitude of their achievements in any way. Dare I say it, there is a lot to like about the proud old club these days – or is it that there's less to hate?
And if anybody is all Tiger-ed out by now, heartily sick of hearing that famous song blaring out … well, it could be worse. Imagine if Collingwood had just won three flags in four years! Doesn't bear thinking about.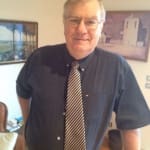 Author:
Ron Reed
RON REED has spent more than 50 years as a sportswriter or sports editor, mainly at The Herald and Herald Sun. He has covered just about every sport at local, national and international level, including multiple assignments at the Olympic and Commonwealth games, cricket tours, the Tour de France, America's Cup yachting, tennis and golf majors and world title fights.
Comments
comments
0 comments