---
Reading Time:
6
minutes
SEVEN DAYS IN SPORT: THEY were two of a kind, Dean Jones and Ian Botham, and we haven't quite heard the last of either of them, says Chief Writer RON REED:
LIFE – and death – is fickle. Within days of each other this week, Dean Jones was privately farewelled by his family at his old stamping ground, the MCG, and Ian Botham took his seat in the House of Lords for the first time. Deano, 59, and Beefy, 64, were contemporaries, kindred souls and mates, and more than most others of their generation they are remembered as cricketers as much for their entertainment value as  their stats, formidable as those are in both cases.
They actually had a season as team-mates for Durham in county cricket in 1992, which would have been an interesting experience for local fans – and probably for them, as they attempted to outdo each other as their careers wound down.
Jones' family is planning a more public memorial tribute when circumstances allow and it will be no surprise if Botham flies out for it. He's never needed much reason to come to Melbourne, which he has done regularly ever since he first arrived on a cricket scholarship to play club cricket a few months before he made his Test debut against Australia in 1977.
Embed from Getty Images
That's when I met him, having been asked by former England fast bowler Frank Tyson, then living and coaching here, if I could find a spot for him and another future Test bowler, Graham Stevenson, in a team I and a few mates had going in the old midweek turf competition, just so they could get extra practice. Not long afterwards, a teenage Deano availed himself of the same opportunity.
It will be interesting to see who else, and how many, turn up to farewell Jones, who had a lot of famous friends – it was no empty gesture that Elton John's music accompanied his last lap.
It'll be big, no doubt about that. That will be entirely appropriate, if only because there was an extra layer of sadness about his first farewell having to be conducted with the vast grandstands of the great stadium completely empty, a far cry from the hordes who rejoiced every time he came out to bat there. He did so 10 times in six of his 52 Tests but unfortunately never gave his army of fans the pleasure of seeing him get a ton there, two 59s – against England at his first appearance in 1986 and India in his last in 1991 – were the best he managed, an overall record of 251 at 25.10.
But to repeat, with Jones it was all about attitude not arithmetic, style not statistics.
It was interesting to watch the response to his untimely death unfold. I reckon in the last few decades there have been only a very small handful of cricketers – Don Bradman, of course, Keith Miller and Richie Benaud, perhaps – whose passing has been quite such a big news event, about 15 pages of it in the Herald Sun, a newspaper that loves nothing more than a home-town sporting hero. But it was a big story everywhere, all over Australia and around the world, with every writer, broadcaster, podcaster and social media pontificator weighing in with their memories and tributes.
As several have observed, Jones was a character who desperately wanted to be loved and respected but was never sure whether he truly was, so he would have been mightily chuffed by the emotional outpouring.
However, it wasn't all hagiographic hero-worship, even if it took a day or two or three for it to fully emerge that he could be a difficult personality to work with and fell out with plenty of people – team-mates, administrators, opponents, media – along the way, an idiosyncrasy that some associates believe might have cost him a few more baggy green caps.
There was nothing disrespectful about the two-toned nature of much of the commentary because it was simply a matter of calling it as it was, just as the subject liked to do himself.
Regrettably, Jones eventually fell out with the Victorian cricket hierarchy only a matter of months ago, handing back his life membership in a bitter retort to being ignored as he chased coaching opportunities – which surely was their loss as at least much as it was his. His coaching CV in Asia, where they have always admired him, is impressive.
Possibly the most unfortunate negative was his falling out with team-mate Merv Hughes, which led to them not speaking for the past 20 years. That must have been painful for the affable big man. I was very briefly a fringe player in this. At state training one night, Jones, then the captain, wandered over to chew the fat and as we watched the ageing fast bowler sweating it out in the nets, he offered the off-the-record observation that Merv was at the end of the road.
While we were watching him, Merv was watching us. So when that unflattering suggestion was aired in the Herald Sun the next day, he was in no doubt where it had come from and spent half an hour on my phone defending himself and railing against what he clearly perceived to be back-stabbing.
Merv never did announce his retirement, like old soldiers do he just faded out of sight – as a player, that is – and Jones (whose middle name is Mervyn, incidentally) has said in more recent times that if he had his time over again, he would never have treated an old mate and such a respected warrior so harshly. Regrets, he had a few – and that was one of them.
One other unusual aspect of the media coverage of Jones's death has been that, to my knowledge, there has been virtually no mention in Melbourne that he is the father of an 11 year old son who lives in Sydney with his mother, who has given interviews about it. It's no secret and hasn't been for years.
People can decide for themselves what they think of that or any other aspect of Jones's life, but it's all grist for a melancholy mill. There is certainly no denying that he caught the imagination of sports fans, was an interesting bloke to know and made a huge contribution to the international sport that more Australians are passionate about than any other. That's why his public send-off will be an occasion well worth tuning into.
If anything, Botham's life and times have been even more colourful.
Once a wild child whose baroque lifestyle on cricket tours and elsewhere made him tabloid fodder long before Shane Warne came along and turned that sort of thing into an art form, the first impact he made on the Melbourne cricket scene was when – during that first visit, when he was an anonymous young wannabe on the make – he got into a pub brawl with legendary Australian captain Ian Chappell, sparking a bitter feud that has lasted far longer and far more acrimoniously than Jones and Hughes.
Embed from Getty Images
That was all a very long time ago, of course, so it wasn't a relevant backdrop by the time he was knighted for not just his cricket but his monumental walks the length of Britain and elsewhere that raised millions of dollars for charity, specifically leukemia research.
As befits an all-rounder, he added a second string to that bow when Prime Minister Boris Johnson elevated him to the House of Lords earlier this year, which was consummated this week when – stubble-faced as usual and clad in traditional scarlet and ermine robes – he took his seat for the first time as Baron Botham of Ravensworth, the north Yorkshire village of about 300 people where he lives.
It says something about England's regard for the best of the games they have given the world that these lofty progressions are by no means unprecedented among cricketers.
Botham is one of 12 knights, two of whom were administrators more than a century ago, Sir Francis Lacy and Sir Frederick Toone – although Lacey had a modest county career – and one was the celebrated writer, Sir Neville Cardus.
The others have been Pelham Warner, Jack Hobbs, H. D. G. Leveson-Gower, Len Hutton, Gubby Allen, Colin Cowdrey, Alec Bedser and , most recently, Alistair Cook. Politician Stanley Jackson and actor C. Aubrey Smith were also cricketers but knighted for other reasons.
Cowdrey – Lord Cowdrey of Tonbridge – is one of four other cricketers to have made it to the House of Lords, the others being Rachael Heyhoe-Flint (the only woman), David Sheppard, who was Bishop of Liverpool in his other life, and Learie Constatine, the great West Indies all-rounder of the 1930s who was honoured also for his work as a lawyer and politician and became the first black peer.
Needless to say, Baron Botham is, as usual, in very select company – or would be if any of them were still alive. Sadly, they are not. Hopefully, his innings has a lot of legs left yet.

SPEAKING of Richie Benaud's death, he would have entered the nervous nineties this week, having been born on October 6, 1930. That prompted the prince of statisticians, @sirswampthing, to tweet the observation that the great man played 63 Tests, in which the score went past 2-222 on 22 occasions. For Richie fans, no explanation needed.
Rivalling this for tweet of the week was former Collingwood hell-raiser Dane Swan's offering after the Magpies' huge win in Perth: "Going to celebrate with a brisk walk around the block with 1 other person for an hour." For any Victorian, or anyone familiar with Swan's colourful lifestyle, no explanation needed.
Tweeting at its best in both cases.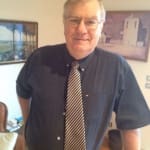 Author:
Ron Reed
RON REED has spent more than 50 years as a sportswriter or sports editor, mainly at The Herald and Herald Sun. He has covered just about every sport at local, national and international level, including multiple assignments at the Olympic and Commonwealth games, cricket tours, the Tour de France, America's Cup yachting, tennis and golf majors and world title fights.
Comments
comments
0 comments