---
Reading Time:
3
minutes
MIXED emotions – and results – at the Russian Grand Prix, writes PETER COSTER:
BEFORE the Tuscan Grand Prix two weeks ago, Sebastian Vettel was asked what he thought of the track at Mugello. Among other relaxed observations, he said: "You can look at the scenery."
Look at the scenery?
Grand Prix drivers look at the track. They look at the cars around them, particularly the ones in front. They look at a bewildering amount of data displayed on their incredibly complex steering wheels, all this while coping with a split view ahead because of the halo support strut and very little in their rear-view mirrors, which are the size of letter box slits, or the similar view from their driving helmet.
They do not look at the scenery as they go past at more than 300km/h or try to resist their head being slammed to the side of the cockpit as they try to resist up to 5g in corners over the two hours of a Grand Prix.
Was it a joke?
The four-time world champion wasn't smiling and neither was Ferrari team boss Mattia Binotto after the Italian race in which Vettel finished 13th.
The German driver has failed to finish in the top five this season and was sacked by Ferrari for next season.
The question must be does he really care any more after being shown up by young teammate Charles Leclerc?
He has been picked up by Racing Point, who have dumped Sergio Perez. The Mexican driver finished fourth at the Russian Grand Prix at Sochi on Sunday ahead of Daniel Ricciardo.
Lawrence Stroll, the father of Racing Point's Lance Stroll who crashed out on the first lap at Sochi, through no fault of his own, might be regretting the move.
Vettel has a particularly long face of late and pride may by his motivation rather than the confidence that usually accompanies the egos of the worlds's elite drivers.
It was the opposite of the attitude shown by Ricciardo who was sitting behind Renault teammate Estaben Ocon when Ocon was ordered to let the Australian driver past.
Ocon was being held up by Vettel, but the former world champion was only there because he had not been called in for a pit stop.
"Clear I was left out to slow down he Renaults," said Vettel. He said later the team had used him as a "brake block."
Ocon gave way and but Ricciardo locked up and went wide on Turn 2.
When his race engineer told him he had been given a five-second penalty, the Honey Badger laughed.
"I'll just go faster," he said.
He wasn't looking at the scenery. The Australian has been close to a podium finish for Renault but has preferred to go to McLaren next season, thinking it will give him a better chance of winning a world championship.
Carlos Sainz has left McLaren to replace Vettel at Ferrari but the Scuderia's miserable season looks like continuing.
McLaren on the other hand is running with Mercedes engines, which have powered six-times world champion Lewis Hamilton and Valtteri Bottas to eight victories in 10 races this year.
Bottas won at Sochi, telling his critics over team radio, "f… you."
Would he have won at Sochi had Lewis Hamilton not been hit with a 10-second penalty for practising a couple of pre-race starts at the end of the pit lane is another matter.
Embed from Getty Images
The usual Mercedes 1-2 finish this year was split by Red Bull's Max Verstappen who finished second in front of Hamilton.
This rained on Hamilton's party. He would have equalled Michael Schumacher's 91 career wins had he won at Sochi.
Hamilton was on pole and held off Bottas at the start when Sainz and Stroll crashed out in separate incidents. But a win was unlikely after he had to serve the practice-start penalty.
The next race is the German Grand Prix at the Nurburgring on October 11.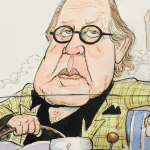 Author:
Peter Coster
PETER COSTER is a former editor and foreign correspondent who has covered a range of international sports, including world championship fights and the Olympic Games.
Comments
comments
0 comments