---
Reading Time:
3
minutes
AUSTRALIAN driver Daniel Ricciardo has salvaged something to savour from the Belgium Grand Prix, writes PETER COSTER:
One of the pleasures when Formula One goes to Belgium is that the track at Spa has the most awesome corner in Grand Prix racing.
The cars approach the downward straight as if it were a ski jump, with the upward rush from Eau Rouge taken at full throttle.
This is a swoop at 300km/h and calls for "balls to the wall"
South Australian driver Vern Schuppan described it thus after a flat-out drive in the rain-drenched dark along the six kilometres of the Mulsanne Straight at the Le Mans 24-hour race.
At Spa each year, the TV audience around the world is treated to the overtaking manoeuvre by Mark Webber on Fernando Alonso.
It was in 2011, a year after the Australian driver had been leading the world driver's championship.
His chances were largely ruined after his Red Bull teammate Sebastian Vettel deliberately drove into him when he tried to pass.
Embed from Getty Images
But a year later at Spa, Webber drove into Grand Prix legend when he passed Alonso into Eau Rouge with no more than a few centimetres between their wheels.
Webber said he made the pass because he trusted Alonso to give him room.
He might well have said he would not have risked the same pass on Vettel, who finished 13th on Sunday in what may be his last season in F1.
The Belgium Grand Prix brought the usual Mercedes one-two for the Black Arrows, the Silver Arrows being repainted in support of Black Lives Matter.
More interesting was what took place immediately behind Lewis Hamilton and Valtteri Bottas.
Max Verstappen and Daniel Ricciardo were together on the second row of the grid and finished in the same order.
Riccardo in the Renault was briefly ahead of Verstappen's Red Bull, but saw the Dutch driver stretch his lead to more than 15 seconds.
Then came tyre changes after a safety car deployment when Alfa Romeo's Antonio Giovinazzi and Williams young gun George Russell crashed.
The incident came in two parts.
Giovinazzi, for reasons unexplained found himself snapping suddenly to the right and into the barriers on lap 11.
Russell in the Williams avoided the Alfa Romeo, but found one of its front wheels bouncing towards him as he attempted to pass on the other side.
The wheel and tyre, with its broken tethers whipping in the air, might have decapitated Russell if not for the halo that surrounds F1 cockpits.
Whether the wheel and tyre actually hit the halo is unclear. Russell said it was "scary" as the wheel rushed towards him. Somewhat of an understatement.
French driver Jules Bianchi died after a crash during the 2014 Japanese Grand Prix. He suffered fatal head injuries after he slid off a wet track and into a crash recovery vehicle parked on the circuit.
A halo would probably have saved him as it did Ferrari driver Charles Leclerc when he was driving for Sauber in the 2018 Belgian Grand Prix.
Fernando Alonso's McLaren was launched over him by a late-braking Nico Hulkenberg in a Renault, leaving scrape marks across the halo.
That ended the debate over enclosing open cockpits. An official FIA investigation found Leclerc would have lost his life if it were not for the halo.
Leclerc now drives for Ferrari, Hulkenberg is without a drive and Alonso will drive for Renault next season after leaving F1 to chase his dream of winning the Indy 500.
Alonso finished 21st at the brickyard in the race two weeks ago and will replace Ricciardo at Renault when the "Honey Badger" moves to McLaren next year.
Embed from Getty Images
Ricciardo jumped into the seat left vacant by Carlos Sainz when the Spanish driver and son of world rally champion Carlos Sainz Snr was offered Sebastian Vettel's seat at Ferrari.
Ricciardo posted Renault's best result at Spa since the French team returned to the sport in 2016, recording the fastest lap of the Grand Prix on the last lap.
Ricciardo didn't hide his delight over the team radio, saying he was "f…..g flying."
He would have passed Verstappen for a podium finish had the race been a couple of laps longer.
That's like saying "pigs might fly."
None the less, it showed the Australian is one of the best drivers on the grid.
But is leaving Renault at the end of his two-year contract a mistake?
Probably not. McLaren will have Mercedes engines next year.
Ricciardo would have gone to Ferrari had he been asked, but the Prancing Horse is building its fortunes on Leclerc and Ricciardo is not a number two driver.
That was always a problem for Webber when he drove for Red Bull. Red Bull invariably favoured Vettel.
Being at Ferrari would have seen Ricciardo languishing in midfield.
Ricciardo is 31 but still has time to become world champion in the right car. Lewis Hamilton will be 36 at the start of next season.
He will almost certainly have won his seventh world championship and will be looking forward to his eighth to surpass Michael Schumacher's record.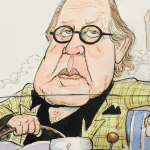 Author:
Peter Coster
PETER COSTER is a former editor and foreign correspondent who has covered a range of international sports, including world championship fights and the Olympic Games.
Comments
comments
0 comments