---
Reading Time:
3
minutes
FLYING Dutchman's Sunday stroll keeps the heat on the Grand Prix big guns, writes PETER COSTER:
F1 DRIVERS sometimes get their knickers in a knot and Valtteri Bottas was complaining to anyone who would listen when he climbed out of his Mercedes after the Spanish Grand Prix.
Not only were his fire proof underpants too hot in the Spanish heat, his black racing overalls were "too f…..g hot."
Painting the Silver Arrows cars black to show the team's support for Black Lives Matter made matters worse.
Black absorbs heat, pointed out Bottas who is used to cooler conditions back home.
The Finn is usually not one to complain, but too often finds himself in third place with Red Bull's Max Verstappen getting between a Mercedes 1-2.
Embed from Getty Images
The Dutch wunderkind won the previous week's 70th Anniversary Grand Prix at Silverstone where it was almost as hot as the Circuit de Catalunya.
The British Grand Prix the previous week saw the tyres of the two Mercedes disintegrate with Hamilton limping to first place ahead of a fast finishing Verstappen and Bottas hanging on for third.
In Spain, Bottas said he was "drained" by the heat while Hamilton, who led from start to finish, talked about being "in a different zone. I didn't even realise it was the last lap. I was in a daze out there."
Maybe he was hallucinating in the heat?
None of this affected Verstappen who was arguing on the radio about the team focusing on what Mercedes were doing instead of what they should be doing.
Such as bringing him in to change tyres that were "dead" and causing him to lose time to Bottas and Hamilton.
Red Bull chief Christian Horner was amazed that Verstappen could find the mental space to drive and argue with the team at the same time.
"It's like he's on a Sunday afternoon drive," said Horner.
The previous week, Verstappen said he wasn't going to drive "like a grandma" because his race engineer was worried about his tyre temperatures.
It is Verstappen who makes the difference at Red Bull. Teammate Alexander Albon was eighth in Spain after finishing fifth and eighth in the British races.
Verstappen needs another 10th of a second out of his Honda engine to put him on the front row of the grid.
In Spain, a grinning Honda representative was back-slapping Red Bull chief Christian Horner after Verstappen's second place.
Saving face is as important to the Japanese manufacturer as producing an engine that can win the world championship. Executives were sacked when Honda was struggling.
Whatever happens in the rest of this truncated season, there will be an asterisk beside the results.
The virus emptied the grandstands and next year will see a driver reshuffle that puts Australia's Daniel Ricciardo into a McLaren with a Mercedes engine and a real chance of winning a world championship.
The Perth driver, who lives in Monaco, was the natural choice for Ferrari when the Scuderia unceremoniously dispensed with the services of four-times world champion Sebastian Vettel.
But having decided to build the team around Charles Leclerc, Ferrari did not want a situation where their drivers were falling over each other.
Carlos Sainz from McLaren seemed the right fit as a second banana to Leclerc. Putting Ricciardo in the second Ferrari might have been slipping on the skin.
Enzo Ferrari would have been delighted to see his two drivers at each other's throats.
As it has turns out, Ricciardo will be in the better car at McLaren as Ferrari slips back on the grid.
Ferrari has very much gone off the boil and heads are likely to roll faster at the Scuderia than the wheels are turning.
Meanwhile, Lewis Hamilton heads towards his seventh world championship after winning his 88th Grand Prix.
Embed from Getty Images
Way behind him, Kimi Raikkonen, the oldest man on the grid at 40, has more racing miles than anyone in the history of F1.
"The Iceman" won the world championship in 2007 in his first year with Ferrari and while he finished 14th in Spain, it might be because his Alfa Romeo has a Ferrari engine.
Who would have thought that would be an issue even before Crofty screams: "It's lights out and away we go."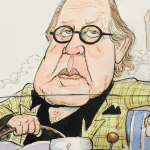 Author:
Peter Coster
PETER COSTER is a former editor and foreign correspondent who has covered a range of international sports, including world championship fights and the Olympic Games.
Comments
comments
0 comments