---
Reading Time:
8
minutes
SEVEN DAYS IN SPORT: Virus crisis can't obliterate six decades of memories for one of Australian tennis's most prolific contributors, says Chief Writer RON REED:
IN A happier world than we're living in now, Neale Fraser should have been at Wimbledon last weekend for the men's final, which would have been the diamond anniversary – the 60th – of his own triumph on the hallowed grass in 1960.
He probably celebrated with a glass of something cheerful anyway, and will do so again in September given that he won the US Open for the second time the same year, adding the doubles and mixed doubles for good measure.
Fraser is 86 now and gets around with the help of a walking stick. But he's still going strong, as are his contemporaries from the golden age of Australian tennis – Frank Sedgman, 92, Ken Rosewall, 85, Roy Emerson, 83, Rod Laver, 81, Fred Stolle, 81, and slightly more "junior," John Newcombe, 76 and Tony Roche, 75. They are a mighty good advertisement for one of the few professional sports than can be pursued recreationally into middle-age and beyond.
Without exception, these men have all been ornaments to their sport and have contributed to it in various ways long after their halcyon days.
Embed from Getty Images
No-one does that apply to more than Fraser.
The big-serving left-hander from Melbourne followed his stellar career, with its three Grand Slam titles, with a record 24-year stint as non-playing captain of the Davis Cup team, winning the symbol of international team supremacy four times.
He also served as chairman of the Sport Australia Hall of Fame for nearly a decade and was once named Victorian Father of the Year.
He was an enthusiastic cricketer, too, strictly at recreational level, where I had the pleasure of playing alongside him for a season or two in a Melbourne Cricket Club old-timers' eleven, when he would always take the field clad in a baggy green Test cap that he had acquired somewhere along the way.
While 1960 was his peak year without doubt, it became – in hindsight – memorable for the emergence of a young player of considerable promise. His name was Laver and nobody got a closer look at his potential than Fraser as they confronted each other in three of the four Grand Slam singles finals and two of the doubles that year.
Six years younger, Laver drew first blood by winning the Australian Open decider in five enthralling sets, but Fraser turned the tables in four at Wimbledon and three at the US, while he and Emerson lost the Australian doubles to Laver and Bob Mark but then took revenge in America.
Laver, of course, went on to complete the Grand Slam twice and establish himself as Australia's all-time greatest player – still.
The 1960 Australian was the first of his 11 major titles and remains one of his proudest. It must have been some showdown.
"I'm proud to say it is remembered as one of the great matches in Australian tennis history," he wrote in his book, A Memoir.
It was played in extreme heat in Brisbane, meaning most of the crowd were barracking for Laver the local boy and were emotionally involved to an extent seldom seen.
"Neale and I made each other venture to places neither of us had ever been before," Laver said, noting that he had to survive a match point during the fourth..
"As we crossed over for the fifth and deciding set, Neale and I, good mates and merciless rivals, stood together for a moment in the shade of the grandstand. Unbelievably and shamefully in those days in amateur tennis there were no chairs for the players at courtside, though plenty for the officials in the hospitality tent. 'Whew,' said Neale. 'How bloody hot is this.'
"In the final set we went hell for leather and though we were both exhausted, physically and mentally – Neale's legs were actually buckling, like a drunk's – we played some thrilling rallies and each scored with excellent passing shots, and the crowd cheered hoarse with every one.
"Neale saved six match points. Afterwards he couldn't remember anything about that set. Luck was with me and I won the set 8-6. At 21 I was the Australian champion."
They were, indeed, the glory days of Australian tennis – and 60 years later, they still resonate. Cheers, Frase!

IN TIMES of crisis a sense of humour is essential, otherwise we'd all go mad. That's why when Adelaide footballer Reilly O'Brien accidentally sledged West Coast opponent Nic Natanui – calling him lazy and unfit – and blamed it on a misfiring phone, you had to applaud Nic Nat's response: he presented a surprised O'Brien with a new phone at the end of the game, on national TV. It was amusing, classy and a good example of sportsmanship for kids.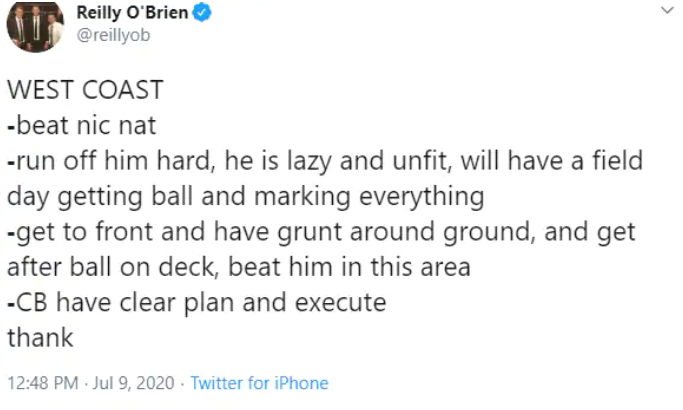 Another sledge that came under the spotlight was North Melbourne tagger Luke McDonald covering his mouth with his hand in front of Essendon's Conor McKenna, the only footballer to test positive to coronavirus. OK, that was a bit provocative and not all that funny, if that's what it was meant to be. But even in the current climate it hardly amounted to vilification or insult, so the storm of criticism – led by his own coach, Rhyce Shaw – that McDonald copped was over the top. He apologised, McKenna reportedly had no problem with it, no punishment required, case closed. Move on.
And the narks who decided that the Prime Minister was somehow belittling the health emergency by taking a night off to have a beer at the rugby league need to get a life. Morrison is one of many politicians and other front-line respondents working their clackers off to get us out of this mess, and doing a far better job than a few others we could name.

IT'S no secret that the 100-goal full-forward has become an extinct species. But no-one would ever have expected a whole team to go through a season without kicking a ton. They way they're going, that might be the Adelaide Crows' melancholy fate.
After six games they were averaging six goals for a total of 36, just enough to creep over the line in a 17 game season. However, 11 of those were in the first round and since the restart they have been averaging five goals and if that remains the case for another 11 matches they'll end up well short.
The stats are starting to make dismal reading.
By early in round seven, 55 matches had produced 31 scores of less than 50 and 22 between 50 and 60, with only five of more than 100.
The argy-bargy between rival coaches Damien Hardwick and John Longmire over who was responsible for the seven-goal shocker between Sydney and Richmond was mildly amusing to watch, and while it didn't resolve anything it was probably the most powerful indicator yet (along with Alistair Clarkson's earlier state-of-the-game comments) that the AFL has a serious problem with low scores and ugly strategies.
But League boss Gill McLachlan and his heavy-hitters can live with that for a while. They have far more confronting issues to worry about and in any case people are just grateful to have footy at all, as the booming TV ratings demonstrate.

NIGEL Murch, who died at 76 during the week, wasn't the greatest fast bowler ever to play for Victoria – he took 17 wickets at 51.05 in nine matches plus one for English county Northamptonshire in the late sixties – but there weren't many who were more combative or competitive at any given level. Everybody knew that in District and sub-District cricket, where he was a legend with St Kilda and Malvern, but even social cricket was no place to stir him up, as I found out one day when I decided to bounce him a couple of times in retaliation for a hundred he had taken largely off my bowling in an earlier picnic engagement, smirking provocatively as he smashed me around the park. Enraged at my temerity, he declared his team's innings closed and insisted that we bat a second time – unheard-of in social cricket – and dared me to open the batting. Well aware of what that meant, I declined. We laughed about it over a beer and got along extremely well thereafter. He was a colourful, engaging bloke to know. Vale.

ENGLAND cricketer Jofra Archer takes the prize for the dumbest performance of the week, getting himself banned from the second Test against the West Indies for breaking the coronavirus protocols. You have to wonder what was going through his head but he's 25 and should have more common sense than that. It was a mixed few days for the Caribbean-born quick, who bowled without much impact in the first innings of the first Test then threatened to win the game with a couple of intimidating spells in the second innings, without quite going through with it. So is he the matchwinner the Poms thought they had unearthed when he burst onto the scene against Australia a year ago? Well, nothing wrong with his figures – 33 wickets at 28 from eight matches, with three five-fors. But statistician Ric Finlay put an interesting perspective on that when he pointed out that England's winning percentage when he plays is 25 pc – and when he doesn't play (four matches so far) they have won every time. It's a small sample, but food for thought.
Embed from Getty Images

THE Australian flag will fly as usual at the world's premier bike race, the Tour de France, when it belatedly starts on August 29, with Mitchelton-Scott back on the road after surviving a recent management drama that almost saw our only World Tour team assuming a quasi-Spanish identity.
But the team's Australian DNA continues to be diluted with only one home-grown rider, Alex Edmondson, named in a squad of 11 for Le Tour, and given that has to be trimmed by three even he may not be a certain starter.
The team has 10 other Australian riders, from a total of 28, and six of those – Jack Haig, Lucas Hamilton, Michel Hepburn, Damien Howson, Cameron Meyer and Nick Schulz – are among 11 preparing for the Giro d'Italia in October, which now appears to be the priority mission.
Last year, the team won four stages of the French marathon, including two by British star Simon Yates, but this time he will be targeting only Italy, which he threatened to win in 2018.
Sports director Matt White has declared a Yates win as "the optimal result", adding that stage wins, and not the general classification, will be the aim for the Le Tour contingent, which includes his talented brother Adam as well as veteran South African Daryl Impey and Colombian pocket rocket Estaban Chaves.
Whatever happens it is unlikely an Aussie will be featuring on a podium at any stage of either race.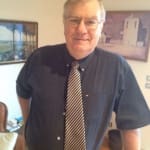 Author:
Ron Reed
RON REED has spent more than 50 years as a sportswriter or sports editor, mainly at The Herald and Herald Sun. He has covered just about every sport at local, national and international level, including multiple assignments at the Olympic and Commonwealth games, cricket tours, the Tour de France, America's Cup yachting, tennis and golf majors and world title fights.
Comments
comments
0 comments