---
Reading Time:
3
minutes
There has been much reflection from Cricket Australia and fans lately, with thoughts turning to the future of the international teams. But despite concerns over the waning popularity of the game, there are certain youngsters who promise that a bright future still lies ahead for the international team and the overall health of the sport in Australia. We take a look at the hottest prospects set to make their mark at the top level of the game.
Jhye Richardson
One area in which the international team is certainly stacked with talent is the fast-bowling department. Pat Cummins, Josh Hazlewood and Mitchell Starc all possess fearsome pace and boast intimidating test bowling averages of 21.82, 26.20, 26.98 respectively. Despite this, however, fast bowler Jhye Richardson has already appeared in two Tests, 13 ODIs and nine T20s at international level with promising averages of 20.50, 28.75 and 31.88. The 23-year old from Western Australia may not appear to be physically powerful but allays any of these doubts out on the field with bowling speeds consistently around the 145km/h mark. Richardson is close to establishing himself as the fourth horseman of Australia's speed bowling apocalypse and this is testament to his enormous potential given the talent already at Australia's disposal in this department.
Wes Agar
Another fast bowler is also beginning to knock on the door: Wes Agar (brother of Ashes alum Ashton) has had a stunning season across all formats. His exploits for South Australia included taking 33 wickets at an average of 24.2 in the Sheffield Shield which led to Agar being awarded the Bradman Young Cricketer of the Year at this year's Australian Cricket Awards. Leaner and meaner than he has perhaps been in the past, Agar is producing similarly consistent speeds to Jhye Richardson. With the wealth of bowling talent available to Australia along with another year of development for these two budding talents, it is easy to see why the national side are heavy 8/15 favourites in cricket betting to win the Ashes in 2021/22.
Will Pucovski
The batting department is perhaps more of a worry as although the likes of Steve Smith and Marnus Labuschagne continue to pile on the runs, there seems to be a perceived lack of obvious talent coming through. The clearest exception to this, perhaps, is Will Pucovski who became the youngest player since Ricky Ponting to hit a double-century in the Sheffield Shield back in the 2018/19 season. He has continued to put in consistent performances at first-class level with an impressive average of 42.24. Pucovski, however, has dealt with well-documented mental health issues and withdrew from the Test squad in 2019, for the series against Sri Lanka, in order to focus on his well being. He has also had bad luck in suffering a spate of concussions, most recently including a freak accident as he slid to complete a run. He is still held in extremely high regard, drawing comparisons to the great Steve Waugh, with Shane Warne leading the clamour for his re-inclusion in the Test squad back in November. Pucovski's talent and potential is undoubted and if it is nurtured carefully with diligent regard for his mental health, there is still plenty of time for the 22-year old to establish himself as Australia's next batting superstar.
There may be a few concerns about development in certain roles, like future spin bowling options, but it is apparent that the Australian cricket system is continuing to produce fine, young players. A solid spine of world-class players like Smith, Cummins and Hazlewood, with years at the elite level still ahead of them, offers the ideal environment in which young players can learn from their elders as they are introduced to international cricket. The future remains bright for Australian cricket.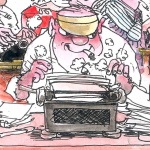 Comments
comments
0 comments