---
Reading Time:
4
minutes
A RACE by any other name was not so sweet for several drivers, writes PETER COSTER:
The Austrian Grand Prix was the first race since the season opener in Melbourne in March was cancelled because of the coronavirus.
But why was the second race on the following weekend called the Styrian Grand Prix, you might well ask.
It was because of an FIA rule that says you might well run two GPs on successive weekends but they must have different names.
Why the spookily named Styrian Grand Prix?
Ferrari F1 boss Mattia Binotto could be forgiven for thinking it should have been named the Styxian Grand Prix.
The river Styx separates the living from the dead in Greek mythology.
Ferrari's drivers were unscathed but the Scuderia was in a hellish place with both their cars out of the race after Charles Leclerc tried to go where there was no room to go.
Leclerc and Sebastian Vettel were out of the racer while Binotto was still settling himself in his seat on the pit wall on the first lap.
Daniel Ricciardo narrowly avoided the same fate on the penultimate lap when he was in sixth place, only to be forced to give way when Racing Point's Lance Stroll tried to pass through a gap as narrow as the one that brought the Ferraris undone.
The Australian driver said he should have "shut the door" as Stroll tried to pass but knew it would have caused a crash.
As it was, Stroll got past as Ricciardo swerved away and Orlando Norris in a McLaren swept through leaving Ricciardo to finish eighth.
There was a stewards' investigation, but they decided it was "a racing incident."
Stroll admitted the gap was "a very small one" and led to "a very hectic last lap, but a very exciting one for everyone."
Ricciardo angrily disagreed.
Orlando Norris, who has just turned 20, but looks like 14, found himself among the leaders for the second week running after stepping onto the podium in third place the previous week.
Unlike most drivers, Orlando admits his mistakes, not that he makes many.
Charles Leclerc at Ferrari is even more self-admonishing.
"I f..ked up. I saw an opportunity, or I thought I did. In any case I saw an opportunity, I thought that maybe we could win four or five places and I went for it.
"But I clearly screwed it up. I admit it, I screwed up. I apologised. Excuses are not enough at times like this. I'm disappointed in myself and let the team down."
There was yet more of this anguish and handwringing. "I've put the team's plans in the bin."
The 22-year-old has become as well known for beating up on himself as he is for his scintillating talent, having won two GPs and been on the podium 11 times since his F1 debut in a Sauber in Melbourne in 2018.
There was more interest in the midfield than in the 1-2 victory by Mercedes at the Styrian Grand Prix, named after the Austrian state of Styria where the Red Bull Ring waltzes its way around the meadows under the Austrian Alps, in case you are still wondering.
Embed from Getty Images
Lewis Hamilton led from start to finish after qualifying more than a second ahead of Max Verstappen in the wet.
The wet is always the mark of the master and this time visibility was limited by a grey wall of water.
"I can't see anything," said Verstappen, who is know for pressing on regardless.
Valtteri Bottas, second to Hamilton after winning last week when the six-time world champion was given a five-second penalty for Red Bull's Alex Albon off the track.
Hamilton lost three places on the grid for failing to slow on yellow flags in qualifying and finished fourth.
But at the Styrian Grand Prix on Sunday, it was back to a Mercedes 1-2. The only real threat to The German team's dominance in whatever races are still to come is Red Bull and Max Verstappen.
The same is likely next year when F1 regulations were to change dramatically.
This is no longer the case because of the coronavirus, which has stopped teams from testing as well as racing.
McLaren, which has been running Renault engines will change to Mercedes power, which could see Daniel Ricciardo challenging Hamilton and Bottas.
Ricciardo wasted no time in signing with McLaren after Carlos Sainz left for Ferrari.
Ricciardo showed he was unaffected by a heavy crash in practice for the Styreian Grand Prix, although he limped away from the car.
"It all happened very quickly, so I'm not sure what went wrong," said Ricciardo. "I turned in and just lost the car straight away.
"I know these things happen with cars and in Formula One, so it's not out of the ordinary."
This somewhat philosophical attitude is not unusual among even the elite drivers.
Former world champion Phil Hill said it was like "posting a letter." You crashed and then you got on with it.
On Sunday, former F1 driver and commentator Martin Brundle said it is not a case of will you crash, but when you crash.
Some crashes give pause for thought.
When Australia's Mark Webber ran headlong into a concrete wall at close to 300kph in the World Endurance Championship after retiring from F1, former world champion Jenson Button commented:
"That was a big one, mate."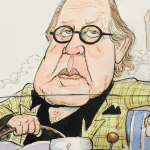 Author:
Peter Coster
PETER COSTER is a former editor and foreign correspondent who has covered a range of international sports, including world championship fights and the Olympic Games.
Comments
comments
0 comments