---
Reading Time:
2
minutes
VALE Sir Everton Weekes, the great West Indies batsman, who has died at home in Barbados. A special tribute from Sportshounds contributors:
THEY were the legendary Three Ws and they were the making of West Indies cricket. Sir Everton Weekes, Sir Clyde Walcott and Sir Frank Worrell, all from the island of Barbados, were contemporaries in the 1940s and 1950s, a three-pronged strike force unequalled by any other country at that time – and probably not since.
For an appreciation of what they meant to the game, Australian author Greg Young's 2017 book From Lilliput to Lord's, is the go-to source. This link to Sportshounds' extract from the book, headed Three Boys From Barbados Took the Cricket World by Storm, is a must-read.
In addition, Sportshounds cricket expert, former Test player IAN CALLEN, pays homage to Weekes' influence even at club level in England:
VERY sad news; the passing of Sir Everton Weekes.
As a child I found myself gazing for hours over the photographs of the "3 W's", Walcott, Worrell and Weekes; I idolised them.
Following my dreams in cricket, inspired by them, I arrived in the Lancashire League at Ramsbottom in the late 70's and found myself sitting in the kit room of the historic "green & cream" club house… still in repair in those days.
Hours of my free time that season was spent sitting with two of the clubs stalwarts; Albert Holt and Les Barrow.
I think they were happy that the "Pro" gave them the time, but it was me who was happy to listen to their memories and drink their tea. We'd look out over Acrebottom towards the River Irwell and talk cricket for hours. Mostly about the cricketers they'd remembered.
But there was one they talked more fondly of than any other; Everton Weekes!
I carry those recollections with me today, as vividly as if I had been living and breathing in that very special era of the Lancashire league, myself.
Everton signed for Bacup in 1949 for about £500, they told me. It was so bloody cold that year, they said, that Everton, was often seen wearing an Army Great coat about. I had to laugh… because, I also found the early part of my seasons in the league so bloody cold that I played in full length long johns!
Embed from Getty Images
Bert and Les reckoned Weekes' performances were so outstanding that the grounds were packed with thousands of spectators, such was the mystique and appeal of Weekes and others.
I have seen photos hanging proudly at various grounds to back their stories up too!
Take it from me… these were special times in cricket and they'll never be seen again.
RIP Everton.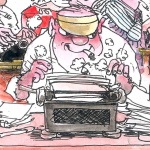 Comments
comments
0 comments