---
Reading Time:
6
minutes
SEVEN DAYS IN SPORT: The arrival of a soccer showpiece will be an opportunity and a challenge for the entire sport, says chief writer RON REED:
SO HOW big a deal is it that the women's soccer World Cup is coming to Australia and New Zealand in 2023? Well, the euphoric people inside the soccer tent were nominating it as the biggest "get" for Australian sport since the Sydney Olympics, and they are probably correct – although it's a crowded field, with men's and women's cricket World Cups, a rugby World Cup, soccer's Asian Cup and two Commonwealth Games among the also-rans.
Certainly, it is the biggest shot in the arm so far for the burgeoning women's sport movement – and the most important soccer event, men included.
It leaves the distaff T20 cricket World Cup earlier this year well in the dust, even though that showpiece was able to pull more than 86,000 people to the MCG to watch Australia beat India in the final.
The soccer girls won't be matching that even if the Matildas make it through to the decider, because the tournament is smack in the middle of the AFL season, in July and August, and they have been told in no uncertain terms that they will not have access to the nation's No 1 stadium – or Adelaide and Perth, among others – no matter how big the world-wide audience might be.
They will have to settle for Sydney's old Olympic stadium, which is being revamped to a capacity of 70,000. It is the only one of 13 nominated venues on both sides of the Tasman capable of holding the 55,000 that FIFA demands as a minimum for the showpiece.
So for once Sydney will have bragging rights over Melbourne, the sporting capital of the universe.
Does that matter? Well, given that footy is far more popular than soccer – in fact, the round-ball game has been sinking further and further into the doldrums for some time now, all over the country – it probably won't be the source of any great angst in this neck of the woods. Indeed, it is highly unlikely there were any champagne corks popping at AFL HQ in recognition of their rivals' coup, although they wouldn't be so churlish as to fail to offer their congratulations. Would they?
Cricket believes, probably quite correctly, that it is the No 1 international sport in Australia, but there is no comparing its global clout with soccer in either gender.
Embed from Getty Images
The women's cricket tournament featured 10 teams, several wearing L-plates, while this oncoming juggernaut will be contested by 32 countries –- up from 24 at the last one – with the US and European powerhouses Germany, France, the Netherlands, Sweden and England all ranked ahead of Australia, with Brazil next in line. It will be watched by an enormous world-wide audience.
Perhaps this is the first example of a mainstream sport in Australia finding the women's version is more valuable than the men's, an unthinkable proposition not all that long ago.
For superstar captain Sam Kerr and her talented team, it will be extremely hard to win.
But the equally important challenge for soccer in all its forms is to make the most of this gigantic opportunity to reposition itself much closer to the sun.
As we observed in the space a week ago, it is struggling for visibility with Fox sports losing interest and unwilling to keep paying as much as it has done for the rights to matches, and with the Murdoch newspaper conglomerate parting company with almost all of its specialist soccer reporters. In Melbourne, the Herald Sun no longer seems to have anyone designated to cover the game.
As this major news story gathers pace in the build-up to 2023, that is one aspect that surely is going to have to be addressed.

CAN'T say I ever knew John "Kanga" Kennedy all that well other than as ships passing in the night at games and functions, but in my decades of professionally observing footy I find it hard to think of anyone – in any sport, really – who made a bigger impact in so many different respects (respect being the operative word). It was a massive contribution. Vale.
His passing was not a cause for celebration, as such – although his long and distinguished life was – but at least the opportunity to pay tribute and reflect was a welcome distraction from all the negatives that have engulfed the game, not least the daily debate about racism.
It's been another busy week on that front, with Heritier Lumumba ramping up his war of words with his old club Collingwood, Eddie Betts speaking from the heart and, bizarrely, Nicky Winmar and my old mate, photographer Wayne Ludbey, threating to sue Don Scott, Sam Newman and Mike Sheahan because they have questioned the bona fides of that famous "I'm proud to be black" photo.
Embed from Getty Images
Unusually, the whole racism uproar is showing no signs of dissipating and in fact is threatening to overwhelm the rest of the footy agenda, which is not an ideal state of play. Sometimes, less is more.
But if that means genuine progress is being made in resolving these long-standing cultural conflicts – and that does seem to be the case — it can only be a good thing, and might provide a reason for this troubled season to be remembered more positively than it will be on some other fronts.
A few observations.
One, Lumumba's stubborn refusal to meet the Magpies halfway and participate in the investigation they have undertaken is not hugely helpful. His cause might be better served if he made himself part of the solution as well as the face of the problem.
Two, Betts, whose problem is not with any club but the few cretins who continue to insult him, is no less passionate about the issue but a more engaging spokesman for it than Lumumba, possibly because he is so popular. As a Carlton supporter, the more I see of Betts – the footballer and the bloke – the more I like what he brings to the table, and that's been the case for a long while now.
Three, I have worked with Ludbey for decades and one of the assets that makes him Australia's best sports photographer is his nose and eye for the story as well as the image. His credibility is not in question.

NICK Kyrgios has never had much love for Novak Djokovic – and for reasons that have never been entirely clear to me – neither have plenty of other tennis people and fans, so it was no surprise to find him leading the charge against the Serbian superstar's corona catastrophe.
"That takes the cake" for stupidity, Kyrgios said of the Joker's "bone-headed" decision to stage a tennis tournament without paying any heed whatsoever to health precautions, with him, his wife and several other prominent identities then testing positive to the virus. Spot on, Nick. It wasn't just stupid but arrogant, in the way that some celebrities consider themselves too important for the rules of lesser mortals to apply to them.
Embed from Getty Images
Clearly, it should cost Djokovic his lofty status as chief of the tennis players' association, but I'd go further and ban him from playing until the pandemic is over. He's probably too … well, important … for that, though.

LINDSAY Gaze will always be the spiritual doyen of Australian basketball coaches but his protégé Brian Goorjian is not far behind, and not just because the Californian-born former Melbourne Tigers player led three teams to six championships between 1985 and 2008 as well as an impressive stint in charge of the national Boomers.
Goorjian was also a terrific ambassador for the game, and a very positive influence in the media, especially for occasional drifters into his orbit like me, who needed a bit of education in the finer points. He probably learned that from old Lindsay, who coached him.
Now, after plying his tade in China for some years, he is back "home" and installed as coach of the (Illawarra) Hawks.
The NBL has kicked plenty of goals over the re-inventive last few years and this is another very welcome one.

QUOTE of the week: After watching vision of Essendon footballer Connor McKenna spitting in the presence of others at training just before testing positive to Corona virus, commentator Andrew "Barney" Barnett quipped on the Fox Sports show The Back Page: "It makes a change for a footballer to be getting into trouble for putting something OUT OF his mouth."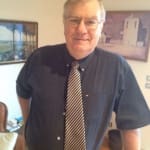 Author:
Ron Reed
RON REED has spent more than 50 years as a sportswriter or sports editor, mainly at The Herald and Herald Sun. He has covered just about every sport at local, national and international level, including multiple assignments at the Olympic and Commonwealth games, cricket tours, the Tour de France, America's Cup yachting, tennis and golf majors and world title fights.
Comments
comments
0 comments