---
Reading Time:
4
minutes
JOCKEYS didn't come any better than Darby McCarthy – but it was a rough ride, which he shared with Chief Writer RON REED:
VALE Darby McCarthy, the great Aboriginal jockey, who has died at 76, ending one of the most colourful, bitter-sweet stories in Australian sporting history.
At least McCarthy's poignant last wish was granted. "I'll go to my dreamtime when I get justice," he once told me. Happily, I was able to help him achieve that, campaigning in the Herald Sun for him to be exonerated from a race-fixing scandal that ruined his brilliant career and sent him spiralling into alcoholism, depression and penury – but never hopelessness.
Finally, in May 2007, Racing Victoria completed a long review into the highly controversial events at the Hamilton Cup meeting way back in 1976 when, after the longest inquiry in Victorian racing history, McCarthy was accused of fixing a minor race and disqualified for seven years, later reduced on appeal to two and finally – with no reason given – mysteriously scrapped altogether.
After more than three decades, RV chairman Graham Duff said the review had concluded that McCarthy was not guilty and that the treatment meted out to him "stinks, frankly."
Many people in high places – not the last a young politician named John Cain, who later became Premier and rewrote the rule book for administering justice in the so-called sport of kings – always believed McCarthy was a scapegoat who was simply in the wrong place at the wrong time as stewards zeroed in on an anonymous big punter they knew was, in fact, corrupting the system.
McCarthy had to live with the fall-out until a Melbourne policewoman, Lauren Callaway, wrote a book, Darby McCarthy: Against All Odds, which convinced me he was probably innocent, so I travelled to Toowoomba, Queensland, to ask him myself.
It was an encounter that was both sad and uplifting.
He wasn't in good health, having been through a triple heart bypass, asthma and diabetes, and was flat broke – unable even to return the shout when we went for a beer at his local pub – and told me that the decades-long ordeal had been "a physical, mental, emotional and financial kick in the guts" that had led to him considering suicide.
And yet, he came across as a proud, intelligent man with an easy charm and a disarming candour about his own failings which made his protestations of innocence all the more believable. There was no obvious bitterness, just a burning desire to have his reputation restored before it was too late.
To his people, he was always a hero – and not just because of his fame and achievements. He was, especially later in life, a fighter for Aboriginal rights and culture who tried unsuccessfully to enter politics to tackle discrimination issues. He wore his Aboriginality like a badge of honour.
One of his greatest fans was Olympic champion Cathy Freeman, who grew up in the same town, and who said in a foreword to the book that she had "learned some precious lessons from Darby, who taught me in his own charismatic, crazy way what it takes to be a contender. Darby influenced me to strive for excellence in all that I do and to persevere against all the odds. I will be forever thankful."
Darby knew about excellence alright.
He was only 10 – one of 13 children to parents who had been only 13 when they married, if indeed they were able to do that – when he rode in a race for the first time, wearing borrowed boots three sizes too big, at an unregistered amateur meeting at a speck on the map called Thargomindah. His mount, Rusty, won by six lengths, demonstrating for the first time the boy's rare affinity with the big animals.
He went on to ride more than 1000 winners in several countries and earn more than a million dollars in prizemoney, an enormous amount back then.
Some experts considered him to be the best jockey Australia had produced. Some still do. The pre-eminent racing journalist, the late Les Carlyon, said: "He was one of the most beautiful horsemen I have seen – an absolute master."
The highs included a stint riding in Paris, where he lived in luxury with a personal maid while living a lurid off-track life with fellow Australian hoop Bill Pyers, who specialised in nightclubs, champagne and playgirls. McCarthy rode only one winner but had no regrets. "It was great while it lasted," he said later.
He saw a lot of tragedy too.
He told me his grandfather was shot dead by white settlers in full view of his son. After a day at the races in 1965, his father, an alcoholic, died mysteriously, probably of a heart attack, in a police cell. His brother Ian died of a drug overdose in McCarthy's home, ruled by a coroner to have been suicide. An aunt was jailed for murder. A sister lost a stillborn son. "I've buried a lot of family," he said.
Now the time has come for his families – the racing and Aboriginal communities – to bury him. In both cases, they do so with a healthy measure of pride in a man who never lost pride in himself, no matter how hard life dealt with him. Personally, it was a pleasure to get to know him and to play some small part in helping him go to his grave in peace.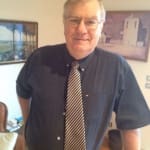 Author:
Ron Reed
RON REED has spent more than 50 years as a sportswriter or sports editor, mainly at The Herald and Herald Sun. He has covered just about every sport at local, national and international level, including multiple assignments at the Olympic and Commonwealth games, cricket tours, the Tour de France, America's Cup yachting, tennis and golf majors and world title fights.
Comments
comments
0 comments