---
Reading Time:
3
minutes
PETER Siddle signs off with a twirl of Big Merv's mo, says Chief Writer RON REED:
NOT FOR the first time, when Peter Siddle announced his retirement from international cricket on day four at the MCG another great Victorian fast bowler leapt to mind.
That would be Mervyn Hughes, because I have long considered the pair have much in common other than the simple fact that they have plied the same demanding trade.
No, we won't go so far as to suggest they are lookalikes – after all, Siddle has never sported a big 'mo, so we'll diplomatically leave it at that. Also, having seen a lot (and I do mean a lot!) of Merv up close and personal on cricket tours back in the day, I definitely do not remember him choosing bananas as his staple dietary regimen, as Siddle has famously done.
No, there are other reasons why posterity should regard them as good company for each other.
One is that they are both country boys – Hughes born in Euroa and growing up in Werribee, Siddle a product of Gippsland – who made their way up through the ranks with Victoria and never saw the need to chase money or other forms of kudos by hawking themselves around other states. They took the traditional route and never wavered or wandered.
They have both been Big V through and through, which is one reason they have been hugely popular with their local fans. That, and their unfailing good humour, together with a big-hearted capacity for hard work and competitive instincts that were probably more important than whatever their level of God-given talent might have been. Siddle mentioned that himself as he did the media rounds on Sunday.
Embed from Getty Images
However, what really counts is performances on the board – and there, they are almost twins. The similarity in their records is remarkable. Consider:
Hughes played 53 Tests in 10 years for 212 wickets at 28.38 with a strike-rate of 57.9, an economy rate of 2.93 with seven five wicket hauls and one of 10, and took a hat-trick.
Siddle played 67 Tests for 221 wickets at 30.66 with a strike-rate of 62.9, an economy rate of 2.92 with eight fives, and took a hat-trick.
Nit-pickers might claim that Hughes' figures are marginally superior, but it seems totally appropriate that they are now 13th and 15th on the all-time list of Australian Test wicket-takers (separated by old-time spinner Clarrie Grimmett) and ninth and tenth among the fast bowlers – joined at the hip, if you like. They were both damned quick in their hey-day too.
Here's one difference that might have been forgotten: Merv never actually retired. He played his last Test in South Africa in 1994 (as did Allan Border, although neither of them had planned it that way nor knew of it at the time) and then continued to make himself available until it became blindingly obvious that the selectors were not about to come calling again.
Siddle has now retired, of course, but he wasn't much different to Merv in that respect. There were times when it looked like his ship had sailed but he soldiered on diligently – declining to take no for an answer — and was rewarded with a couple of relatively surprising comebacks, including for the Ashes earlier this year where he played twice.
This summer, he has again been part of the squad, albeit without actually playing, which is another significant sign of the respect the powers that be have always had for him, not least his first captain, Rick Ponting, who couldn't have been more complimentary in his assessment of Siddle's value and character when farewelling him on TV.
The same went for current coach Justin Langer, which no doubt explains why he and co-selector Trevor Hohns gave him a role in the Ashes. Perhaps they took that a step too far when playing either Mitchell Starc or James Pattinson instead of him at The Oval in the final Test (and not fielding first on winning the toss) might have resulted in the Ashes being won and not merely defended – but that can hardly be held against Siddle.
It is now obvious that choosing to wait around on the off-chance of another opportunity would be as futile as it was for Merv so he has called time on himself more or less on his own terms and at a time and place when the entire cricket media, including many of his old comrades, are on hand to pay proper tribute – as he deserves.
It seemed somehow fitting that as he was taking his bow, out in the middle home-grown Victorian quickie, James Pattinson, was ripping the heart out of New Zealand's second innings, showing why he might finally be ready to continue on where Merv and Sidds have left off. They are big shoes to fill but he is perfectly capable of doing it if he gets a similar number of opportunities.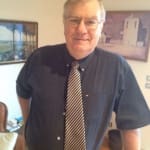 Author:
Ron Reed
RON REED has spent more than 50 years as a sportswriter or sports editor, mainly at The Herald and Herald Sun. He has covered just about every sport at local, national and international level, including multiple assignments at the Olympic and Commonwealth games, cricket tours, the Tour de France, America's Cup yachting, tennis and golf majors and world title fights.
Comments
comments
0 comments