---
Reading Time:
4
minutes
FOOTY stars getting their kicks out of boxing are wearing thin on chief writer RON REED:
FOOTBALLERS fancying themselves with their fists – professional boxers, that is, rather than just tough guys on the field – have always struggled to be taken seriously by most sports fans.
There are exceptions, of course, most notably Anthony Mundine, who was a very good rugby league player before following his accomplished father, Tony, into the ring and winning versions of three world titles.
And going further back, to the 1930s and 1940s, Ambrose Palmer played 83 VFL matches for Footscray as well as winning 50 of 57 fights and holding the Australian middleweight, light heavyweight and heavyweight titles.
Perhaps the other end of this spectrum was when two of the most colourful characters in Melbourne footy, Mark Jackson and Rene Kink, squared off in the ring about 35 years ago. I can't remember who won, but it certainly wasn't the sport of boxing, and when I wrote as much in a report for the Herald Sun that night I received a threatening phone call from an enraged Jacko before breakfast the next morning.
Apparently if we crossed paths any time soon I would discover how good a punch he could throw but fortunately we never did meet again, ever.
It can be a touchy topic.
Five years ago, former Richmond player Kayne Pettifer had his first fight against a Thai martial arts exponent named Terkiat Sitheppitak, who was 44, fat, and with a brief boxing record that was so poor officials said he probably wouldn't be allowed in the ring if he had not been fighting a complete novice.
When my straightforward report appeared under the headline "Kayne conquers ageing overweight underprepared novice"  – not inaccurate but perhaps over-emphasising the thrust of what I had written – again my phone went off the next day, this time it was Pettifer's trainer Sam La Bruna, claiming I was disrespecting the fighters and the sport and threatening to bar me from talking to any of his fighters ever again.
Pettifer's career went next to nowhere, as was the case with another ex-Tiger, Shane Tuck, whose first fight four years ago resulted in one Lucas Miller, having only his second bout himself, knocking him out so brutally in the fourth round that he was given oxygen before being carried from the ring on a stretcher and taken to hospital.
Although Tuck recovered and fought again with moderate success, it was more evidence that recruiting footballers to trade off their high profiles achieved elsewhere might not be the smartest strategy – not for boxing, and not for the protagonists.
All of which failed to prevent me succumbing to curiosity and rocking up to Margaret Court Arena to watch the so-called Code War between the AFL's Barry Hall and the NRL's Paul Gallen on Friday night.
Was this one worth taking seriously – or not?
Well, it certainly attracted plenty of media attention. Promoter Danny Green was always good at that during his own career as one of Australia's best fighters, but of course for the papers and the TV and so on this wasn't a boxing story at all, it was a footy story – and in Melbourne that's all you ever need to get a big run.
A handful of prominent media names scoffed loudly on social platforms but that was no surprise because they never take any interest in the fight game anyway – not many sports journalists do, not with any regular commitment, which is one reason why the sport always struggles for mainstream exposure.
There was plenty of reason to be cynical about this match-up.
Hall is 42 which is pretty damned old to be embarking on a professional career in any sport involving physicality, let alone probably the most gruelling – and dangerous – one of all. You cannot possibly be in prime condition at that age, no matter how hard you've trained.
Gallen is also no spring chicken – he's 38 – and his much-hyped unbeaten record across nine previous fights bears closer examination. Of those eight opponents – he fought one of them twice – three were debutants, two others were having their second fight and two their third, not that he was much more seasoned himself. Only his most recent conquest, John Hopoate, had any significant experience, 17 fights for 12 wins. Hopoate, of course, is another member of the rugby league fight club, along with Sonny Bill Williams and Solomon Haumono, as well as a couple of Pacific islanders on Gallen's CV.
Then there was the controversial decision, driven by Hall, to fight only two-minute rounds instead of the usual three. Given there were to be only six of them, that's a maximum of 12 minutes of action. At the pointy end of boxing, it's 12 rounds, or 36 minutes, but of course this was a very long way from the pointy end – technically it wasn't even the main event on the card.
It was, though, what almost everyone came to see – and several thousand did, probably making Green the real winner.
What they got for their money – $49 for the cheapest seats – was the full six rounds, plenty of punches thrown and landed, genuine effort expended by both men, and a rough-house contest that was, in my opinion, too close to call.
That's how two judges saw it, too, with the third one crediting Gallen with a one-point win, which meant that officially it was a "majority draw" – no winner, no loser.
It was an entertaining enough fight, I suppose — the atmosphere was certainly buzzing — but without any memorable feature, certainly not the big knockout punch that each had promised to inflict on the other.
Despite Gallen making it clear he was filthy about the verdict, the faux hatred that enlivened the lead-up – a traditional must-have in almost any boxing promotion – quickly dissipated with Hall offering to buy Gallen a beer and the pair posing for happy snaps with their arms around each other.
Naturally, Green was talking up a rematch with Gallen making it clear he was up for that and Hall not so willing to commit during what, it should be noted, was a classy mid-ring interview in which he said he hoped they had not caused any damage to boxing's image.
Time will tell whether it ever happens, but if it does it will be without my bum on a seat. I'm a boxing fan, but fighting footballers? I've seen all I want to see now, thanks – and hopefully saying so doesn't mean the phone is about to ring.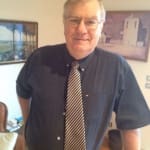 Author:
Ron Reed
RON REED has spent more than 50 years as a sportswriter or sports editor, mainly at The Herald and Herald Sun. He has covered just about every sport at local, national and international level, including multiple assignments at the Olympic and Commonwealth games, cricket tours, the Tour de France, America's Cup yachting, tennis and golf majors and world title fights.
Comments
comments
0 comments