---
Reading Time:
11
minutes
FIFTY years ago Alan "Froggie" Thomson was the toast of Victorian and Australian cricket. Today he lives like a virtual hermit, beset by breathing difficulties with only his Friday morning shopping mates for company. KEN PIESSE reports:
ALAN "Froggie" Thomson is 73, a widower, lives on a pension and has respiratory problems." If I keeled over tomorrow no one would find me for weeks," he says. "I live like a hermit. No one visits. You're the first person to come here for years."
Despite never smoking, he has had a series of lung infections which make it impossible for him to do any physical work. "I can't even get up a ladder to clean the gutters," he says.
In 2003 a car crash saw him hospitalised for weeks. His wife Dianne died in 2015 after a stroke. They had separated some time before. "It was a tempestuous relationship," he says.
His son lives overseas and daughter in the leafy east of Melbourne. Other than occasional time watching his granddaughters play basketball on Saturday mornings, he has little family contact.
His closest buddies are his Friday morning shopping mates. He likes catching up with his old cricketing chums, but not all of them.
He spends his time watching movies and playing classical music, with the volume up.
"When you come always thump on the (front) door, like this," he tells me. "I won't hear you otherwise."
He's just 5 ft 10 in (178 cm) now. In his pomp, when he took 106 first-class wickets in two stellar seasons, he was the tallest in Victoria's team.
He still has his Australian blazer, jumpers and baggy greens, including the one from the "B" team tour to New Zealand in 1970 when he roomed with a very raw Dennis Lillee. None are on show, just a scrapbook reminding of his astonishing shooting star status which saw a gangly kid with a front-on windmill action open the bowling for his country.
"I didn't know any other way," he explains. "People tried to change me, but it never felt right and I never developed any back problems like they do today.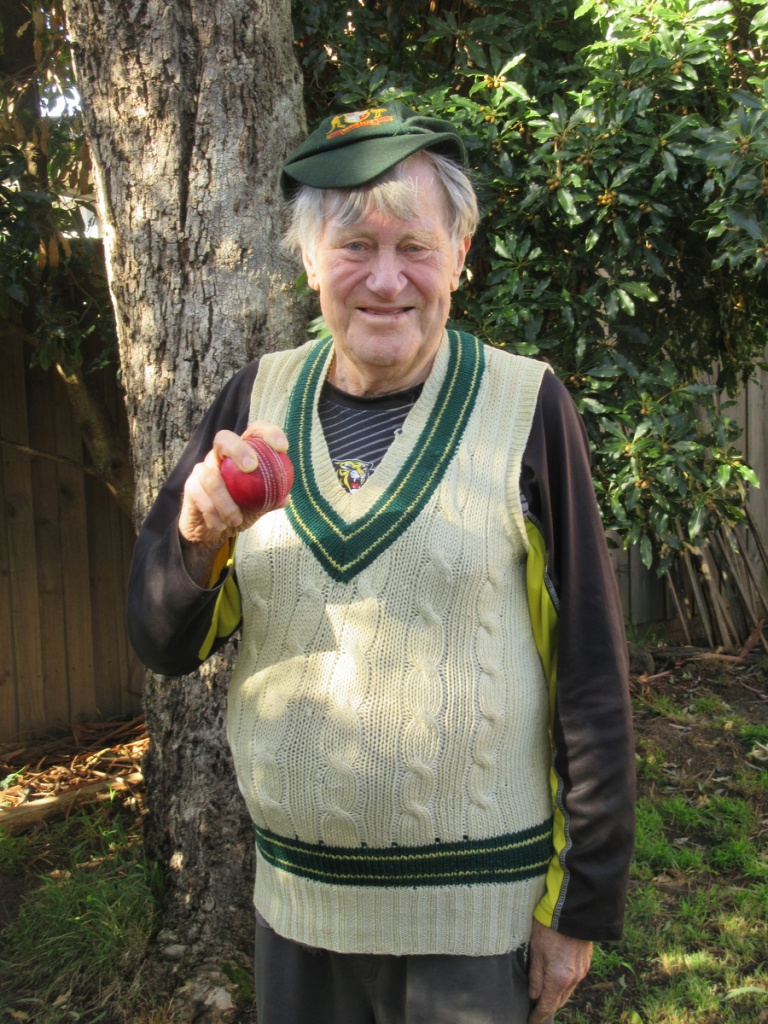 "It never felt strange to me. I've only seen a small amount of footage of myself bowling. But when I do, I still get a giggle out of it. I was no gymnast as a kid, but I could run, and my action just evolved from when I was about nine years of age. I'd mark out 16 paces, march a few and then get into it.
"I always liked to hustle back to my bowling mark quickly when I bowled. I was just trying to get through my overs. It was eight balls then. I wanted to keep the pressure on the batsmen. I could do it back then, I was fit as. I was a VFL senior umpire and training with them the whole winter. While I had only six senior games in all, I was 6 ft 2 in and noticeable. Think they wanted smaller fellas who were quicker and less prominent.
"There were only six games back then… all on a Saturday… and one field umpire per match, so being the eighth or ninth on the list meant a lot of reserves footy. It was just the way it was. I wouldn't swap anything or change anything though: cricket or football. I loved it all."
Thomson says he'd go more often to the cricket, but the Melbourne Cricket Club's car park "has been taken over by the greenies" and he hasn't got a disabled sticker.
He listens to all the sport on SEN and loved the midnight descriptions of the World Cup during the winter. He'd like to buy a highlights DVD but doesn't have the Internet and has never heard of Amazon.
It took him just half a day to sign 307 copies of Bob's Boys, the story of Victoria's 1969-70 Shield triumph, for which he has contributed the foreword.
Of his famous captain, Bob Cowper, he says he may well have been the best captain he played under.
"Bob hated anything which slowed up the game. He wanted to outlaw drink breaks, except for us bowlers and was probably right. Drinks breaks did waste time and were often unnecessary, especially in Melbourne in November. But it was different in Adelaide after Christmas. None of us touched the Adelaide water, of course, but we drank a lot of softies. Especially me. I have a drink now… but I didn't back then.
"At our first meeting leading into the WA game in Melbourne, Bob gave us a run down on all their players. He'd just come back from playing a (half) season in Perth. The comment I remember to this day is what he said about a young Dennis Lillee: 'Dennis is very fast, but he's also very straight.' He might have been 'straight' back then, but he sure wasn't in the end, was he! What a bowler!
"I took most of my wickets that summer at the MCG. I loved bowling there. The crowd was always so supportive. When we beat South Australia at home it was our third win in a row. We were on a roll. I'd picked up a bug and wasn't feeling well. Bob told me to go home, so I did. But I thought about coming back again when we lost four wickets… three pretty quickly. But I stayed put and watched it all on Channel 2 with my feet up."
He was dirty on several teammates weeks later in Adelaide who threw him into the pool at their team hotel while celebrating the Shield win. 'I won't name them. It was just silly but I hurt my side slightly and couldn't go full tilt in the last game in Perth. I so wanted to knock Derek Chadwick over again too.'
Thomson said the prank reminded him of being back at school when everyone smoked and several bullies would use his school bag as an ashtray. "You just had to toughen up, he says.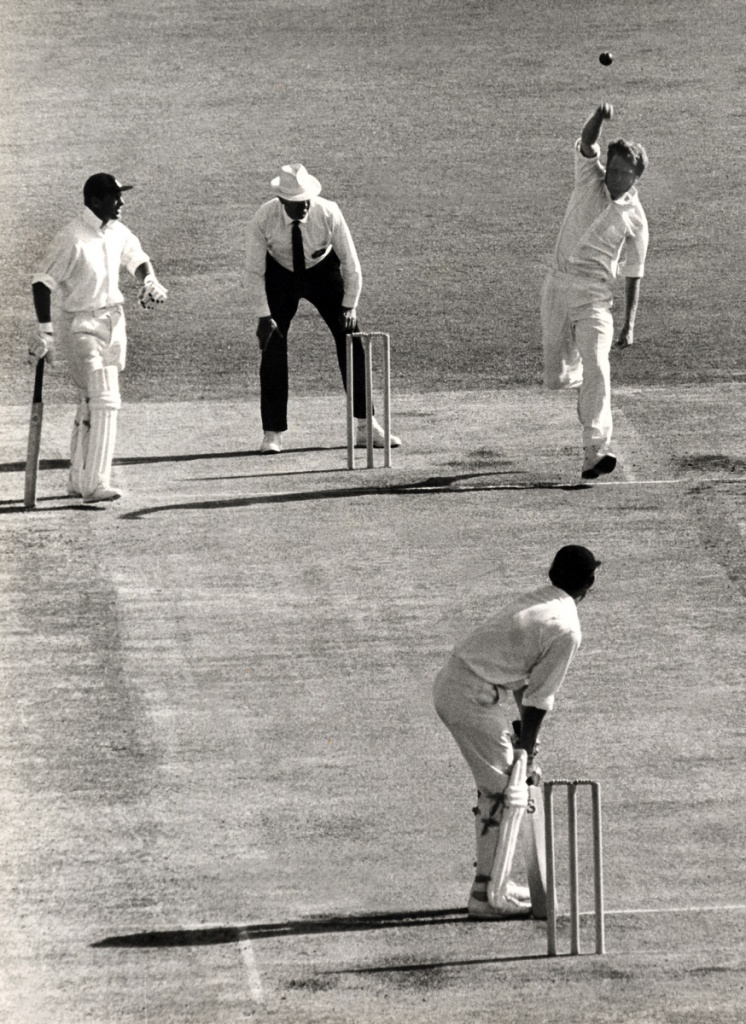 He remains eternally grateful to his Reservoir neighbour Betty Dempster for recommending him to Eddie Illingworth at Fitzroy. It rejuvenated his career.
"Betty must have grown tired of watching me bowl again and again into the garage door at home. I'd be out there for ages on my own, bowling and bowling.
"She worked with Eddie and suggested to him that I maybe I could be some sort of prospect for Fitzroy. This was 1958-59. 'Bring him down,' said Eddie. My father (Peter) had me there like lightning.
"I was just travelling at Northcote. I was small and they rarely picked me."
Thomson says on arrival at Brunswick St., "The place was really humming. The football club didn't leave there until '64. All their home games were played there. The Fitzroy footballers even had a team in the VJCA on Saturdays.
"I remember our lads beating Geelong in the miracle match. It was our only win for two years and Geelong won the (VFL) flag that year."
It was at Brunswick Street that he took the wicket of his life, ahead of many distinguished internationals from Boycott on. "It was Sadiq Mohammad, the Pakistani. He was playing with North Melbourne back then," he said. "No-one else would remember it, but I do. It was one of those one-day games which were just new back then and it was my very last ball (of his allotted overs). For us to win I knew I had to get him out. It climbed on him and he nicked it before walking past me muttering: 'Last ball, last ball…' They collapsed after that. It was a great win for us."
Known as "The Frog" ever since his schooldays – "I have a loud voice and my mates reckoned they could hear me four blocks away" – Thomson remains a paid-up member of the Fitzroy CC and wants his ashes to be scattered over the centre square.
He regards Fitzroy as his salvation. It was home to Bill Jacobs and the fabulous Harvey brothers and the club elders backed him unconditionally.
From Monday to Fridays he was a primary schoolteacher at St Albans North. Come summer Saturdays, he was a budding fast bowler on the rise. His third XI captain Don Arnall suggested at selection one night that he had a young bowler in his side who was fairly quick. He bowled with a high arm and sloped the ball back into the batsmen. Once he learned to land it on the seam, he could be anything. Within weeks AL "Froggie" Thomson was playing ones and soon his mentor, ex-stateman Eddie Illingworth, had conceded the wind.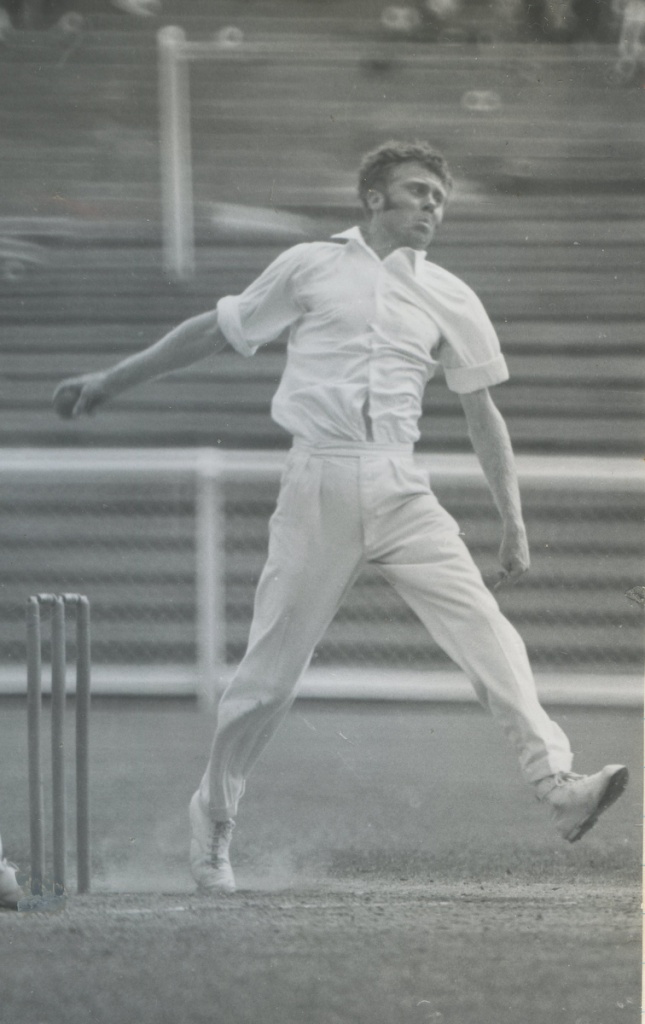 Twenty-two wickets in his first three Victorian matches in the New Year of 1969 was just a taste of what was to come from the tall expressman with an action all of his own. Eleven came against Garry Sobers' 1968-69 West Indian tourists. Even the internationals were caught unawares by the whirling windmiller who ran in straight and delivered front-on like no-one before or since.
"People tried to change me, but I wouldn't," Thomson says of his unique action. "I'd listen, thank them for their time and keep on doing it my way. If I tried doing it their way I was worried I'd fall flat on my face."
At 73 kg (11 st. 7 lb), Thomson was pencil-thin but could bowl all day if he had to. And at high speed.
First selected for the Vics as a replacement for injured South Melbourne speedster Russell Cook in late January 1969, Thomson tore into the NSW top six in Sydney, taking six wickets on debut. Days later among the West Indians he defeated with his pace and bounce were Basil Butcher (in each innings), Steve Camacho, Joey Carew and Roy Fredericks.
"I could make the ball jump and climb," he says, "Before I went out (into the middle), my routine was to bowl 10 balls straight into the fence. I'd come in and my second over was my first. The only place I couldn't do it was at St Kilda. They valued their picket fence and I wasn't allowed to do it down there.
"I got a few out on the first ball of a season just because I was warm and ready to go."
Long-time Fitzroy captain Jack Potter said Thomson's stamina and ability to take early wickets made him a captain's delight. "As he matured he would hit the seam at fair pace and it would chase the batsmen off the wicket either on a length or, if short, could prove difficult to combat with his lift. Bowlers at the other end would get wickets because many of the batsmen feared facing the "Frog". He was a particular handful in the nets, especially on underprepared practice wickets.'
Tall, slim and exuberant, Thomson was in his mid-20s during the seasons of his life in 1969-70 and 1970-71. A non-smoker and non-drinker, he was popular with the kids and like many of them, drank Fanta by the crate.
His stamina never ceased to amaze. Potter would give him an end and keep him going for hours. "Most fast bowlers were looking for a rest after six or seven overs. Not the 'Frog'," said Potter. "He was just getting warmed up. He was better than anyone else we had, so why not keep him going? In one District final (1966-67) he bowled 26 straight and we knocked Essendon, the favourites over."
Without his phenomenal striking in 1969-70 when all its highest-profiled players were away on tour, Victoria would have finished well out of contention in the race for the Sheffield Shield.
He was fast and feisty and had a strike-rate of just 42, reaching 100 wickets in his first 16 games, equalling Chuck Fleetwood-Smith's record from the early '30s.
In time he was to be cheered off the MCG in an Ashes Test match. He may not have lasted as long as his namesake Jeff Thomson, but at his zenith he was almost as remarkable.
The "Frog's" days of Shield and international cricket seem a lifetime back now.
But memories of his first Test selection remain sweet – and clear.
After his brilliant calendar year in 1969, Thomson started the new season, the 1970-71 Ashes summer, with 31 wickets in four games, including nine against the MCC.
He seemed a walk-up start for Australia's first Test team.
"That night I went out into town with some friends," he said. "I was mates with Rexie Pullen from The Sun so told him where I was going to be. We were going to the Esquire, the picture theatre in Bourke Street to see MASH. I hadn't told The Age. Glenn Lester (from the Age) found us walking down Bourke Street. We only ended up seeing half the show. Glenn got my seat number and an usherette came in and called us out of there. I was to be interviewed and photographed. It was big news in both papers.
"Some of the journos didn't think I could bowl, mind you… maybe I wasn't (good enough) but I didn't want to hear it… at the time I was on a roll."
His debut in Brisbane was less than auspicious. He was no-balled twice in his first three balls even though his front foot hadn't landed on release (see Bruce Postle's picture). His match figures were 1-156. After four Tests and 12 expensive wickets, the selectors went for someone else, a kid from Perth, DK Lillee.
Thomson grossed exactly $800 from his four Test matches. The rate of pay for Shield appearances was $7 a day. "They did put it up though," says Thomson, "to $10."
Thomson said he learnt of his dismissal from Australia's team via his mother Phyllis.
"She rang the school at 11 a.m. 'Mother here,' she said. 'They've dropped you.' She'd heard it on the morning news. I went back to doing the dictation.
"Playing for Victoria or Australia it was always leave without pay… but none of us played for the money. We played because we loved it."
Thomson said his father met Sir Donald Bradman one day and shook his hand. "Don't think my Dad washed his hands for a week," he said.
Unlike most starry-eyed young cricketers Thomson never dreamed of wearing a baggy green.
"I just didn't think I'd do it. Dropped catches fixed me up. Plus they picked Dennis. His first Test was my last. We both took five wickets, Dennis's came in one innings.
"I was told I either had to get a wicket or knock someone's head off. They wanted me to hit them in the head and bounce even Snowy (the English express John Snow). I wasn't the dullest knife in the cutlery draw. I had common sense. I didn't want to bounce Snowy. I'm not brave. I'm not suicidal.
"I'd bounced him in Melbourne and got to Adelaide and just happened to walk into the toilet where Snowy was with two of his mates (Derek) Underwood and (Keith) Fletcher. The three of them got into me over it.
"When I came into bat that match, (Ray) Illingworth put Snowy straight back on. And he started to pitch them short, very short. He was fast alright."
Thomson was no batsman but remained not out in four of his five Test innings and has an overall batting average of 22, to go alongside his Test bowling average of 54.
"I would have liked to have done better but it was still all good. I was there.
"They never told us back then to bowl in partnerships. Batting partnerships yes, but bowling partnerships not back then.
"Things like reverse swing we knew very little about, though I did get Greg Chappell in Melbourne with it one day. The wind had to come a certain way. It went away across the seam."
His final matches were in the spring of 1974, when Alan Hurst was injured. "Maxie Walker was coming through by then too and  they dropped me. I saw it as selection bias:
"I wouldn't go to state practice in the end. I just wanted to get into them (opposing batsmen) on a Saturday. That plan of mine didn't work at all. They never picked me again."
At 28, his big-time career was over. Given his humble north-of-the-Yarra beginnings he is chuffed to have represented his country and is proud that he took the very first wicket ever in a one day international: Geoff Boycott, c Lawry b Thomson 8 at the MCG in January 1971.
He would have liked to played more international cricket but, by 1974, his namesake from Sydney Jeff Thomson was becoming the new menace.
Of the solitary existence today, Thomson just shrugs his shoulders and says: "You just get on with it."
He was a primary schoolteacher until his early 50s (where he met his wife and fellow teacher Dianne) before becoming a courier.
He hasn't worked in years now and says he is "basically stuffed as far as breathing… doing anything physical knocks me around".
He delayed a time share holiday at Rosebud so he could attend the spring-time reunion of Bob's boys.
He was particularly looking forward to catching up with the team's elder statesman, 84-year-old Ken Eastwood, who he said was always encouraging and generous with time and advice. "We were at Lennon's in Brisbane (on one of his first interstate trips) and Kenny said: 'You're with me.'
'We've been mates ever since.'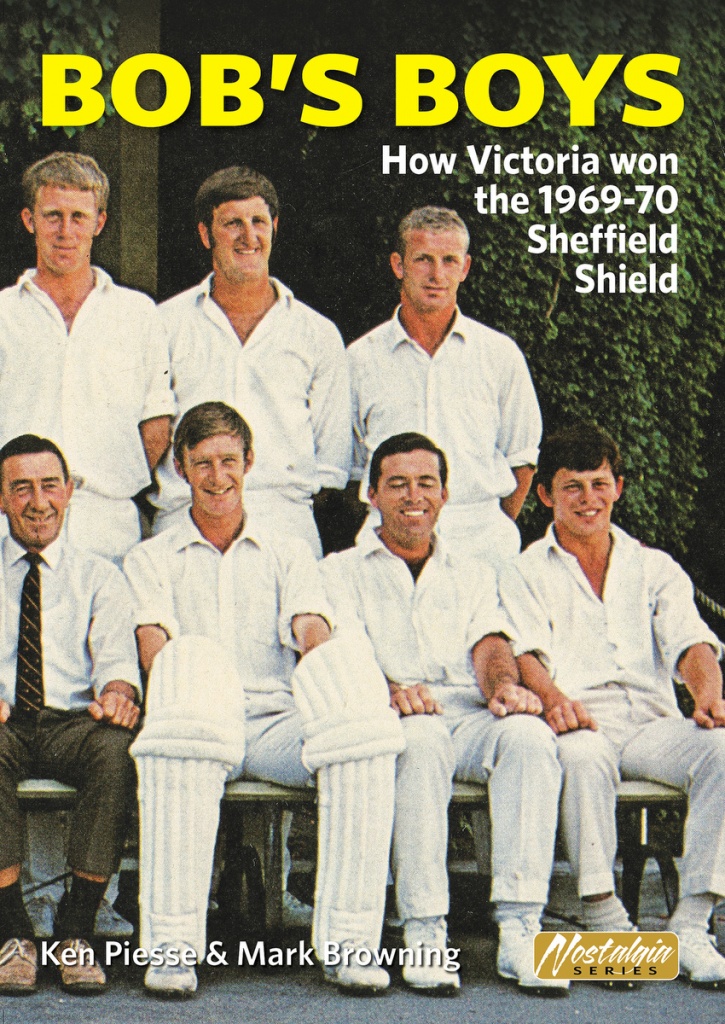 BOB'S BOYS, a new booklet on the 1969-70 Victorians, from cricketbooks.com.au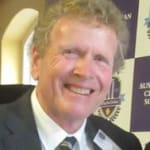 KEN PIESSE has covered cricket and football for more than 30 years in Melbourne. He has written, edited and published more than 70 sports books. His latest book, Favourite Cricket Yarns, is available from
www.cricketbooks.com.au
Comments
comments
0 comments