---
Reading Time:
3
minutes
THE sorry sight and sound of a champion who couldn't handle defeat is a blight on Australian sport, says Chief Writer RON REED:
BASKETBALL legend Andrew Bogut hasn't done anyone – himself, the Boomers, the image of Australian sport in general – any favours with his poisonous tirade at the World Cup on Friday night.
He deserves to be whacked by the controlling body, FIBA, probably with a suspension that would keep him out of the team's attempt to win the bronze medal against France, which would be an historic first for Australian hoops.
He could be fined but the veteran big man, having been a prominent presence in the American NBA for many years, is one of Australia's wealthiest sportsmen so any hit to his hip pocket would be more or less meaningless.
He needs to apologise – profusely.
Bogut was well out of order when he directed the international gesture for getting paid money at the referees after he was called out for a foul with less than nine seconds to play in regular time in the semi-final against Spain, who were then able to come from behind to level the scores and go on to win 95-88 after two periods of extra time.
But he didn't stop there, shouting at the end: "F…ing FIBA, it's a f…ing disgrace. Cheating ass motherf…ers," and suggesting people Google where FIBA's headquarters are, as if the answer was Spain. It's not, the organisation is based in Switzerland.
His utter lack of class, sportsmanship and grace in defeat is a national embarrassment.
It certainly is not what Australian basketball needs just over a year on from the hideous brawl in which the Boomers were involved in a World Cup qualifier in the Philippines, an event that drew world-wide condemnation for both countries, even though the locals were probably mostly to blame.
Whether the call against Bogut was right or wrong – and there were a few that raised eyebrows on both sides as a tumultuous contest hurtled towards a gripping climax – is irrelevant. As always in any sport, you have to roll with the punches in such circumstances.
Bogut would do well to call up a replay of cricket captain Tim Paine's response after umpire Joel Wilson turned down an lbw appeal against Ben Stokes at the crucial moment of the Headingley Test, costing Australia victory.
Paine pointed out that he had made plenty of mistakes himself and that he wasn't about to sit there and say an umpire wasn't allowed to make one. Quite so.
If FIBA do not sanction Bogut appropriately it will be interesting to see whether Basketball Australia step in themselves.
In any case, the Bogut foul was not the most meaningful moment in the Boomers' demise.
That was when the brilliant Patty Mills, Australia's best player, missed the second of a brace of free throws with less than five seconds of regular time left and the scores level.
This was as unexpected as it was shattering – until then the San Antonio Spurs star had sunk 34 of 39 such attempts and was exerting his usual massive influence on proceedings, top-scoring with 31 points and keeping himself in contention for the showpiece tournament's Most Valuable Player Award.
It's been a while since I have paid much attention to basketball but watching the dreadlocked playmaker do his thing again reminded me that when I used to periodically publish a newspaper list of Australia's most watchable sports stars, he was always one of the first named. He still would be.
So in that context, and given how much was at stake, and how bravely and well the Boomers performed throughout the tournament and for most of this momentous night in particular, his error can be classed as beyond unfortunate. Tragic, even.
That said, were the Boomers unlucky? No, they were overtaken by an outfit that performed with more professional cool in the white heat of the climax to one of the best and most entertaining games in memory for Australian basketball.
They may yet earn their first medal at world level, which will be a major accomplishment to offset the massive disappointment of falling just short of a shot at something truly great, and they are entitled to proceed to the Tokyo Olympics with plenty of confidence knowing that they will be reinforced by the massively talented Ben Simmons.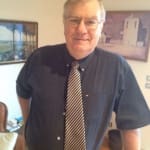 Author:
Ron Reed
RON REED has spent more than 50 years as a sportswriter or sports editor, mainly at The Herald and Herald Sun. He has covered just about every sport at local, national and international level, including multiple assignments at the Olympic and Commonwealth games, cricket tours, the Tour de France, America's Cup yachting, tennis and golf majors and world title fights.
Comments
comments
0 comments