---
Reading Time:
4
minutes
THAT might be the best Test match finish any of us have ever seen, says chief writer RON REED, reporting from England:
IF YOU can keep your head when all about you are losing theirs…
SEARCHING for superlatives to do justice to Ben Stokes' astonishing innings at Headingley, Rudyard Kipling's immortal words sprung to mind.
Stokes demonstrated many of the qualities that make up sporting genius and presence of mind and intense focus were two of the most important – especially as this was precisely what the befuddled Australians did not possess as they contrived to throw away the third Test – and maybe the Ashes – just as both seemed safely in their keeping.
Of course, the negatives must not be allowed to intrude too heavily on the positives of what has been one of the most memorable moments the noble old game – or any sport – has ever seen.
Incredibly, it is only a month or so ago when much the same sentiments were being expressed over cricket's World Cup final —when the hero was precisely the same man, Stokes.
Has there ever been a more dramatic denouement to a match — or a more heroic performance by one man to snatch victory from the jaws of defeat, as the old cliché has it?
In my long experience, probably no – and definitely not.
I can recall the two tied Tests, both involving Australia, and a similar finish at the MCG years ago when Allan Border and his No 11 Jeff Thomson almost pulled off something very similar against England, plus the nail-biter at Edgbaston in 2005 when Australia narrowly failed to complete an unlikely chase. I was also there when Brian Lara got the West Indies home by a wicket with a magnificent century in 1999.
But maybe what you've just seen will always trump what you witnessed eons ago so I'm happy to go with this one.
What Stokes did – smashing 135 not out, single-handedly taking England from 73 behind at the fall of the ninth wicket to victory while tailender Jack Leach scored just one almost at the death – bordered on the impossible, especially as he took apart a highly capable, vastly experienced attack that had dismissed England for 67 just two days earlier.
It was for a long time Test match batting, then one-day batting and finally T20 batting all rolled into one, confirmation that there is nothing this red-bearded warrior cannot do on a cricket field.
It came after a powerful, tireless and courageous spell of fast bowling that dragged his side back into the match at a point where the tourists were threatening to put it beyond reach, and also follows a century at Lord's in the previous match.
Embed from Getty Images
In the space of six weeks, he has stamped himself as the best all-rounder in the world – and quite possibly the best cricketer full stop, even if Australia's champion batsman Steve Smith was wearing that mantle only a week or two ago.
Could Smith have done what Stokes did? Well, horses for courses, of course, and you wouldn't put it beyond him — but probably not.
It was reminiscent of Ian Botham's legendary 149 not out, that enabled England to pull off a miraculous come from behind victory in 1981 at the same famous Yorkshire stadium. But Botham wasn't under quite the same sort of pressure.
Not the least gratifying aspect – to Stokes and his team-mates, especially captain Joe Root – will be the respect they have regained after their calamitous first innings, which predictably saw the local media in full flight doing what they do best.
Namely, getting stuck into their own when they are down – savaging each and every batsman, Stokes no exception, all but calling for Root's head, and condemning the entire national cricket set-up.
Among the most popular criticisms was that the emphasis on white-ball cricket had produced the World Cup win but left the Test team ill-equipped for the long game – and now they will need to acknowledge that if it wasn't for Stokes' white-ball batting skills the Ashes would now be gone.
They're not, of course. After three superbly entertaining matches, it's one-all with two to play and anything could happen. It is already a memorable series and will probably get better.
The teams have been evenly matched throughout. Remember, Australia were 8-122 at Edgbaston before Smith rescued them. England had the best of the Lord's draw. And they bowled out Australia twice for under 250 in Leeds.
Now, it might be Australia carrying the mental scars for the rest of the war while England will be buoyed beyond measure.
Frankly, for all of Stokes' brilliance, Tim Paine and his troops deserve to be embarrassed by this outcome. They dropped Stokes in the middle of his rampage – admittedly a very difficult outfield catch to fielder Marcus Harris – while Nathan Lyon fumbled an easy opportunity to run out Leach with two runs still needed, and Paine wasted a precious review on an lbw appeal that was never within inches of being upheld. It all smacked of panic – when all about are losing their heads.
That came back to bite, hard, when Lyon caught Stokes in front right at the death with replays showing it would have been out, and the match won, if they still had the option or reviewing yet another shocker by umpire Joel Wilson.
As well, it was difficult to make much sense of their bowling plans to both Stokes and the No 11 – whose 92 as a nightwatchman against Ireland recently confirms he is no rabbit, but who was allowed to watch several of the few deliveries he faced sail harmlessly over his shoulder or wide of the stumps.
Stokes was given all the room he needed to play his big shots and even with the scores tied Pat Cummins bowled a half-tracker outside off which was easily despatched.
Where were more of the yorkers which so quickly disposed of Stuart Broad and which are difficult to keep hitting for six?
Yes, this was great Test cricket, as good as it gets in the big picture – but that doesn't mean the losers don't have a few questions to ask themselves.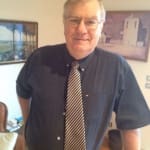 Author:
Ron Reed
RON REED has spent more than 50 years as a sportswriter or sports editor, mainly at The Herald and Herald Sun. He has covered just about every sport at local, national and international level, including multiple assignments at the Olympic and Commonwealth games, cricket tours, the Tour de France, America's Cup yachting, tennis and golf majors and world title fights.
Comments
comments
0 comments