---
Reading Time:
2
minutes
AUSTRALIA is just 24 hours from retaining the Ashes after another extraordinary day of Test cricket triggered by the boy from Bendemeer, Josh Hazlewood. KEN PIESSE reports:

"Crazy game cricket, simply crazy," said former Test captain Nasser Hussain, contemplating England's all out scoreline of 67 on day two of the Third Test.
It had been a much anticipated day, one on which  the home team's much vaunted momentum from Lord's was expected to suffocate the Australians, bowled out for 179 under ashen skies at Headingley, the famous home of Yorkshire cricket.
Before play began Ricky Ponting  forecast even a score of 200 could keep Australia in the game. He was as amazed as everyone else to see England capitulate so meekly.
Embed from Getty Images

Australia's hero was Josh Hazlewood who all but bowled unchanged, continuing his re-emergence as a bowler of genuine international calibre.
After the certain-to-be-dropped Jason Roy again self-destructed early, the Hazlewood special which defeated England's leading player, captain Joe Root, was near unplayable, forcing a defensive prod and catching the outside edge, giving David Warner one of four slips catches … all in the first session.
His pace partners Patrick Cummins and James Pattinson were almost as lethal.
It was the first time all three had played in the same Eleven and if they can bowl Australia to a two-nil series lead at the weekend, it's unlikely any rotations will be considered at least for Old Trafford and the Fourth Test starting in less than a fortnight.
The experiment with white ball batting specialist Roy at the head of the order will surely be discontinued. The acerbic 78-year-old Geoffrey Boycott was typically forthright, saying, "Ee couldn't block if ee tried. There's more of a chance of a tractor doing the job than im."
Jos Buttler would also need a tall score at the weekend to keep his place. A tame lofted drive immediately after lunch was ever so limp and highlighted England's horror day.
Hazlewood, the boy from the small town of Bendameer in the New England region of NSW,  had been stood down from Australia's First Test Eleven, but proved threatening with his high-class opening spell at Lord's. He was just as menacing here, buoyed by some ordinary batting which made some of the greats like Ponting and Boycott wince.
In the Test Match special broadcast box, Sir Alastair Cook, the latest Old champion to be knighted, spoke about the changing face of cricket with young players learning too many shots for their own good, making it almost impossible for many to compete against high class red ball bowling.
"From the age of seven all I ever wanted to do was be a Test cricketer. I'd practice only four-day cricket , he said, for hours and hours. Now you are seeing a generation where their time has been diluted."
Another former English captain Mike Atherton was asked if England's top seven should have been subjected to an old fashioned "bake" in the rooms from captain Joe Root.
"I honestly don't know if it happens anymore," he said. 'But if it does happen, today would have been the day."
It seems a certainty that this Test will end at least a day early by Sunday. The many Australians enjoying time in the north of England are already planning their Bank Holiday Monday activities from trips to historic York through to the Yorkshire moors and seaside citadel Scarborough.
Asked to describe England's batting, Boycott, bless him, said "Pathetic… simply pathetic."
Australia 179 and 6/171 (Labuschagne 53 n.o, Wade 33) v England 67 (Denly 12, Hazlewood 5-30, Cummins 3-23, Pattinson 2-9).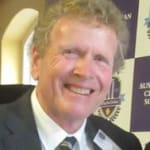 KEN PIESSE has covered cricket and football for more than 30 years in Melbourne. He has written, edited and published more than 70 sports books. His latest book, Favourite Cricket Yarns, is available from
www.cricketbooks.com.au
Comments
comments
0 comments