---
Reading Time:
3
minutes
WHEN the hand grenades are flying, even Steve Smith is vulnerable. Chief writer RON REED reports from Lord's:
AS MUCH as cricket is a game of numbers, the suspicion is rapidly forming that the Ashes is in danger of becoming the Steve Smith Show, a one-man highlight reel.
Not that the champion Australian batsman would be likely to regard being flattened in frightening fashion by a stunning blow to the neck as a highlight.
Neither , in that brutal contest, would anyone else who was at Lord's on day four of the second Test – well, day three of four, actually – but it was certainly the most dramatic moment of a high quality contest that might yet yield a riveting finish despite the loss of five sessions of play.
Nothing excites cricket fans more than a high-octane duel between a master batsman and a ferocious fast bowler – think Viv Richards and Dennis Lillee, just to name one – and this one between Smith and Jofra Archer was right up there with anything that has gone before.
Archer, playing only his first Test, was both terrifying and relentless, at one point unleashing 16 consecutive deliveries at 90mph or more, giving even the wicketkeeper a hard time, let alone Smith and friends.
He almost broke Smith's arm with one rocket not long before he hit him just below the helmet. As the best batsman since Bradman toppled grotesquely to the ground, the grandstands fell silent – it was impossible not to immediately think of the Philip Hughes tragedy, especially for several people in the Australian dressing room who were at the Sydney Cricket Ground on that grim day.
The tension was excruciating until Smith got to his feet and walked off, retired hurt, returning to the fray half an hour later after the fall of the next wicket.
Incredibly, while most of the 28,000 or so fans gave him a standing ovation on the way back, especially the easily recognisable green and gold Australian enclave, there was a small smattering of booing.
Seriously, what sort of poor-taste mentality would you need to do that in such circumstances?
This dubious aspect of what is shaping as a superb series probably has gone far enough now. In Birmingham, it was fully expected and mostly taken in good humour by the Australian players and the Australian fans, but at the far more sedate home of cricket it has faded away to almost nothing, and that's how it should remain, surely. Enough is enough, especially in respect of a player who is taking the game , the difficult art of batsmanship, to a level that modern fans have never seen before.
Smith was on his inexorable way to his third century from as many innings, and his fourth in a row in Ashes Tests – a feat never achieved – and had to settle for 92 after looking rattled on resumption, falling lbw without playing a shot, a mistake he almost never makes. He did become the first to make seven Ashes 50s in a row.
This would have been a tragic near-miss if it had prevented Smith ever having his name engraved on the honour board in the Members' Pavilion, which lists every century and every five-wicket haul recorded in Test matches.
But Smith is already there, having scored 215 in 2015. Only Don Bradman, 254 in 1930 and 102 not out in 1938, and Bill Brown, 105 in 1934 and 206 not out in 1938, are listed twice, with 29 Australians having scored 31 centuries against England, plus two more in a match against South Africa in 1912.
Only 18 English batsmen have tons against Australia at Lord's, Jack Hobbs, Andrew Shrewsbury and John Edrich doing it twice.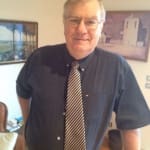 Author:
Ron Reed
RON REED has spent more than 50 years as a sportswriter or sports editor, mainly at The Herald and Herald Sun. He has covered just about every sport at local, national and international level, including multiple assignments at the Olympic and Commonwealth games, cricket tours, the Tour de France, America's Cup yachting, tennis and golf majors and world title fights.
Comments
comments
0 comments