---
Reading Time:
2
minutes
IT COULD be an electric finish and all for 20 quid per person… should you be able to find a ticket. KEN PIESSE reports from the home of cricket:

IT WAS the most dramatic of Ashes days, among the best any of us have witnessed.

The shock of seeing a brave Steve Smith spreadeagled at the Nursery End was counteracted by Pat Cummins' rare celebration after the first ball dismissal of Joe Root during a fabulous afternoon session.

There could yet still be a result, despite almost two of the first three days being lost to rain.
Had David Warner been able to hold two regulation last session slips catches, when Ashes rookie Joe Denly was just seven and Ben Stokes six, England would have been in truly perilous waters.
Australia's captain Tim Paine opted not to review an lbw shout against Rory Burns when he was just 24 and while Burns made only five more runs the extra time he took thwarted the Aussies.
If England square the series tomorrow, these will be much debated moments in a Test of so many delicious ebbs and flows.
Huge queues are likely in St John's Wood with thousands jockeying for the few available tickets. Most of the visiting Australians, and there are hundreds here, bought only four-day sets, in the knowledge that few internationals these days go the distance.
Having paid 150 full strength English pounds per ticket on each of the first three days and 100 on Saturday, the asking price of just 20 seems minuscule given the promise of a result.
Any remaining tickets will be sold from 8.30 am giving the many scalpers a bonus morning of buying and selling.
The Australians will be fully tested and with talk of a concussion substitute for Smith, struck a savage blow under the left ear by a fired up Jofra Archer, it could be they will be without their finest player.
After Smith's doughty 92, the next best Australian score was just 36.
There is enormous pressure on David Warner to finally perform after three consecutive single figure scores. His grassing of two key catches was a further black mark against the Aussie bad boy having the worst Test of his tumultuous career.
Should he fail again, and the Aussies are beaten, there will be a push to include Marcus Harris at the head of the order in Headingley.
Siddle's misfortunes, with three dropped catches, could also see him forfeit his place, most likely to his faster Dandenong teammate James Pattinson, controversially rested for this second Test.
A decision on Smith remaining in the match won't be made until the fifth morning. He was dazed after being felled by Archer who bowled as rapidly as any Ashes debutant in more than 140 years.
The afternoon action was compelling, Smith struck on the forearm and then under the ear by high pace Archer bouncers which followed him from down the hill.
After 40 minutes of being assessed in the rooms, Smith returned
and played some uncharacteristic hoicks before his focus, clearly jangled, saw him play no shot against full length delivery from Lord's specialist Chris Woakes.
Having come from behind against the odds in Birmingham, the Australians have been tested like rarely before in one of the great, gripping Test matches of the generation.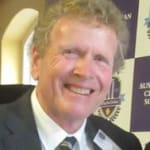 KEN PIESSE has covered cricket and football for more than 30 years in Melbourne. He has written, edited and published more than 70 sports books. His latest book, Favourite Cricket Yarns, is available from
www.cricketbooks.com.au
Comments
comments
0 comments