---
Reading Time:
7
minutes
CLASSY Caleb joins the ranks of the celebrated Aussie sprinters who have won stages at the world's biggest buike race. IAN COHEN reports from the Tour de France:
This article is broken up into two parts, something I have written after an Aussie clinched a breakthrough Tour De France stage win, and something I had written (but not managed to send!) about Aussies NOT winning stages at the Tour de France.
Let start with the good news – After a series of 'so close' moments Australian sprinter Caleb Ewan has finally broken his duck and stormed across the line to take an amazing win on Stage 11 into the southern city of Toulouse.
Ewan explained it is a 'dream come true' moment for him and his team, but with chances for sprinters to flex their muscle now diminishing as the Tour hits the Pyrenees it was now or never.
When I caught up with him post-race the jubilation and relief was pouring out. "What a win, and I hadn't done it yet, there was only limited opportunities to win again and so I'm so happy I took this win, and for my team to have backed me 100% even when I was not winning is really fantastic, I love doing this for them and repaying them for all their faith with this win here''
A contingent of Aussie fans waited hours for the 25-year-old to return to the Lotto-Soudal team car that had been allocated to be his ride back to the team hotel – the buses rarely wait for any athletes who have podium commitments.
The son of a former racer, Ewan has reached the pinnacle of the sport with this victory, and achieved a dream he held even before his teenage years after watching the Tour late into the evening.
'As an Australian you have to sacrifice a lot to come to Europe and leave family and friends behind, but this was where I wanted to be on the biggest stage in cycling'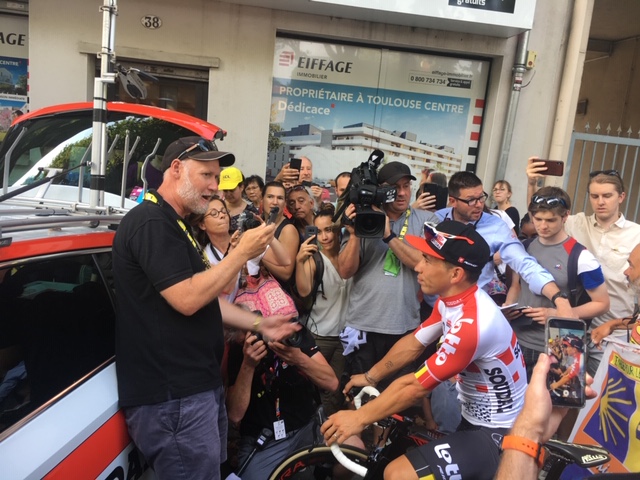 His team bosses Marc Sergeant (who I explain below worked with some of our great sprinters) and John Lelangue (who managed Cadel Evans to victory in 2011) overjoyed with their young charges first big time win.
Sergeant: "The win is there finally and I think he deserved it, and especially with all the crashes it was good that it didn't go wrong again.  It his first tour, and we will have celebrations tonight – it's a bit like McEwan in the old days, able to hold his position'
There had been some doubters who thought he was not up to matching it with the European superstars, this has quelled many of those voices.
Lelangue "He has proved since the beginning of the tour he deserves to be here, he has taken the other two spots on the podium, and now he is on the top spot. Even the polka dot jersey is working for him, the whole team is with him''
"I think he is the next generation of sprinter in global cycling, not just in Australia – and now with Giro wins and a Tour win this is great and the story is not over but these wins are a big relief'
And here in France the Australian cycling brotherhood overjoyed with the win and knowing  how vital it is for the sport, regardless of your team colors.
Ewan and his team are chasing further glory with the Nimes finish (stage 16) and the Champs-Elysee final stage  (stage 21) in his sights as he wants another piece of le Tour history.
And now to the not so good news – read on if you would like some background to how important this win is for not only Caleb Ewan but Australian Cycling – an article I had written two days ago, thought it had been sent only to find the French wifi and internet had bounced it back – it's still relevant, just not quite so urgent – enjoy.
It's not easy being green.
The Tour De France is such an epic event it includes two rest days over the three weeks, and the first one has just taken place with the race laying over in the beautiful southern university town of Albi. This city of over 50, 000 people hosted the finish of stage 10, the rest day and then the start of stage 11. It's the 13th time Albi has held a stage of le Tour.
These rest days are vital for the nearly 200 competitors (and the media, fans and staff) to catch their breath and reload for the Pyrenees mountain stages, a new torture test for the 22 teams.
It is also a time of quick reflection, and for many Australians here it was a time for discussion about 'what if's' with our sprinters having gone so close across the opening 10 stages, but just unable to put a wheel in front to claim a stage win.
There is no doubt Daryl Impey's wonderful breakaway Bastille day ride into Brioude to claim a memorable Stage 9 certainly boosted morale around the Aussies and the Mitchelton-Scott team.  The selfless South African national champ, who has been with the Gerry Ryan owned outfit since the very start is basically considered true-blue!
But it's the sprinting classification where Australia has a rich history at the Tour de France, with names like Robbie McEwan, Baden Cooke and Stuart O'Grady all having donned the famous green jersey reserved for the speed freaks who burst to the line after a full day in the saddle. And that era was a 'gloves-off' affair with McEwan and O'Grady clashing on several occasions, with head-butts and elbows involved!
This is a points classification, – in simple terms the famous yellow jersey is won for least accumulated time by a rider, while the green jersey is awarded for points gathered in finishing first (up to 50, then 30 for second, 20 for third etc) and points gathered on the road at various intermediate sprints (up to 20, 17,15 and so on). So, the more points you gather the closer you are to winning. But remember, sprinters are not climbers nor time-triallers generally, so that is why they find it hard to stay in touch with the more consistent riders chasing yellow. The sprinters lose too much time away from the line, let's face it, Usain Bolt doesn't compete in the 10,000m at the Olympics.
The sprinters are the rock stars who spend much of the day hiding amongst the peloton on the flat stages, to time their run to the finish to perfection – and often after 200 plus kilometres of racing they will take line honors by a matter of centimetres.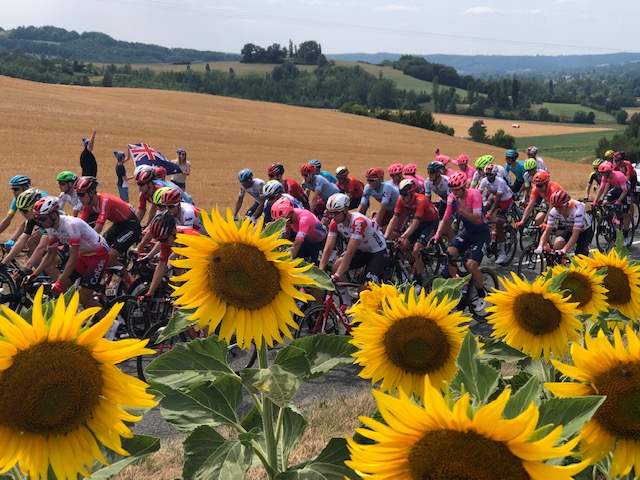 But it has been a while since we have seen Aussie dominance of the 'vert'- with the exception of Canberra born Michael Matthews who snatched it in 2017 after Peter Sagan was disqualified from the event for causing a crash in Stage 4 that also eliminated fellow speedster and former World Champion Mark Cavendish through injury – Matthews took his chance and took the jersey overall and his place in history.
For reference, Sagan won every other year since 2012 and holds six green jersey titles, Cavendish won green in 2011.
Slovak star Sagan earns over $10M Australian dollars each year including bonuses, and has a fan bugle sound when he exits the team bus to start the day – check out some of his social media and you will see what sort of superstar this man is! And he revels in it.
So, here in France the conversation continues – what do we need to do to get back the green and gold swagger in the green.
Three-time green winner Robbie McEwan, working here for the TV world feed that SBS broadcasts, says our boys need to remain aggressive and with sprinters chances diminishing (they don't do well in the mountains!) they need to "Open the race book, look to where their strengths are and point their finger at that stage a say 'That's me' and then make sure they follow through"
Australian pocket rocket Caleb Ewan has been within an agonising wheel width to win a stage on several occasions – he was third on stage 1, 4 and 10, and second on stage 7.
Michael Matthews had big chances on stage 1 and 3, and has been consistent top 10 most days when the sprinters have had chances.
Both of these lads have had time with MTS, but now ride for different teams. One of Ewan's bosses at his new team Lotto-Soudal is the very experienced Belgian Marc Sergeant who worked with the likes of McEwan 20 years ago says Caleb is still young and his first victory is coming.
"Caleb's reaction is good, but he needs to make the decisions earlier. Once he gets a win, like he did at the Giro D'Italia he will get more wins, it is amazing what confidence does – we cannot wait to make decisions, should I go should I go – in that split second you need to go and that will mean you are a wheel in front not a wheel behind"
The long-time sports manager believes the successful Australian track racing provides the nursery for those who change to road cycling as sprinters, rather than general classification winners.
"The Australians I saw and helped work with, Cooke, O'Grady and Robbie all have one thing in common – no fear. If you have fear you cannot win, and for Aussies it appears normal to race close and physically – like Australian rules football"
It is recognised that Matthews (who rides for Sunweb) is not always as aggressive as he sometimes needs to be – Sergeant says Ewan is a pure sprinter, while Matthews is more of an all-rounder who is very fast.
All-rounder's can survive climbs and break-aways, a point Matt White the Director Sportive for Mitchelton-Scott agrees with – and has managed both sprinters during their time with the Australian outfit.
"Caleb and Bling (Michael Matthews) are very different, and Matthews is a few years older, but they prefer different opportunities'
"Caleb has come close and is capable, no doubt he has opportunity – a lot of a sprinters fortune revolves around lead out trains and the teams have to get that right'.
The dream would be to see this pair go head to head, but with so much firepower at the international level everything has to go right – from team positions, instructions, decisions and lead-outs.
As it stands towards the midway point Sagan is dominating the sprint classification as expected, with Matthews sitting in second. Ewan's debut TDF has been a huge learning experience.
If the Australians can survive the mountains watch out for them battling O'Grady v McEwan style down the Champs-Elysee.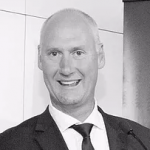 Author:
Ian Cohen
IAN COHEN has been reporting and commentating on sport across television and radio for more than two decades. He has covered four Olympics and three Commonwealth Games, Tour De France, AFL, NRL, Australian Open Tennis and Golf, Formula 1 and more. Ian is now the managing partner of a successful media and communications company and is managing media pro-bono for Daniher's Drive 2017
Comments
comments
0 comments